It hardly caused a stir when Jackson Holliday and Druw Jones, sons of MLB stars Matt and Andruw, went first and second as the baseball draft got rolling Sunday night. Also to little surprise, the Rangers followed by taking the son of an NFL player.
Just not that one.
With most last-minute mock drafts predicting Texas would take Holliday (if he fell) or toolsy high school outfielder Elijah Green, son of multi-time Pro Bowl tight end Eric, the Rangers detonated the apple cart by instead calling the name of independent league pitcher Kumar Rocker.
Given Green's physique and power potential, it's more than just a point of interest that his profile is often led by the fact that he's the son of Eric Green. But this is different. Former All-American and NFL defensive lineman Tracy Rocker has been known for several years, fairly, as "Kumar Rocker's dad."
It was a shock, and maybe I'd have some more clarity on all of this if I weren't navigating COVID, but the thought that struck me in the immediate aftermath of the announcement and, still, after several rounds of sleep is that I really like the pick—without being sure how much I like the player.
The Rangers' front office had all sorts of reasons to make a bold, aggressive selection coming off a 102-loss season, and they could have done that in plenty of predictable ways. But this feels as if the organization embraced an air of fearlessness—and one could also argue the front office, having not given the fan base or their bosses a winning team in six years, had reason to play it a little safer than betting on a player who has thrown 20 indie-league innings and had shoulder surgery since the Mets declined to sign him as last year's 10th-overall pick.
Texas swung really big on Sunday on a night when it would have made sense not to. The decision to take Rocker, not only with all that's riding on it but also given the questions his recent history prompts, makes it clear the Rangers' decision-makers were more focused on doing their jobs than on saving them.
And it's those questions that give me pause on Rocker. They're the same ones that made just about everyone project him to go anywhere from the middle of the first round to possibly outside it altogether. A few years ago, that would have been inconceivable. He had finished his freshman season at Vanderbilt in 2019 with a 19-strikeout no-hitter in the NCAA Super Regionals–getting all 19 on a wipeout slider that supported a 97 mph fastball—before earning Most Outstanding Player honors in the College World Series. If freshmen were draft-eligible, he might not have been a Bryce Harper-Stephen Strasburg-Gerrit Cole type of lock to go first in that draft, which took place five days before his historic no-hitter. But he would have been close to it.
Rocker pitched only 15 innings in 2020 before college baseball was shut down by COVID-19. He still wasn't draft-eligible. Then, as a junior last year, he was significantly less hittable than he was as a freshman and increased his strikeout rate: he tied Commodores (and imminent Rangers) teammate Jack Leiter for the NCAA lead in strikeouts and was better than Leiter in both walk and home run rate.
But Rocker's velocity was curiously inconsistent, and while he was thought to be in the mix for Texas in the 2021 draft at No. 2 overall, the Mets ultimately selected the 6-foot-5 righthander. And then New York—despite new owner Steve Cohen's brazenly open scheme to money-whip the sport—decided not to sign him. The front office didn't like something it saw on his post-draft, pre-contract physical and backed out of negotiations after reportedly agreeing to a $6 million deal, a bump over the slot's $4,739,900 value.
It was an amazing turn of events, a jaw-dropper that led to at least one loopy tweet when the Aug. 1 signing deadline passed without a deal.
On his adviser Scott Boras' recommendation, Rocker didn't return to Vanderbilt. He had a mystery shoulder surgery last September—a procedure performed by Los Angeles Dodgers and Rams team physician Dr. Neal ElAttrache but was nonetheless vaguely labeled by Boras as a "minor scope," from which no imaging would be provided to teams. From there, he was off to the Tri-City Valley Cats of the independent Frontier League, where he made five appearances spanning 20 innings. The velocity was back (he sat 94 to 98 mph and touched 99)—interestingly, from a slightly lower arm slot than in college—and his slider was biting.
Still, no predictions had him going as early in the draft as he'd gone in 2021, let alone higher. Of the mock drafts I pay the most attention to, the highest projection I saw for Rocker was from FanGraphs' Eric Longenhagen, who slotted him 13th to the Angels. MLB.com's Jonathan Mayo was low man on Rocker, predicting San Diego would take him 39th. The slot values for those two picks were $4,410,200 and $2,003,500, respectively. (This is significant; hang tight.)
No one, including Longenhagen, saw the Rangers' play coming.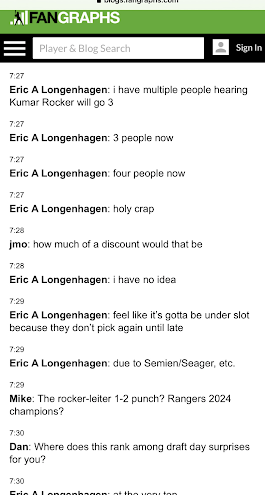 The ability and upside is clear. The present issue, which the Rangers are seemingly comfortable with, involves how the arm will hold up after surgery, not to mention whether the team would have been better off (not just safer) selecting Green or one of the other players who were projected to (and did) come off the board moments later.
But here's the kicker. Whereas he had been in line to sign for $6 million in last year's $4.7 million slot, reports are that Rocker agreed, pending his physical, to take $5.2 million from the Rangers in what is a $7,587,600 slot. He's accepting less from Texas as the third pick than he would have been paid by the Mets as last year's 10th selection.
Less than he was on the verge of getting last year, maybe, but more than those $4.4 million and $2 million slots had he fallen to the middle or late parts of the round as so many predicted.
The impact of an under-slot deal goes beyond the value the Rangers could be getting if Rocker reaches his ceiling. While the club won't admit it—possibly because it isn't true—most speculation is that Texas would have taken Holliday had Baltimore gone under slot with the first pick. (Jones was believed to be Arizona's choice at number two even if both were available.) And Holliday most likely would not have agreed to take $2.3 million less than slot to sign.
Which is not to say the Rangers would have walked away from Holliday. But it probably would have meant they wouldn't have been able to pull off what they did with their next pick, which didn't come until Round 4 after surrendering their second- and third-rounders as part of signing Corey Seager and Marcus Semien over the winter.
In its final mock draft, published hours before the start of the draft, Baseball America projected Rocker would go 24th to Boston, as the seventh pitcher taken. The first pitcher to go: Michigan high school righty Brock Porter.
He fell to the fourth round, presumably because of a Clemson commitment he had put a high price tag on to forgo.
He fell to Texas.
As a result, the Rangers essentially landed the following with their first four picks:
It's astonishing. In this year's draft, the Rangers not only came away with the guy who was once believed to be the best amateur pitcher in the nation in Rocker—they also, for a second straight year, landed the prospect believed to be the top pitcher in the draft in Porter. For all the questions about Rocker and whether he merited the first-round pick, getting Porter three rounds later was a slam dunk as long as the two sides have a common signing bonus in mind.
Now, Rocker, Leiter, and Porter all need to live up to those expectations. That was as true of Mark Teixeira as it was of Thomas Diamond. But in adding three pitchers who each stood atop an entire crop of amateur pitchers at one point, the Rangers have improved the odds that what was already considered a very good farm system will make them a team that can soon stop game-planning what to do with a top-10 draft pick.
An aside: Baseball America (which had Rocker at 24 in its final mock draft) and Mayo (who had Rocker at 39) pegged Porter at 11 and 12, respectively. When they roll out their updated top-100 prospect lists, whom will they rank higher?
It matters not to the Rangers. Taking Rocker where they did was not part of some master plan to get Porter as well. It was certainly no lock that the high schooler would escape every selection between three and 109. It took some stones.
If Elijah Green were the pick, and he turned out to be solid but not a star, whereas Rocker were selected 24th and went on to pitch in 10 All-Star Games, nobody would say, "They should have taken Rocker."
But if Rocker doesn't work out, and Green or Kevin Parada or Termarr Johnson or Brooks Lee or Cam Collier hits it big—and some of them will—then you can be sure that Donald Harris, Matt Purke, and Dillon Tate will have company in Texas' draft narrative.
And that could happen. The Rangers may be wrong. But there were alternatives that, if they go badly, will bring less heat their way. Minimizing risk isn't easy in the baseball draft, but the Rangers showed on Sunday they weren't looking for ways to do it. They could have taken Green, the 18-year-old with the big swing. They didn't, but man: they still took a hell of a hack.
Get the ItList Newsletter
Be the first to know about Dallas' best events, contests, giveaways, and happenings each month.
Author
Jamey Newberg covers the Rangers for StrongSide. He has lived in Dallas his entire life, with the exception of a…