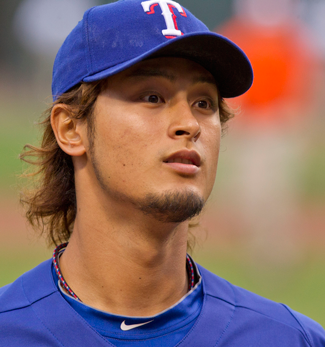 I don't envy D Magazine contributor Michael J. Mooney's ESPN the Magazine assignment to write about Texas Rangers pitcher Yu Darvish's return following Tommy John surgery. Knowing that you're not going to get to talk to him one-on-one, and that you've got to go through a translator — all the while your editor wants you to turn in a revealing narrative worthy of #longform treatment — that's a tough draw.
Darvish comes off as one of those sports superstars who's been so famous for so long that he has to kind of be a jerk if he doesn't want to leave himself vulnerable:
Still, when the clubhouse in Arlington opens to media, reporters aren't sure what they'll get. The Japanese contingent will inch ever closer to Darvish, trying to determine whether he feels like speaking. The reporters bow before talking and openly worry about saying something wrong.

Despite such acquiescence, Darvish can be guarded. He's been trailed by cameras and microphones since he was 15 and once was caught smoking underage in a pachinko; he ended up holding an impromptu news conference in front of more than 200 reporters in which he apologized and promised never to smoke another cigarette in his life. The experience hardened him, making him cautious and deliberate in front of the media.
Get the D Brief Newsletter
Dallas' most important news stories of the week, delivered to your inbox each Sunday.