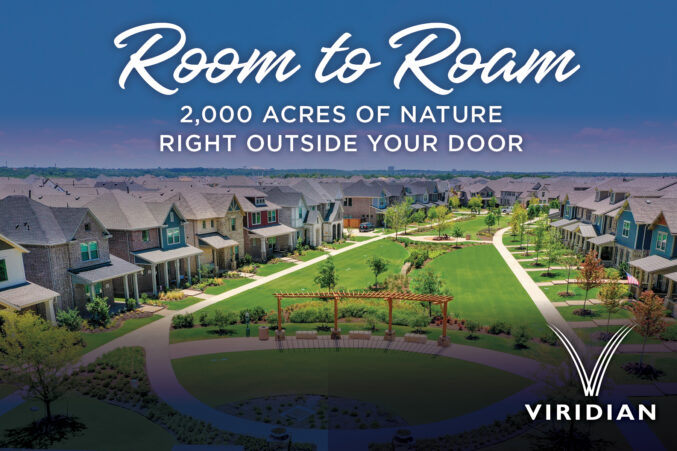 Four Reasons Why Now Is the Time to Buy Your New Home
Plus, explore the 2,000 acres just outside your door at Viridian, making it the perfect choice for your new home, inside and out.
By Viridian
Published in Sponsored
November 10, 2020
1:14 pm
Has 2020 made you consider an upgrade to a larger home or take the leap into homeownership? This may be as good a time as ever! Here are four reasons why now may be the time to move to Viridian.
1. There's something for everyone.
At Viridian, there's a home for every lifestyle, including a new neighborhood with homes of all sizes and styles, luxury homes on The Island, or in Elements, our 55 plus community.
2. More bang for your buck.
Homebuyers have gotten a boost in purchasing power with historically low interest rates, making it possible to buy more square footage for the same or slightly higher monthly payment. Consider not buying your starter home, but your forever home with these attractive interest rates. Talk to your lender today.
3. Homes as unique as you are.
The possibilities are endless when you buy a new construction home. You can pick your floor plan and finishes that work best for your lifestyle today and tomorrow. Our builders offer 130+ floor plans, from the upper $200s to the millions.
4. Viridian offers an active way of life, right outside your door.
Experience the Viridian life while you wait. Your new home in Viridian gets you 2,000 acres of nature, parks, and lakes at just 700ft or less from your doorstep to jog, ride, sail, and more. Room to roam, room to grow, inside and out. While you come to check on your home construction, bring the family and get to know the trails and parks and meet your neighbors!
If you're ready to explore the new homes for sale in Arlington, TX, visit our website.