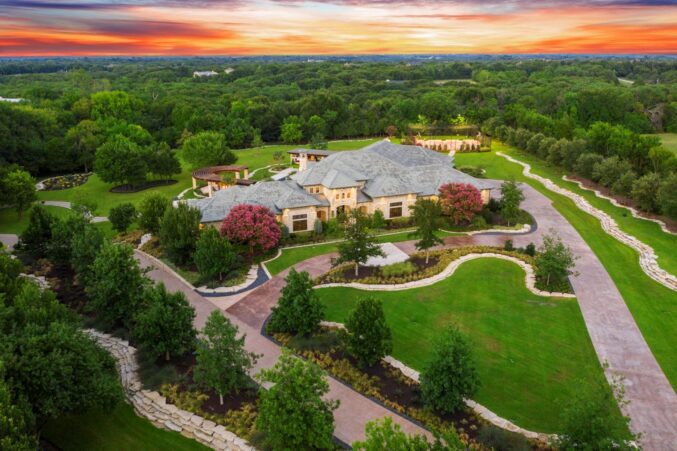 Quarantine or Not, You'll Never Want to Leave This Lucas Estate
Just try to get bored at 1010 Wendy Lane in Lucas. We'll wait.
A baseball field, putting greens, sport courts, mega pool with cooled cabana, two ponds (1 stocked)—that's just the beginning. Bored…it can't be done. Built in 2016, the 8,325-square-foot property just hit the market and is beckoning buyers who have been toying with the idea of moving to the suburbs where life slows down and there' more room to roam. The secluded home features five bedrooms, 5.3 baths, a three-car garage, and sits on an expansive 18 acres. Should you need to get back to the city, Dallas is just a 30-minute drive away.
Listing agent Karen Hartman with the Hartman Terilli Group at Coldwell Banker says this much square footage in a single-story home is rare—and coveted. The home's interior features what you would expect in a jaw-dropping estate—a large media room, game room, open-concept kitchen with Viking appliances, and a Control4 Smart Home system that connects all the home's technology to the owners' cell phones. There is also a climate-controlled single-car, attached garage on-site currently used as a gym, but versatile enough for a variety of purposes. There isn't a luxury interior appointment that has been overlooked. What truly makes the home stand out is its secluded location and wide variety of outdoor amenities. Walls of windows look out to the 85,000-gallon resort-style pool surrounded by a jet air-cooled cabana. Multiple outdoor living areas, fireplaces and firepits, motorized screens, and a decked-out kitchen with Wolf appliances keep guests entertained and homeowners happily socially distanced or cozily gathered—whatever the mood dictates.
If you have a family of sports lovers and are always up for a little family-friendly competition, welcome home. The fenced-in sport court is a draw all year, with a basketball court, pitching cage, and batting cage. The turf baseball field features adjustable mound and baselines, covered seating, and dugouts. No need to wait for the weekend to fish. On an average Tuesday, grab your pole and head out to the fully-stocked main pond swimming with blue catfish, striped bass, large-mouth bass, and bluegill. No tall tale, the previous homeowners reported catching catfish up to 34 inches long and weighing about 15 pounds! The lower pond features a wood-burning firepit—a great place to retreat for a glass of wine at the end of a busy day. Another perk is the private well and underground rainwater storage tanks for irrigation, along with a whole-house backup generator. Whatever happens, you'll be prepared. Also accessible to the new owners—a longtime property manager and house manager who know 1010 Wendy Lane inside and out.
The home, listed for $9.9 million, was designed and built by Mark Smith, an assurance that means you don't have to change a thing once the last box is unpacked. 1010 Wendy Lane's next-door neighbor, 1355 Wendy Lane, listed by Shana Acquisto with the Acquisto Real Estate, is also on the market and listed for $12 million. While the aesthetics of each home differ, they are two impressive options to consider for anyone looking to make a smart move north. Lucas is home to the highly acclaimed Lovejoy Independent School District where the schools consistently receive state and national recognition in academics, fine arts, and athletics.
To learn more about what's happening on Wendy Lane in Lucas, take a virtual tour of 1010 Wendy Lane at 1010wendylane.com, then call Hartman for a personal guided tour of the home and surrounding property at 214-454-4917.