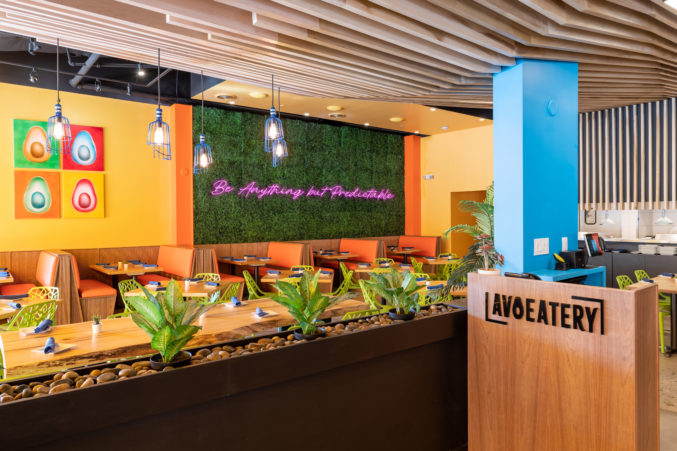 Dallas Goes Beyond Guac at New All-Avocado Restaurant
AvoEatery is sure to expand your creativity when it comes to avocados.
By AvoEatery
Published in Sponsored
March 4, 2020
10:54 am
Think you know all the ways to enjoy an avocado? A trip to AvoEatery is sure to spark an entirely new set of cravings for you. All 29 dishes at the newest restaurant in Trinity Groves feature avocados and the full bar includes 10 specialty avocado cocktails. AvoEatery is the world's first polished-casual avocado restaurant, and Dallas diners have the first chance to embrace the avo-venture of it all.
AvoEatery is part avOasis for fans of the superfruit and part living lab to test innovative avocado dishes and drinks. Trinity Groves and Avocados From Mexico are partners in the venture, and insights gathered locally will be shared nationwide with chefs and restauranteurs.
From the moment you enter, AvoEatery surrounds you with a bright, buzzy energy. The colorful interior design is irresistibly charming, and the "Avo Good Day" photo wall and patio is made for social media moments. It's a vibrant scene, filled with the anticipation of being the first to experience something fresh. Even the most dedicated gourmands will find new ways to sip, snack, and savor avocados every day of the month and then some.
AvoEatery's menu is calibrated for guests with a variety of preferences and palates. Try a classic starter with a twist, like a guacamole flight or one of six delicious avocado toasts in unexpected flavor combinations. Ah, the joys of avocado pimento cheese on the Ham & Cheese Avo Toast, and the Mediterranean flair of the Labneh Toast with za'atar, pistachios, mint, and honey!
Salads and bowls feature crisp, fresh ingredients that pop with creamy avocado. Sure to turn your head and taste buds, the Asian avocado shrimp salad combines blackened shrimp with pickled avocados, vermicelli noodles, and more, enclosed by a fan of sliced avocado.
Entrées at AvoEatery range from avocado-centric dishes to meals elevated by avocado accents. You won't want to miss the hot chicken sandwich or a classic burger with avocado. The spaghetti squash and zoodles feature a grilled avocado half center plate for a tasty vegetarian option. In contrast, the New York strip steak – with avocado herb butter, fries, and an avocado chimichurri side – delivers a fresh take on a hearty steak dinner.
Avocado desserts? A must-try at AvoEatery. One bite of the chocolate avocado brownie à la mode with vanilla avocado ice cream will have you thinking about sweets in a whole new way.
Beyond the plate, AvoEatery offers a full bar, but the avocado cocktails push the boundaries of what's expected. Ingredients range from avocado chocolate bitters to an avocado leaf tea-based elixir, using the entire avocado tree to create spectacularly surprising sips.
Avocado remoulade. Green avocado curry. Avo-chocolate mousse. Wherever your culinary journey at AvoEatery takes you, it's sure to be a delicious ride and memorable experience nestled in the exciting atmosphere of Trinity Groves.
Open for lunch and dinner every day, and weekend brunch, plan your next avo-venture and enjoy a trendsetting meal out at AvoEatery.