Four Stone Trends to Try Right Now
If your Pinterest searches have hit a dead end, we've got four trends handpicked by the experts at The Stone Collection.
By D Partner Studio
Published in Sponsored
May 30, 2019
10:00 am
Some say a new coat of paint can make a big difference in updating your home (out with the gray, in with dark navy!) but choosing a new slab of stone for the bathroom, kitchen, or master may be all you need to give your home a natural facelift. If your Pinterest searches have hit a dead end, we've got four trends handpicked by the experts at The Stone Collection. The showroom's expansive inventory (over 10,000 slabs in Dallas Fort Worth!) of first-quality stone boasts just about every shape, size, color, and material. Each slab is displayed gallery-style, so it's easy to view each piece to make sure it's right for your space. Stop and visit the 100,000-square-foot space chock full of rock-solid options. No appointment necessary.
Trend: Try unique natural stone applications for a wow factor.
You don't have to limit the use of stone to just countertops. Get creative and use the natural beauty throughout the home, like on this custom Velluto onyx headboard. Two slabs were bookmatched (mirrored like an open book) to create a headboard large enough for the master bedroom's space. Onyx is perfect for this use because it's a softer stone, which is best suited for feature walls, flooring, and bathroom vanities. To create even more ambiance, backlight the piece to create some major mood.
Trend: Extend your countertop materials into your flooring.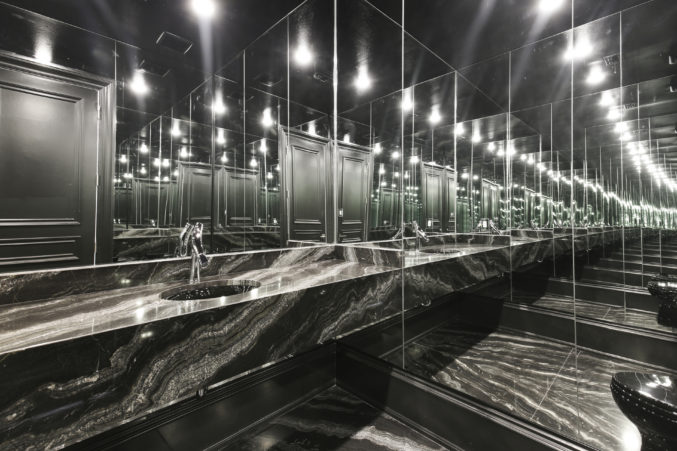 The monochromatic look is a solid choice—it's easy on the eye and creates a clean look. In this Preston Hollow home, Agata granite was selected for the countertops, and the same pattern was bookmatched for the flooring. And as a bonus: it also makes small spaces feel bigger.
Trend: Alternate stone types and colors in the kitchen.
Why choose one stone when you can have two! In this Dallas kitchen, granite covers the backsplash and perimeter countertops, while Caesarstone quartz covers the island. Sometimes food prep requirements (like Kosher for example) force choices like this, but it's on the rise as a trend to watch. The natural stone helps bring in texture and warmth to the neutral/white color palate, and ties in with the rest of the home where it's featured on the fireplace and bar.
Trend: Consider engineered stone in lieu of marble.
Whether you love to entertain, or you spend your days entertaining children, Neolith may be the right choice for you. (Or, perhaps your relationship with delicate and sensitive marble is on the rocks.) Neolith is one of the most versatile engineered materials available. The all-natural, high-performance stone is comprised of granite materials, glass minerals, and natural oxides. And the possibilities are endless—you can use it in the kitchen, as well as an outdoor countertop or exterior cladding. There are multiple marble look-a-like options complete with veining patterns and various finishes. Say goodbye to etching, red wine stains, and the wear of marble.
Learn more about The Stone Collection here.