This Gorgeous Garland Spanish-Style Casita Has Us Swooning 
You can get THAT house for THAT price? We're listening.
By D Partner Studio
Published in Sponsored
November 15, 2018
12:10 pm
Talk about an exterior renovation packing a major punch. Wow. Just wow. The gorgeous arches paired with the dramatic front doors and fresh paint is enough to make an educated guess that the inside is going to be just as impressive. And lucky for home buyers looking to put down roots in Garland, it totally is.
This home features beautiful wood floors, updated (light and bright) interior paint, and stylish light fixtures. We also really like the butcher block countertops and how they complement the subway tile backsplash. A large farmhouse sink is also another great feature of this entertainer's kitchen. Because where there are lots of people, there are lots of dishes.
It's the little things that make a big difference in this home and it is evident in the new windows, garage doors, roof, and even foundation repair. More aesthetically pleasing evidence of a thoughtful renovation includes the fact that a mud room was added to the laundry room area and all of the bathrooms have been updated and now boast big personality via the new countertops, tile, fixtures, and sinks.
In total, there are three bedrooms downstairs and then a "bonus" bedroom upstairs. Its placement next to a separate living area and bathroom upstairs would make the second floor an ideal guest suite. Because, let's be honest, when you buy this house, you are going to find that you have more and more house guests wanting to check out your gorgeous new digs.
---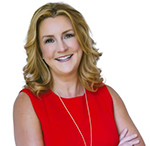 The Shelly Seltzer Group
214-507-0581
[email protected]
I love life and the various hats I wear to live my life fully. I am married to my high school sweetheart, and I'm a mom to two beautiful, incredible children and two of the best doggies ever, two yellow labs. I believe that relationships are what truly define our lives, and beyond the family I hold dearly, my life is enriched by my incredible friends, many of whom came into my life initially as clients in my real estate practice. My husband and I are passionate about food, wine, and healthy eating. Some of the activities which add color to my life are hiking, kayaking, scuba diving, snow skiing, checking out live music, and just relaxing at our lake house.
I bought my first home on my own when I was twenty-one. I was fascinated by the home buying process, and my home was an incredible source of pride for me. After honing my sales skills in the telecom and high tech arenas, I decided to follow my latent passion, real estate. Simply put, I love helping people through what are some of the biggest transactions to which they'll ever be party. First time home buyers, people stepping up to their dream home, empty nesters downsizing, people relocating into or out of DFW, and on and on it goes. I love what I do.
I've lived a good part of my youth, and my entire adult life the DFW area. I've bought and sold several of my own homes over the years, and I've literally had the good fortune to assist hundreds of buyers and sellers do the same. My affiliation with Ebby Halliday Realtors, one of the largest independent real estate brokerages in the country, and THE largest in DFW has been an extremely valuable relationship for me.  Ebby is the number one company in Dallas for incoming and outgoing relocations. As a member of the Ebby relo team, I've had the opportunity to assist numerous home buyers and sellers moving from DFW to elsewhere and from other cities to DFW. This experience, along with my intimate familiarity with the DFW Metroplex, means that, quite simply, I know the DFW market very well. Many successful real estate professionals tend to gravitate predominately toward working with buyers or with sellers.  I've also enjoyed working with both!
The DFW area possesses tremendous opportunities for both home buyers and sellers. At present, DFW is actually the number one destination locally for corporate relocations. It's been my pleasure to share a bit of my personal story with you, and whether you are looking to sell or buy a home here, I would welcome the opportunity to help you achieve your objectives.