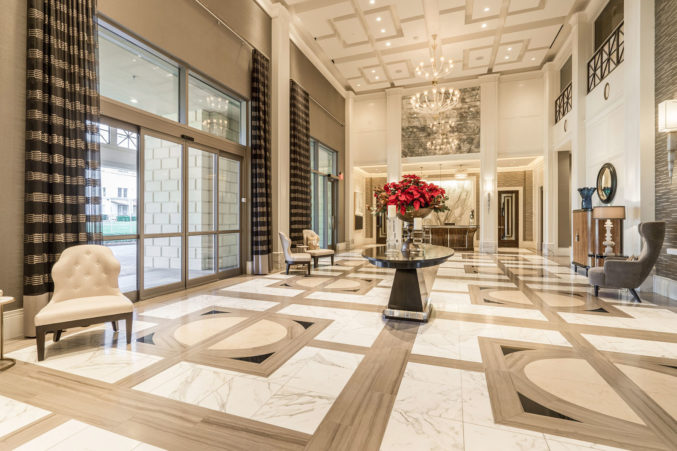 The Sky's the Limit for this Stellar Stoneleigh Estate
Serenity in the clouds yet only minutes from the action
Ready to ditch the yard work and live a luxe life free of all the "honey do's" that come along with being a homeowner? Take a look at this handsome two bed, 2.1 bath property that has all the things you love about high end real estate and none of the things that you don't.
For starters, this residence has an open floorplan that makes it seem much larger than 2,670 square feet. Its Scandinavian hardwood floors, Ecosmart fireplace, and state-of the-art kitchen features make it appear as if this property is on the cover of some fancy home magazine (Hey D Home, you listening?). Same goes for the bathroom with its hotel-esque fixtures, porcelain tile floors and showers and quartz countertops.
What seals the deal for us is the fact that this property has two balconies that boast stunning views of Dallas. Whether you are in the living room, dining room, or study, you are just a step or two from enjoying the sights of your Uptown neighborhood from above. Because if you are going to live high in the sky, you have to have the proper backdrop to back it up.
This property is one of the Residences at the Stoneleigh which means it comes with all of the most luxurious amenities. In addition to having two parking spaces, the property offers valet parking and a 24 -hour concierge. The unit grants residents access to a banquet room, 20-seat media room, heated pool, conference rooms, a fitness center, dog park, outdoor living area with fireplace and much more.
Sold your neighbor on life at the Residences at the Stoneleigh too? They are in luck as Unit 14D is on the market too.
---
Linda Jordan Hobbs
214-535-3732
[email protected]
Stacey Beckham Lake
214-908-2477
[email protected]
Susa Gamso
214-906-0355
[email protected]

Joe Gall
214-957-5383
[email protected]
Linda, Stacey, Susan and Joe are four top-producing individual Ebby Halliday agents who have come together to represent two designer-finished homes at Residences at the Stoneleigh. With many years of experience representing buyers and sellers in Dallas' most prestigious neighborhoods, our team offers exceptional customer service and comprehensive knowledge of the marketplace. Contact us to schedule a private tour of Residences at the Stoneleigh … a truly exceptional luxury property.