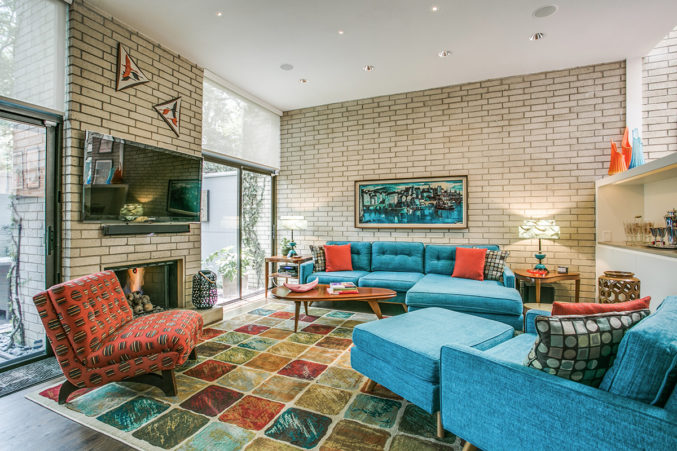 This Bud Oglesby Designed Condo in Oak Lawn is a Mid-Century Must See
Find out what all of the architecture enthusiasts are swooning over.
When a Bud Oglesby is for sale, real estate fanatics tend to freak. Why? Well because he is basically a mid-century modern master and there are only but so many in Dallas. Not to mention a property that can actually be toured, sold, and passed on to someone else is rare because people tend to hold onto these places as long as possible.
This two bedroom, two-bathroom condo at 2812 Welborn Street in the highly desirable Mansion Park area of Oak Lawn is no exception. Entering through the 22-foot entry gallery with barrel vaulted skylight, you know you are in for something special.
Stepping down into the living area you are taken by the wide open spaces that make the place look much larger than its 2,000 square feet. Your eyes immediately take you to the dining area that has incredible views of the expansive back patio and yard.
The master bedroom is dreamy featuring a fireplace and lounging nook that would make even the most frigid human have the urge to cuddle. The master bathroom is updated with marble countertops and a walk in shower.
And while this property is mid-century in every aspect down to its period appropriate furnishings, its owner has not left its practical upgrades in the past. Recent upgrades include a new roof, fresh paint, hardwoods, custom window coverings, upgraded kitchen, and more.
Are you the Don Draper Type? Skew more Peggy Olson? Either way, you would be a mad man not to check out this time capsule of a condo if you are on the market for a two bedroom with charm for days and a killer location to boot.
Dennis Hammett
(214)641-9815
[email protected]
As your Realtor, your dream is Dennis' dream, and his mission is all about making that dream a reality. He is your partner every step of the way and offering a customized VIP approach to your real estate needs. He can see the big picture and end result while being able to map out the steps it takes to get there. His 30 plus years of customer experience, design, marketing and strategic negotiations make him a unique and well-equipped associate to guide his clients through to a successful closing. Having bought and sold several homes in the Park Cities and Uptown areas, he has remodeled, consulted on new construction, and staged many other homes. He has a natural eye for how a few simple, modern changes could make a dream home. Dennis possesses the ability to work with a wide array of clients with varying lifestyles. For a real estate associate who is on trend, innovative, strategic, creative and able to see every client's dream, you can count on Dennis Hammett.