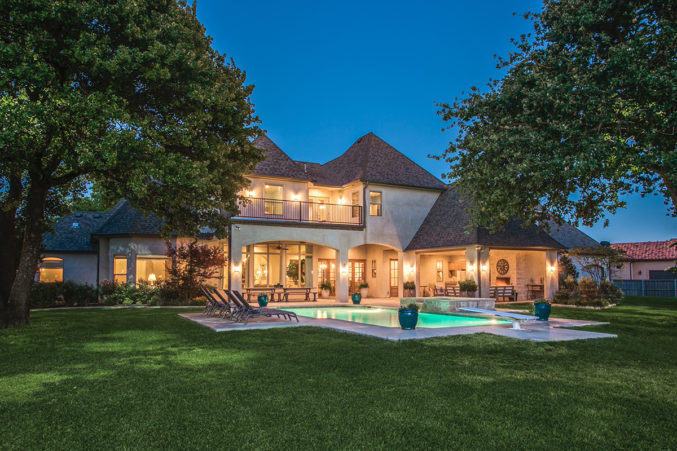 Strawberry Fields Forever at This 1-Acre Abode in Mansfield
Where the timeless charm of suburban living meets the quiet peacefulness of the country.
How can you resist 1505 Long and Winding Road in Mansfield? Located in the prestigious Strawberry Fields subdivision, its manicured acre lot calls you home from the moment you drive up the cul-de-sac.
Walking in you are immediately struck by a laid back yet beautiful space that screams "forever home." It's the kind of place that kids are raised and that memories are always being made. We are dying over the handsome wood beamed ceilings and the open floor plan that seamlessly transitions guests from the kitchen to the living room with ease.
Grab a bottle from the wine room and head into your luxurious living room that features a fireplace and courtyard. French doors and windows span the back of the home making for the most beautiful natural light that dances across the kitchen and breakfast nook. A large laundry room is strategically hidden but definitely appreciated as a safe harbor for all messes and dirty clothing.
The downstairs master is all things romantic and regal. Whether it's the tall ceilings, the sitting area, or the dimmed lights reflecting off of the chocolate paint, the moment you walk in you want to settle in for an afternoon nap or a cup of tea by the windows. The wrap around closet dares you to try to fill it to the brim with your clothing. We betcha can't! It's that big!
Upstairs, you will find three large bedrooms that have private bathrooms. There is also a game room and kids retreat so that you can keep the toys under control. There is truly something to be said about the saying, out of sight, out of mind. Especially when it comes to giving those rowdy kiddos a place to let off some steam.
Your outdoor entertaining space is second to none. Are you at a Hill Country resort or at home? It's hard to decide with the sparkling swimming pool, rows of outdoor furniture, and stone hot tub. The covered outdoor area features a television, fireplace, and fridge/bar to continue any and all activities outside should you so choose.
Fancy yourself a fixer upper? The barn is the ideal space to transform into a cozy guest house. Because trust us when will tell you that the owner of this suburban charmer will certainly be seeing an increase in friends who want to spend a night or two with you in North Texas.
Kathy Lakatta
Phone: (817)654-8418
Email: [email protected]
Real Estate Experience—15 years
Top Office Individual Producer 2008-2014
VIP Customer Service Award 2007-2014
Member of NAR, TAR, Arlington Board of Realtors
Relocation Specialist