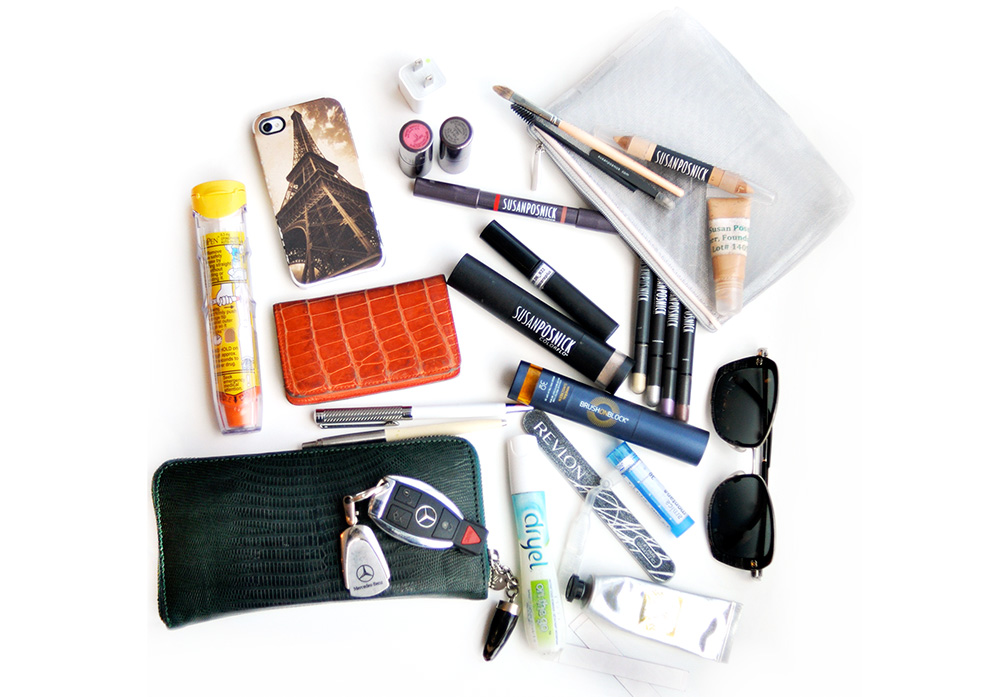 What's in Susan Posnick's Bag?
The queen bee of Dallas' cult beauty brand spills her purse.
Before Susan Posnick was Dallas' cult beauty brand, the entrepreneur was a makeup artist. Mary Kay Ash's, in fact. (She was the go-to artist for Mary Kay for 18 years.) After being diagnosed with skin cancer in the 1990s, Posnick decided to launch her own line of natural makeup with built-in sun protection in 2002. The brand's first product, the ColorFlo powder foundation and sunblock, remains one of the staples of the beauty collection, a lineup of unfussy products that simplify the makeup routine. The brand's queen bee made a stop at the D Magazine offices last week to spill her bag for us. Naturally, it was full of her eponymous lipsticks, concealers, glosses, and clever eyeshadow pens and a few other favorite things. Take a look.


Favorite spring trend: Nearly naked lips (try Boca, LA, or Dubai)
How she gets Zen: Daily meditation
Favorite song: Young Forever by Jay-Z + Mr. Hudson
Favorite recent purchase: Rose-colored leather pants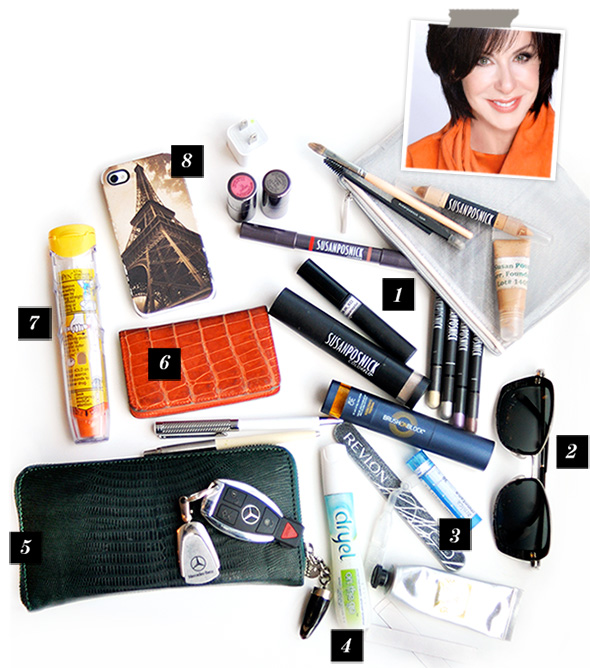 1. I always travel with a lot of Susan Posnick because I travel a lot and always want to be prepared. These two are lipsticks—they have magnetic cases. These are "Dallas" and "LA," my two little neutral pinks. It my mesh cosmetic bag, there's ColorFlo, which is my foundation and my sun protection; our ColorDuo lip liner pencil—it's got two colors on it, so I can wear them by themselves at matte lipsticks or I can mix it with lipstick colors; my corrector pencil, which is a must because it spot-covers everything; one little brush; tweezers; my eye pencils—because they're shadows and liners; a tester for a new product that we're doing; and a tester for the mascara that we're getting ready to launch. I carry Brush On Block all the time—one in the car and one in my bag. I brush it on my hands and my neck.
2. Sunglasses are a must. These Chanel sunglasses are a favorite pair. I have a hard time finding sunglasses, so when I find a pair, they're a favorite for a long time.
3. I carry arnica. I tend to be a little clumsy and bruise easy. I've got a nail file and hand cream. The necessary stuff. I have contact solution for dry eyes and allergies, and I keep toupée tape in case of emergency. Mine or somebody else's.
4. The Dryel removes stains from clothes instantly. So if I'm having dinner or a glass of red wine and it happens to spill, it's real easy to continue my night out without having to go home and change.
5. I bought this wallet in Buenos Aires and I loved it. Loved the color. I tend to buy things I really love and then keep them for a long time.
6. I've had this cardholder a long time. I like skins. I like textures.
7. I have to get a shot once a week, and they won't let me have the shot if I don't have my EpiPen, so I just leave it in my bag. [After 17 years of owning cats, Susan became allergic to them last fall. She refuses to give them up.]
8. I like this Paris case and it reminds me of travel.