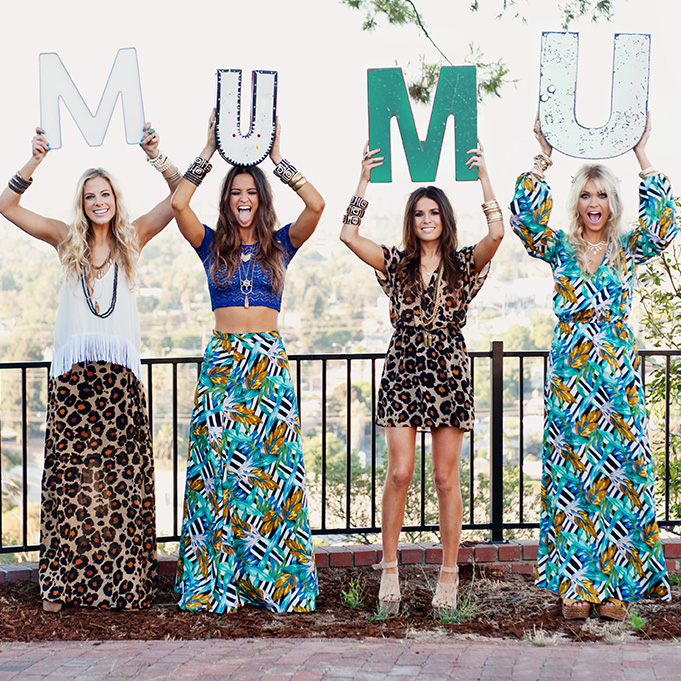 The Show Me Your Mumu Designers on Lip Balm, Skinny Margaritas, and Their Dream Collaboration
Girl crush alert. I recently sat down with Cammy Hebert and Cologne Schmidt, the designers behind playful bohemian line, Show Me Your Mumu. The two are college classmates (Berkley, specifically), business partners, part-time models (spot them posing in their own lookbooks), and still, somehow, besties. (They even complete each others' sentences.) While they were in Dallas, as the featured designers during the Fashion Industry Gallery's market, I got to chat with the two peas in a pod and walk through the racks of fall samples–where I promptly fell head-over-heels in love a purple-flecked velvet burnout kimono. Show Me Your Mumu has a music festival vibe–especially when topped with flower headbands–but break down the looks, and you have perfect everyday wear: brunch maxis, vacay staples, breathable separates for surviving upcoming summer months, pretty fall prints, and cozy rompers. Shop the line locally at Hemline, L. Bartlett, and The Gypsy Wagon.
Read our Q&A with the design duo.
If you were going to live in one outfit for the rest of your life (from your collection) what would it be?
Cammy: I would live in a printed Jocelyn maxi, which is what I'm wearing right now. I could sleep in it, swim in it, eat, drink, shop, go to the ball. I mean, this could be so casual or so fancy.
Cologne: I guess I have to go with what I've been living in, too–my printed skater mini. I always love our collared shirts with our sweaters and my skater mini.
Cammy: She likes Cher…Horowitz. Not Cher-Cher. I'm more like Cher-Cher, and you're like Cher Horowitz.
What is one thing that would never be in your closet?
Cologne: Kitten heels
Cammy: That's a good one. A push-up bra.
Okay. Favorite lip color or lip product.
Cammy: Mini Vaseline. They're so easy to travel with. It's like a Vaseline jar but miniature. It looks like it's for American Girls; it's so cute. I just love Vaseline.
Cologne: I always do the Benetint lip stain. I love the egg Chapsticks, too, the EOS. I'm not a big lipstick or lipgloss girl.
Cammy: We do Chapstick.
What is your go-to drink?
Cammy: Skinny margaritas.
Cologne: We love them. We drink them everywhere we go. Even if they don't have them on the menu, we're like, please make us one.
Cammy: We would go to a Chinese restaurant and order one.
If you were going to collaborate with anyone, what would be your dream collaboration?
Cammy: Can I say Frida? She would make some cool prints.
Cologne: We have always wanted to do shoes and we love Jeffrey Campbell's stuff. Maybe "Mumu for Jeffrey Campbell"? We wear those all the time.
Cammy: Yeah, our prints on Jeffrey Campbell's shoes…that would be sick.