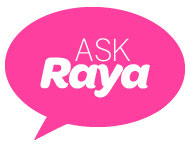 A reader writes:
I need a need a new workout class for summer. Bored of the gym, but gotta get rid of these not-so-lovely love handles. I know you try out different classes. What are your favorites? –Candace
I won't lie. A perk of the job is "testing" different fitness programs around town. Most are good. Some, meh, but then there are the greats. Five of those, coming up. (Warning: You will not find yoga on this list.)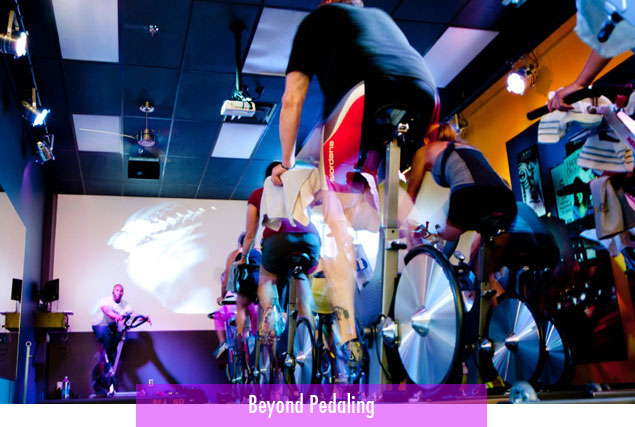 Class: Beyond Pedaling
What It Is: An indoor cycling studio in Snider Plaza. We love the Barre Blast + Bike class, a combination of 25 minutes of spin class and 25 minutes of ballet-inspired barre work that equals 50 minutes of pure, head-to-toe toning.
Why We Like It: The classroom is hip, lit up like a nightclub with colorful LED lights. A big screen at the front of the room plays music videos (nothing makes me pedal faster than Christina Aguilera's "Fighter"), and instructors are all sorts of energetic. The time flies by (as it does when you're having fun) and our bodies were sore for days in all the right places. (Buns, abs, shoulders, and thighs.)
Cost: $15 for your first ever class, followed by $3o a pop in singles, and packages ranging from $80-$300
Schedule: Click here.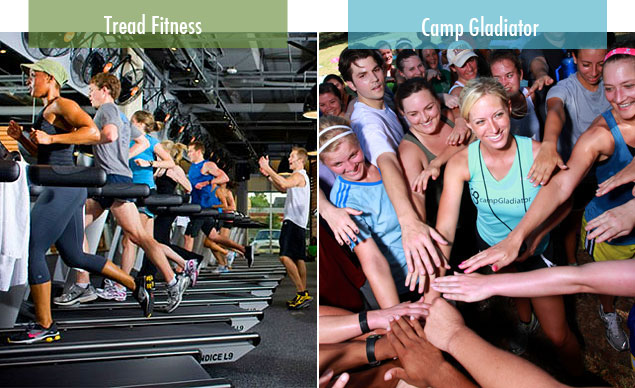 Class: Camp Gladiator
What It Is: An outdoor, four-week bootcamp which locations all over DFW and beyond.
Why We Like It: Along with hundreds of others (CG has won Readers' Choice awards for Best Fitness Program two years in a row), we, too, are hooked on the whole package: the group camaraderie, positive energy of instructors and fellow campers, friendliness of the trainers, and intensity of the one-hour workout. Every class in the four-week series is made up of different set of exercises, but each one utilizes dumbbells, mats, plenty of open space for cardio, and every. single. drop. of the hour.
Cost: $170 for one camp, $240 for two, three for $299, or, the best deal, $69 per camp for six months on auto-renew
Schedule and locations: Click here.
Class: Tread Fitness
What It Is: A boutique treadmill studio with one-hour interval classes that switch between treadmill cardio and floor work.
Why We Like It: Classes are broken down into either quarters (15 minutes on the treadmill, 15 on the floor, repeat) or nine six-minute circuit stations, so you're never in one place long enough to get bored or overworked. Treadmill time is broken down into one-minute bursts, so it's manageable to tackle steep, inclined walks and heart-thumping sprints. Energizing soundtracks help you get through floor work made up of resistance bands, dumbbells, and lots of ab work for toning and tightening.
Cost: Packages range from one class for $20 to 50 for $600, and monthly memberships run from $160 for one month to $140 on auto-renew
Schedule: Click here.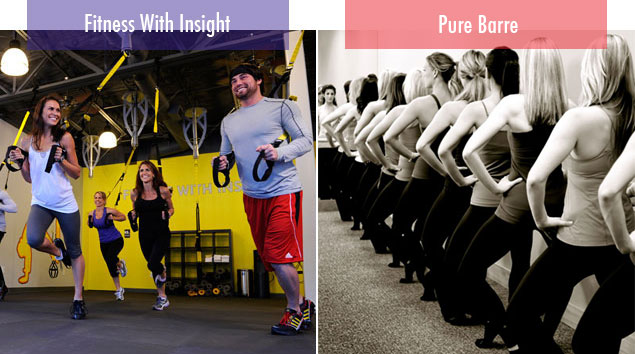 Class: Fitness With Insight
What It Is: A small TRX suspension training studio with 30-minute resistance training classes.
Why We Like It: It's nice to give up standard workout tools to put to use these straps hanging from the ceiling. These, plus your own weight are all you need to get a complete workout. Adjusting the position of your body allows you to change the resistance and tailor your workout to a desired level of intensity. (But trainers will push you to your maximum potential.) Classes are small allowing for one-on-one moments with the instructors, and did we mention classes are only 30 minutes?
Cost: A trial session is free then $25 for 1 class, $95 for 5, $175 for 10, and $195 per month of unlimited access
Schedule: Click here.
Class: Pure Barre
What It Is: A hybrid mix of Pilates, ballet, and classic aerobics.
Why We Like It: Each class thoroughly tones from head to toe. (Especially the soft spots–buns, bellies, and thighs.) The class begins with aerobics-inspired warm-up moves, followed by slow but deliberate movements that target one body part at a time and deliver a burn so intense you'll swear you must be in shape after just one class. Time flies by as you complete each section and the barre is fun. Relevés and arabesques make you feel graceful and a bit of hip wiggling to pop music makes you feel like a backup dancer.
Cost: $20 for 1 class, $175 for 10, and a variety of other packages, like $275 for unlimited summer months, $100 for an unlimited month for new clients
Schedule: Click here for Dallas and here for SouthLake.
all photography courtesy of fitness studios
Get the AtHome Newsletter
Enjoy Dallas' best trends, hot properties, and tips from local designers to help you nest in style delivered weekly.