For 43 years, Ham Orchards has been a local family favorite, enticing visitors from across the state with peaches picked from one of their 10,000 trees. On 100 acres just east of Terrell, foodies can browse the market store to find fresh produce, including, of course, perfectly ripe peaches, in addition to jams, butters, salsas, canned vegetables, and local honey. The sweet cream fudge crafted on site is not to be missed. If baked goods are more your speed, Ham Orchards offers a "scratch kitchen," with pies, cakes, and other delights made in their kitchen and ready to take home. If you arrive early enough in the season, you can pick blackberries in one of two patches (buckets are provided). Stay for lunch and try the peach pulled pork sandwich at the barbecue pavilion. Make sure to save room for their award-winning peach ice cream.
When my friend Katie suggested taking our kids picking at Pecan Creek Strawberry Farm, I imagined a bucolic afternoon of wholesome family fun, our 10-year-old sons relishing a non-iPad-centered adventure. Maybe this would be the moment that would inspire my picky eater to become a slow-food chef in rural Maine, making paillard from wild birds.
"Sounds peaceful. We're in!" I said.
"Well," Katie replied, "since COVID, it's gotten a bit, um, intense."
In previous years, Pecan Creek was a sleepy operation run by a lovely family with the patience of Job for grumpy customers. Last year, however, when the pandemic pushed people outside, customers swarmed the strawberry patch like locusts, causing long lines that led the farm to sell out sometimes mere hours after opening.
[img-credit align="alignnone" id=" 854851″ width="1200″]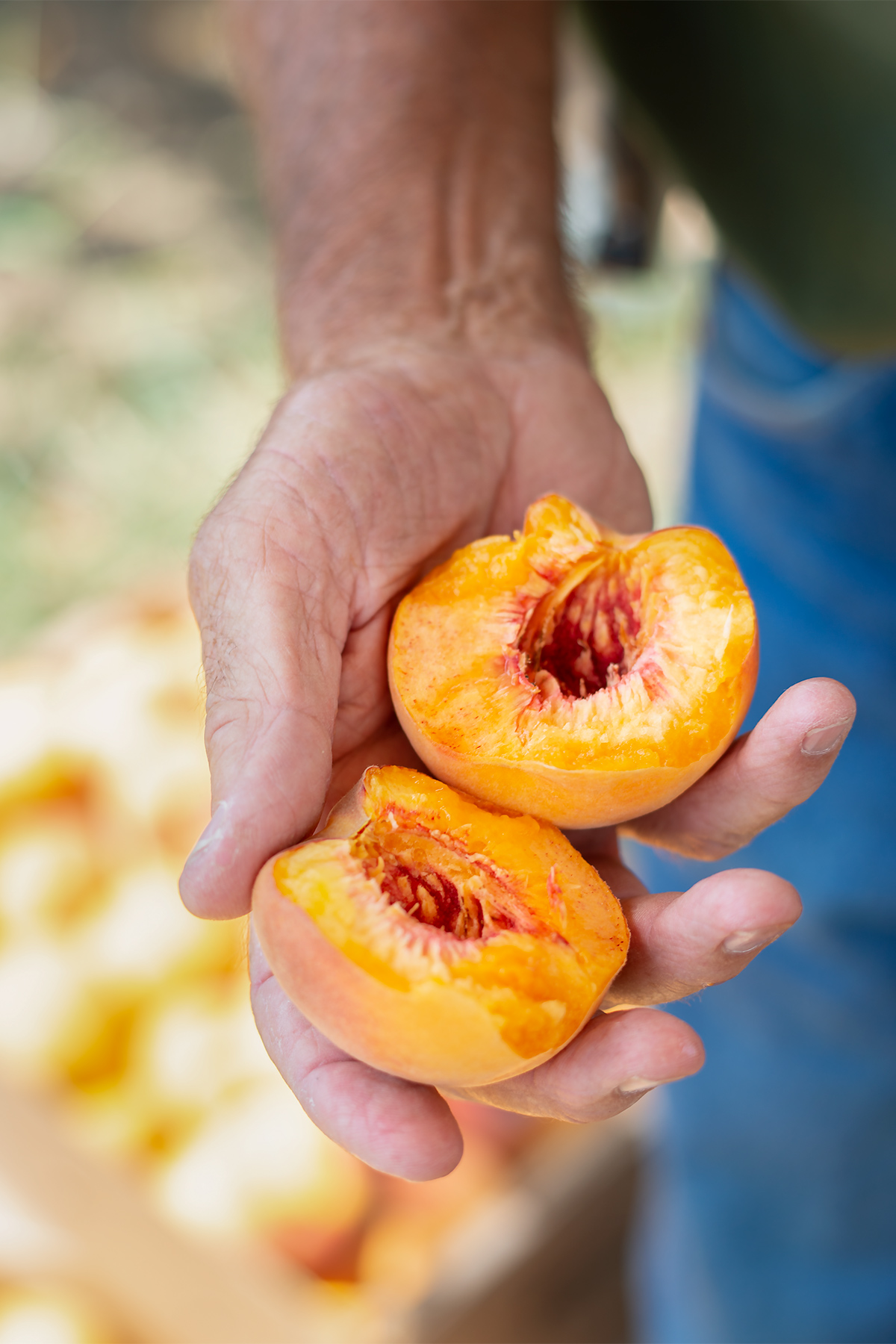 [/img-credit]
I told Katie we were definitely in; a strawberry patch akin to the Hunger Games was something I needed to see. On a Saturday, we loaded the kids in the car and headed north to Pilot Point. Katie insisted on getting there early and had the requisite baskets, so we didn't have to wait in line. When we arrived, the parking lot was overflowing with SUVs, families pouring out of them like they were clown cars. The lines to get baskets snaked down the field and into the distance, kids running circles around parents sipping coffee from insulated cups.
"Do we have to wait in that line?" my son asked, horrified.
"Nope," I said. Thinking my father would have added, "There are two kinds of people in this world: those who have baskets and those who do not," and then made an allusion to Ayn Rand. When we finally did get the go-ahead to pick, people hustled toward the fields in a near-run. Beside us, a young couple's small child lost his shoe in the rush, and the father said, "Just leave it!" while the mother looked at him in something between disgust and disbelief. (She picked up the shoe.) In the end, we left with ripe strawberries and no injuries due to the crowd. Despite the chaos, Pecan Creek is still completely worth it.
Ham Orchards: Open Monday through Saturday from mid-May to mid-August. 11939 County Rd. 309, Terrell. 972-524-2028.
Pecan Creek Strawberry Farm: Open Mondays, Wednesdays, and Saturdays, April through May, 10 am to "pick out." Arrive at least by 9:30 to make sure you get there while supplies last. 12141 Foutch Rd., Pilot Point. 940-305-4325. 
Despite the February freeze, Blueberry Hill Farms anticipates a full crop of blackberries this year. (The blueberries are lagging behind.) Staff provides wooden baskets for picking ($3.85 per pound), no reservations needed. The air-​conditioned country store offers a perfect place to cool off and load up on blueberry doughnuts or their popular blueberry and cream pie.
10268 FM 314, Edom, 903-852-6175. Open Fridays through Sundays starting Memorial Day, 9 am to 5 pm. Check the website for updates and directions.
A butterfly garden and menagerie—complete with ring-tailed lemurs—welcome you to Lavender Ridge Farms. Channel an afternoon in Provence by picking fresh lavender ($8 a bunch, buckets and scissors provided), eating homemade lavender ice cream at the on-site cafe, and bringing home handcrafted soaps from the gift shop.
2391 Co. Rd. 178, Gainesville, 940-665-6938. Open Fridays through Sundays, March through December, 9 am to 5 pm. Lavender peaks in July.
Encourage the kids to eat their veggies by letting them pick their own at Pure Land Farm. Twenty-eight acres full of ripe tomatoes, peppers, squash, cucumbers, carrots, and melons rest on a picturesque hillside in McKinney. Prices vary depending on the crop. To minimize lines and maximize fun, Pure Land requires reservations.
7505 Co. Rd. 201, McKinney. Open mid-May through end of July. Days vary depending on the crops. Check the website for availability and to make reservations.
Get the SideDish Newsletter
Dallas' hottest dining news, recipes, and reviews served up fresh to your inbox each week.