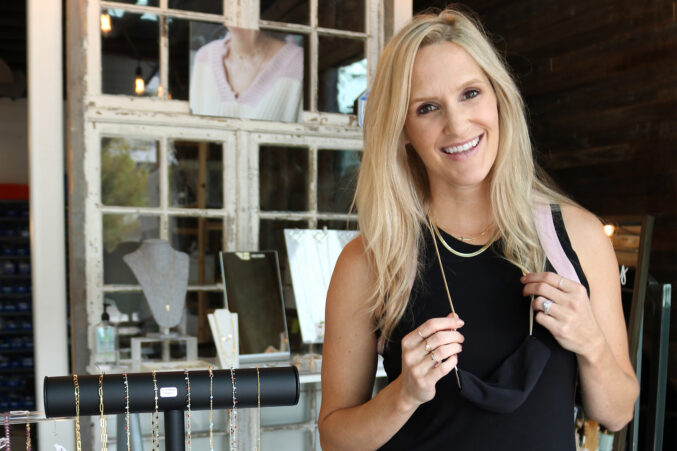 Your Newest Mask Accessory: the Lanyard
Lanyards have worked well to keep sunglasses at the ready. Now designers are attaching them to masks.
A Minnesota native, Nikki Smith moved to Dallas for a job at JCPenney's headquarters in Plano. When she began receiving compliments on her handmade jewelry, she decided to start selling it. She began with pop-up shops and booths at art and music festivals, and then she set up a weekend tent at the Dallas Farmers Market. After three years in The Shed, she opened her first storefront at the Dallas Farmers Market in March. The pandemic forced her to close shop for two months, but thanks to online sales and a new creation designed for the times, she was able to keep her business running. 
"I am quite forgetful, so I always have to turn around to go get my mask," Smith says. "Then one day I was talking to a customer at our new store, and while digging in my purse for my mask, she said, 'Hey, have you seen those chains so you can just always have your mask around your neck?' " She ended up selling her first chain to that very customer, and within a month the line had taken off. "We have sold thousands to boutiques across the country," she says. "They are so popular with boutique owners that we now sell entire displays daily to stores across the country." Nikki Smith Designs 14K gold-plated chains start at $26.
Dallas-born designer Lele Sadoughi is known for her knotted headbands that became popular among A-listers and influencers. Most recently, she has launched a line of embellished face masks as well as polyester silk scarves and beaded chains to keep them in place. Order a headband and handbag to match. Starting at $45 for scarves and $75 for chains.
Christine Morris, owner of Austin James Jewelry, started making lanyards for her sons to wear to school. She says the advantage of her beaded designs is that they can double as necklaces when the mask requirement passes. "Who says all of these COVID requirements mean we cannot look cute?" Lanyards start at $24; custom orders available.
In addition to stopping her daughters from leaving their masks behind in unsanitary places, Kaylee Pierce wanted to help them with their transition to prolonged mask-wearing in school. "For kids who are more hesitant to put a mask on in the first place," she says, "I hope it gives the mask a more fun component and makes it less intimidating." Personalized lanyards range from $11–$13.