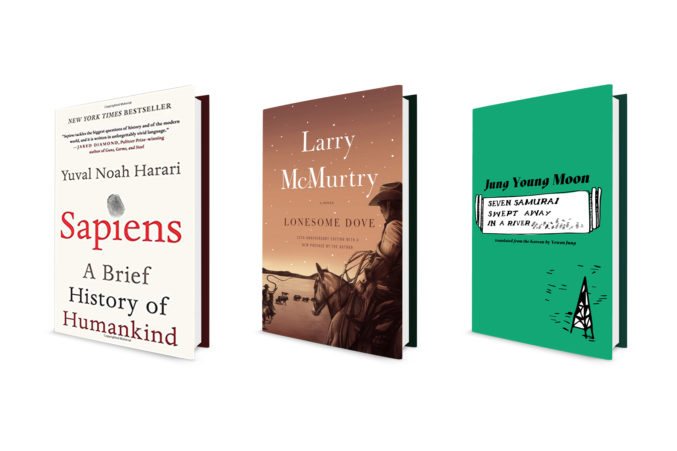 What Your Favorite Dallas Author Is Reading Now
You're stuck inside. Let local authors help you escape through their book recommendations.
I've finished two books since last week and I'm halfway through a third. There's a good chance I will finish all the unread books in my house before this [waves arms everywhere] is all over. I'm sure you've been reading more than usual lately, or you're about to, or you really should consider starting to do so. Books are perhaps the most foolproof way to escape right now. Reality is too close no matter where you go on your phone or computer, and even scrolling through Netflix's menu you're likely to stumble upon Outbreak or something similar. Books are just the words on the page and the world you create with them. They are safe. But where to start? Here are some recommendations.
D Senior Editor Zac Crain's Top Three Books about Dallas
Seven Samurai Swept Away in a River
by Jung Young Moon
The cult Korean novelist wrote this book while in Texas at the 100 West Corsicana residency. It's a fish-out-of-water tale but not exactly a novel; he calls it "unnamable" in the first paragraph. Whatever it is, it's delightful, filled with ruminations about Jack Ruby's dogs, the La Réunion colony, and Bonnie Parker's hot chocolate.
Strange Peaches
by Edwin "Bud" Shrake
Shrake lived through the debauchery he describes in Peaches, which finds Dallas just on the verge of when everything changed, as John F. Kennedy's visit neared. You'll almost get a contact high.
Billy Lynn's Long Halftime Walk
by Ben Fountain
Fountain was inspired to write this after watching the halftime show of the Cowboys' Thanksgiving Day game. He manages to carry that initial feeling of shock and awe throughout a book that hits back at all the big institutions (the government, the military, the NFL). It's not exactly about Dallas the city, but it certainly captures an idea of it.
Here are five book selections by local authors from Deep Vellum Books founder Will Evans.
Eight local writers offer a few suggestions. (You should also read their books.)