During a summer like no other, it turns out nothing is more essential than the backyard grill. 
So
 we've talked with chefs about the grilling memories that shaped their childhoods and influenced their futures, and asked them to share some of their favorite recipes. We've tracked down the latest equipment from local manufacturers. And we're filling you in on what to grill, how to cook it, and where to buy it. Now all you need is a yard and an ice-cold beer to crack open. Pick up the tongs and court the flame. This could be your most memorable grilling season yet.
Memories of the Grill
Four Dallas chefs share how their culinary paths were lit early on by fire.
  
Donny Sirisavath
Sirisavath grew up in Amarillo and San Antonio, the youngest son of Lao refugee parents and the first born in America. Grilling memories are not just of smoky-sweet Texas barbecue, but a whole pantheon of Laotian flavors.
"Every culture has experience with open-fire charcoal grills. We grill pretty much everything. That was part of our weekends, being a Texan and Lao immigrant. Every weekend or sometimes every other day, we'd be grilling in the backyard—my dad, my uncles, my dad's friends. They were just around in the backyard, drinking beer, smoking, and grilling.
"My dad and his friends and my uncles would not discard any meat. They would just marinate anything they had and throw it on the grill. Brisket for us was a big slab, and it was cheap. And people are like, 'What? You don't slow cook brisket?' No, we just cut brisket into smaller pieces and grill it and dip it with our jeow dipping sauce. Same with tripe, intestines, duck head, duck feet. That was pretty much my memory of grilling at home: utilizing cheap pieces of meats, utilizing all parts of the animal.
"We're Buddhist, so killing an animal, you have to respect that animal… Appreciate their life so we can eat.
"We had ducks in the backyard and chickens, so when they slaughtered a duck, we had duck heads and duck necks and duck wings and feet. Those things get marinated and grilled with the rest of the proteins. My mom would make [Lao] sausage. And, of course, papaya salad was part of our grilling.
"Part of the marinade would be beer. I remember my uncles drinking Budweiser or Heineken. It adds that fermentation taste and creates a bitterness, too. But sometimes, if we had a fresh slaughtered cow, then they'd add the bile to the marinade or into the sauce we use for dipping. When you're talking about nothing goes to waste: this is literally nothing goes to waste. It really falls into our culture and flavor profile of sweet, bitter, sour, umami. Every dish we make and everything we do follows that path.
"My parents had a big backyard. That aroma of coal and fire —that's part of what I love about Southeast Asia. Everyone's using charcoal, and that smoky smell and smelling the protein or whatever is grilling. When you grill on gas, it's not the same. It doesn't create that charredness and that smokiness. It really is another level of flavor.
"Texas barbecue is sweet and smoky, so I blend those flavors. I make mine a little sweeter, a little bit saltier with fish sauce, then finish out with that little bitterness and that smoke flavor from the grill.
"Sometimes we made khao jee, grilled sticky rice: a patty of rice, drizzle a little egg and salt, and then put it on the grill. That would be our sticky rice. And for dessert, my mom would do [bananas] on the grill. And oh, my god, grilling them, opening up that sweetness and then that charredness from the edges.
"I was a little kid running around, but the pestle and mortar was my thing. I would love to pound stuff for my mom. And then, being a little older, my uncle or dad would let me do the grilling every once in a while.
"The main thing for me is coming together. Being one with nature. Food is memory. That's always been my story. It brings people together. And with barbecuing and grilling, especially outside, it just ties everything else in. We're Buddhist, so killing an animal, you have to respect that animal. My mom always was the biggest believer in that. Appreciate their life so we can eat."

Junior Borges
Meridian
Borges grew up between Rio de Janeiro and a small town in the Brazilian countryside in the neighboring state of Espírito Santo. His mother's side of the family hails from the state of Bahia, which is home to one of the largest concentrations of African diasporas. His grandmother made Bahian fare, and his grandfather the coconut candies that everyone called "very Bahia." But for Borges, memories swirl around churrasco, a feast that lasts all day and is crowned by the seasoned and scored picanha (sirloin cap with its fat), the most revered churrasco cut.
"Growing up, Brazilian barbecue, churrasco and churrascurias, is a big part of the culture. You always grew up on the weekends throwing a churrasco and inviting people over, birthday parties or whatever. A lot the stuff you see in those restaurants is stuff we grew up eating. The big skewers, the big pieces of meat. My memories of grilling are the big cuts of meat being rubbed with rock salt. And sometimes the rock salt is seasoned with peppercorns or rosemary or thyme. And because the rock salt pebbles are so big, when you grill, you get the crunchy salt crystals. You take a slice and you have the nice ratio of meat and fat and that crunch of salt and the grill.
"You start that in the morning. You wake up, you start putting the meat on the rack on the skewers. You make your fire. Traditionally, people use charcoal in Brazil. Some have really nice grills that might have a motor, like your own rotisserie. Or just a stack of bricks and a pit. From the poor to the rich, everybody does it; it's a cultural thing.
"The kids would get involved in helping put the meats onto the skewers. And you go almost the whole day, grilling the meats and sausages, like linguiça, a porky style sausage. Having all the chicken, beef, rice and beans, or maybe feijão tropeiro, where you cook the beans with linguiça and chicharrones and collard greens, and it's thick because you add yucca flour. You eat that with rice and churrasco and vinaigrette and chimichurri. You have garlic bread: you make super intense garlic butter and you make slivers in bread and pack that with garlic butter and you put that on the grill and let that toast and get all caramelized.
"There's not a lot of dessert. Flan is a big one. Some tapioca cakes. And one egg and coconut custard called quindim. But it's usually stuff that is there and you can eat it if you want to. My grandmother made a lot of compotes. The favorites were the cashew, made with the untreated cashew fruit, and the guava and green papaya one. The fruit is poached and cooked in sugary syrup with spices. That with a slice of fresh cheese could be dessert.
"It's a celebration. Growing up, we didn't even go much to the churrascerias, because this is all the stuff we're gonna do at home. It was getting people together and taking the whole day.
"And in the perfect-case scenario you have a pool, and it ever ends. There's usually ice-cold Brazilian beer. Or caipirinhas people make with all sorts of fruits: strawberry, peach, jabuticaba, a Brazilian fruit. People just continue to party, continue to drink and nibble and carry on. I miss that. I miss what it entailed."
Anastacia Quiñones-Pittman
For Quiñones-Pittman, recollections of the holy trinity of grilled meat, fresh tortillas, and salsas in the backyard of her parents' Knox-Henderson house are like a Proustian madeleine. This was her childhood.
"We grilled the flanken short ribs, called tablita, which translates in English to "little table," but it's just a short rib that's sliced lengthwise so you get, like, three bones. We'd get them at the meat market. It was usually Jerry's Supermarket, and then it turned into Carnival, and now it's Fiesta. But more recently, we've been going to La Michoacana.
"They're marinated in this secret marinade that they use at every meat market, and it tenderizes them. They're just delicious with tortillas and salsa, because they're fatty, they're charred, and a little salty. It literally is my childhood.
"The smell of diesel and the smell of charcoal are something that reminds me of when I was little.
"My dad would usually grill, and it was always charcoal, so we knew it was gonna take a while. While waiting, my mom would make the guacamole and the pico de gallo. She never made fresh tortillas, but we always got the ones that were in the ice chest right by the register. And they were always handmade and delicious.
"Everything was well done. But these are so fatty and juicy, that you don't care if they're well done. The salsa was always made on the grill or the comal. It was salsa molcajete—you toast your tomato and jalapeño and smash it in the mortar and pestle—and always guacamole and a little splash of lime. That was it: you just slap it in a tortilla.
"We didn't have a radio, but my dad had a '54 Chevy in the garage, and he would open the door, crank the engine. We were always charged with flipping over the tape or putting in another 8-track, old-school '50s and '60s Mexican bands. Just soothing, romantic music that reminded them of when they were dating. The smell of diesel and the smell of charcoal are something that reminds me of when I was little.
"My mom loved Lipton iced tea. She would always make a pitcher of iced tea. Or a soda that my dad would drink, grape soda called Sangria, that we'd have in a fridge in our garage. He would sneak them in, because we weren't allowed to have soda.
"The person who was helping my dad would always get the first bite. We did skirt steak fajitas from time to time. But tablitas are the thing I grew to appreciate as I got older. I started cooking short ribs on my menu. And I saw the relationship. I could see why my parents would fight about the fatty ones and want to gnaw on the bone."
John Tesar
Tesar grew with a grandmother who'd owned a candy store on Broadway when it was packed dirt, and a father who came from a background of carpenters and tinkered with building boats. They owned a house on Long Island that his mother ran like an inn, cooking and eating outside.
"My dad bought a small house in East Quogue, right off the beach. We spent every weekend out there. That was my mother's oasis. Every weekend we'd have guests. You'd wake up in the morning and there would be eight, maybe 10 people around the breakfast table. She made eggs and bacon and biscuits.
"My dad would literally come from the city, take his suit off, put on overalls and his comfortable shoes, and go down to the inlet with a bottle of Scotch and a box of cigars. He and his pals would fillet fish and talk about life and play cards, and then he'd come back with clams and oysters, flounder and fluke and lobsters, and my mother would just throw it all out on the table. Friday nights would be lobster night. We'd have corn right out of the garden, local tomatoes, and lobster right out of the straight. My mother would make pie. There was always pie for dessert.
"Everything else was vegetables from the garden or local farm stand. We didn't go to the supermarket. We only went to the supermarket to get pastries for the house guests for breakfast, like jelly doughnuts and apple turnovers. All summer long, we would go to the beach during the day and go fishing with my dad, or stay on the beach with my mom and then we would eat whatever we had caught. And we lived that way four or five months out of the year.
"We cooked over open fire. My father would dig for clams every day right outside. You'd just put on waders and go out and bring back clams. We'd put clams on the grill, just to steam them open, and drink the hot clam broth right out of the clam shell.
"What I miss most is the beach and that lifestyle of not having to go to a restaurant for lunch and having some of the best food right in your backyard."
The Right Grill for the Job
Some of the best equipment for your backyard happens to be made right here in North Texas.
For the Ranch Hand:
Double Cook Top Fire Pit, $1,300+
Circle J Fabrication
was founded in 2003 by father-and-son Fort Worth firefighters Joe and Justin Jones. The company offers a number of options, from oversize chuckwagon boxes to adorable tabletop picnic models. The most popular is their 36-inch fire pit grill ($829), but spring for the double cooktop version that Matt Hamilton uses for his Steak 101 classes at Local Yocal. The truly adventurous can order one of Circle J's fire pit kits—which the Joneses offer to agriculture students around the state—and weld their own.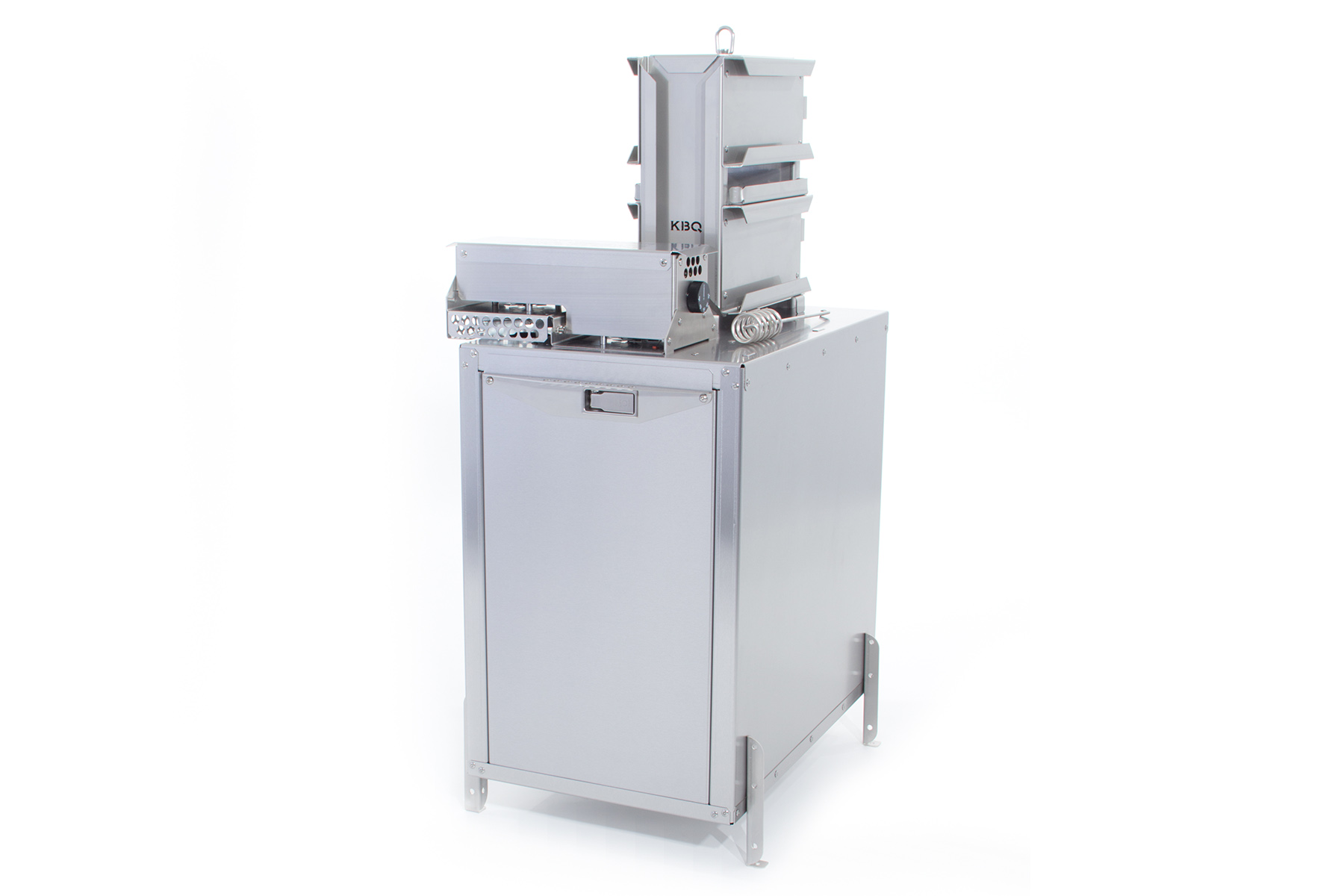 For the Smoke Purist:
KBQ C-60 Pit, $1,440
Bill Karau founded his Southlake-based company in 2004 to find a solution to common flaws he witnessed on the competitive barbecue circuit. Eight years and 21 attempts later, he had perfected the KBQ C-60 Pit, making wood-fired barbecue attainable for the layman. Instead of having the heat source below the meat, an inverted firebox directs smoke downward through the coalbed, creating the thin, blue smoke that pitmasters prize. The ability to use real wood is the icing on the cake, or, in this case, the burnt end on the brisket. "It will bite you if you let it smolder for even a few minutes," Karau says. "But it coals wonderfully, and the flavor profile from a cleanly burned mesquite fire is unmatched."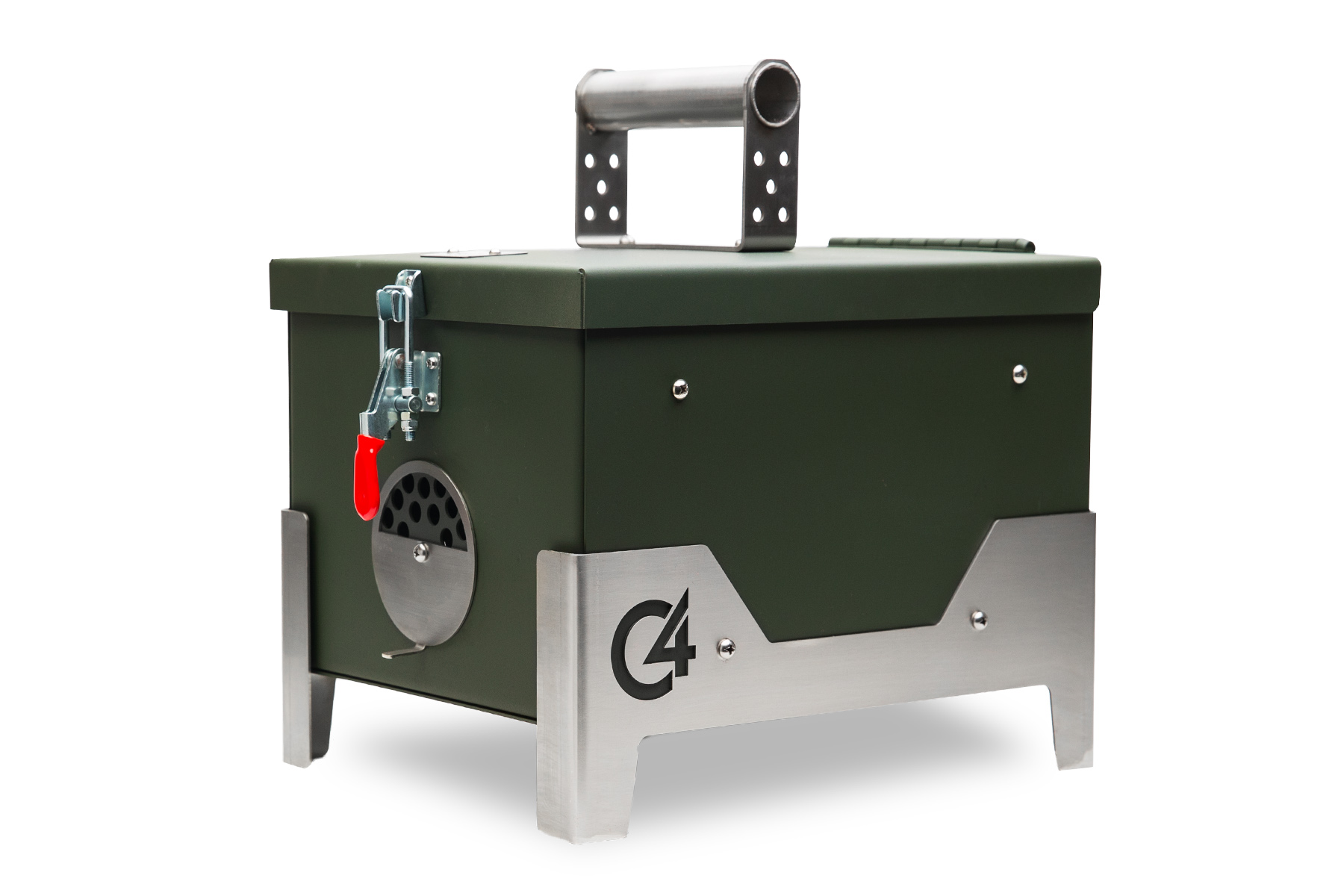 For the Road Tripper:
C4-S Portable Grill, $265
With a background in art and graphic design, Travis Magee wanted to combine his creative talents with the legacy of his father and grandfather, who founded a machine and manufacturing company in Mesquite.
M Grills
now produces functional pieces of modern art that sell for upwards of $6,000. But we are particularly drawn to the approachability of the C4-S Portable Grill, which Magee designed after seeing an Instagram post picturing ammo boxes that had been turned into charcoal grills. Named for the C-4 explosive, the improved design can be taken anywhere from camping trips to job sites for an easy outdoor cooking experience. They are even used for competitions hosted by the Steak Cookoff Association.
For the Outdoor Chef:
3 Embers 6-Burner Gas Grill, $799
Erica Boltz started her Carrollton company in 2015, and
Embers Grills
now offers competition-grade smokers, drop-in grills, and hanging firepits. We're fans of this dual-fuel stainless steel beauty, which produces restaurant-quality results with the help of a viewing window and insulated firebox. Two additional burners on the sides allow you to give your meats a quick high-temperature sear before laying them down on the grill for a low and slow finish. It works great for breakfast, too. Flip down the griddle, and fry up some eggs to go with those steaks.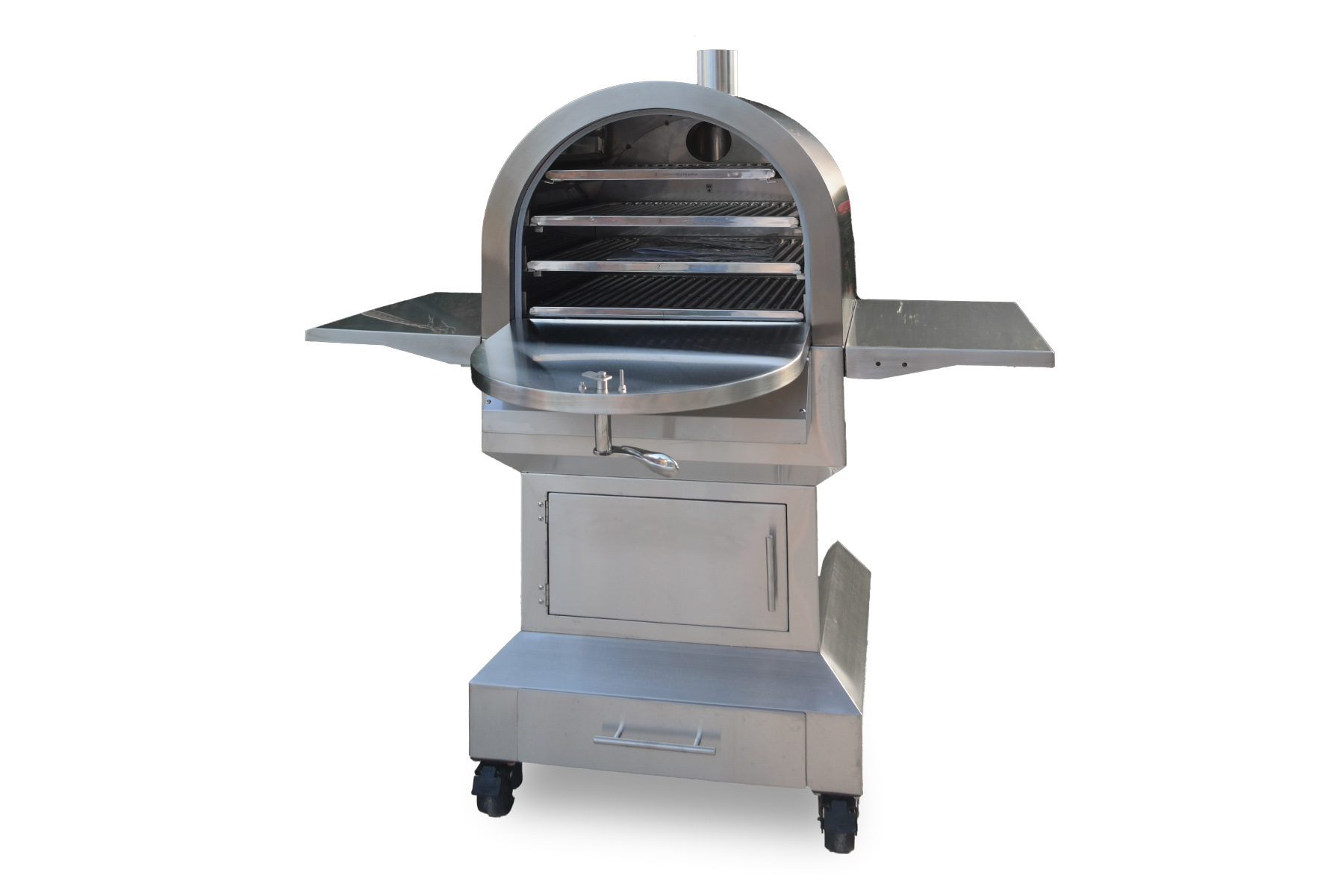 For the Pizza Connoisseur:
Outdoor Cooking Center, $1,290
Dan Geiter, owner of Dallas-based
Smoke-n-Hot Grills
, grew up with traditional pellet grills in the early '80s and '90s, when the common issue was the inability to exceed 450 degrees. The idea was pitched to Geiter that if you placed a pellet grill engine below a kettle grill, you could have the best of both worlds. The mechanical engineer created the Outdoor Cooking Center, with four stacked grilling shelves in a chimney-like structure that is able to reach temperatures up to 1,500 degrees, enabling it to double as a wood-fired pizza oven.
For the Pit Pro:
Oyler Barbecue Pits, $32,000+
"It's like having a Ferrari in the garage," jokes Keith Stewart, head of equipment sales and technical support for
J&R Manufacturing
in Mesquite, about the Oyler line of barbecue pits. The workhorses for many local barbecue spots, including Local Yocal, Slow Bone BBQ, and Dunston's Steakhouse, they are named after Herbert Oyler, who shared his invention for the original Oyler pit with Mike Higgins and E.H. Finley. After Oyler's passing in 1973, the duo founded J&R Manufacturing, combining Higgins' chemical engineering background with Finley's background in mechanical engineering to create the Oyler 700. The internal Ferris wheel disperses smoke evenly, and the racks can hold up to 1,000 pounds of meat.
Grill Tips and Tricks From the Experts
Keep it clean.
"Shut the grill down, clean it, and put the cover on it. That way you can fire it up in 15 minutes the next time." —
Erica Boltz
Stop checking the thermometer.
"While you're at that barbecue joint, look for the hairball of cords connecting digital meters to probes stuck in and around every hunk of meat—you won't find them. Barbecue's mouthfeel comes from denaturing tough collagen into silky gelatin. The same denaturing can be felt with your fingers, tongs, or by poking around with a fancy temperature probe. Just cut the damn cord off first." —
Bill Karau
Lower the flame.
"When it comes to charcoal and grilling—especially chicken, sausage, pork, even hot dogs—people need to understand less is more. You do not want a raging hot bed of coals that will flare up and burn the outside of the meat before it has a chance to properly cook the inside." —
Travis Magee
Be patient.
"If you want to cook fast, get on a stove or an oven. For me, grilling is frequently an all-day experience for low and slow." —
Dan Geiter
Stick to the basics.
"Grilling is mostly innate. Do not complicate it." —
Keith Stewart
Bringing the Butcher Shop to You
Dallas has plenty of fabulous local meat markets and butcher shops to choose from. But John Sayklay and his son, Jake, are taking that tradition and going one step further, delivering custom-cut meat through their newly launched, web-based
Bone-In Butcher Shop
. In El Paso, John's grandfather owned two modest grocery stores with butcher shops. His father, in his youth, made deliveries, and later the pair ran a distribution company. Now John and his own son are bringing things full circle, with a twist. They source beef primarily out of Texas, the bulk of which is corn-fed, corn-finished, and wet-aged 28 days. But you can also spring for wagyu or grass-fed and grass-finished beef, along with lamb, pork, and chicken, in a panoply of options that range from burger patties to combo boxes with impressive tomahawk steaks. They outsource to a USDA-certified processor, but meat is cut to order, and delivery is still a family affair.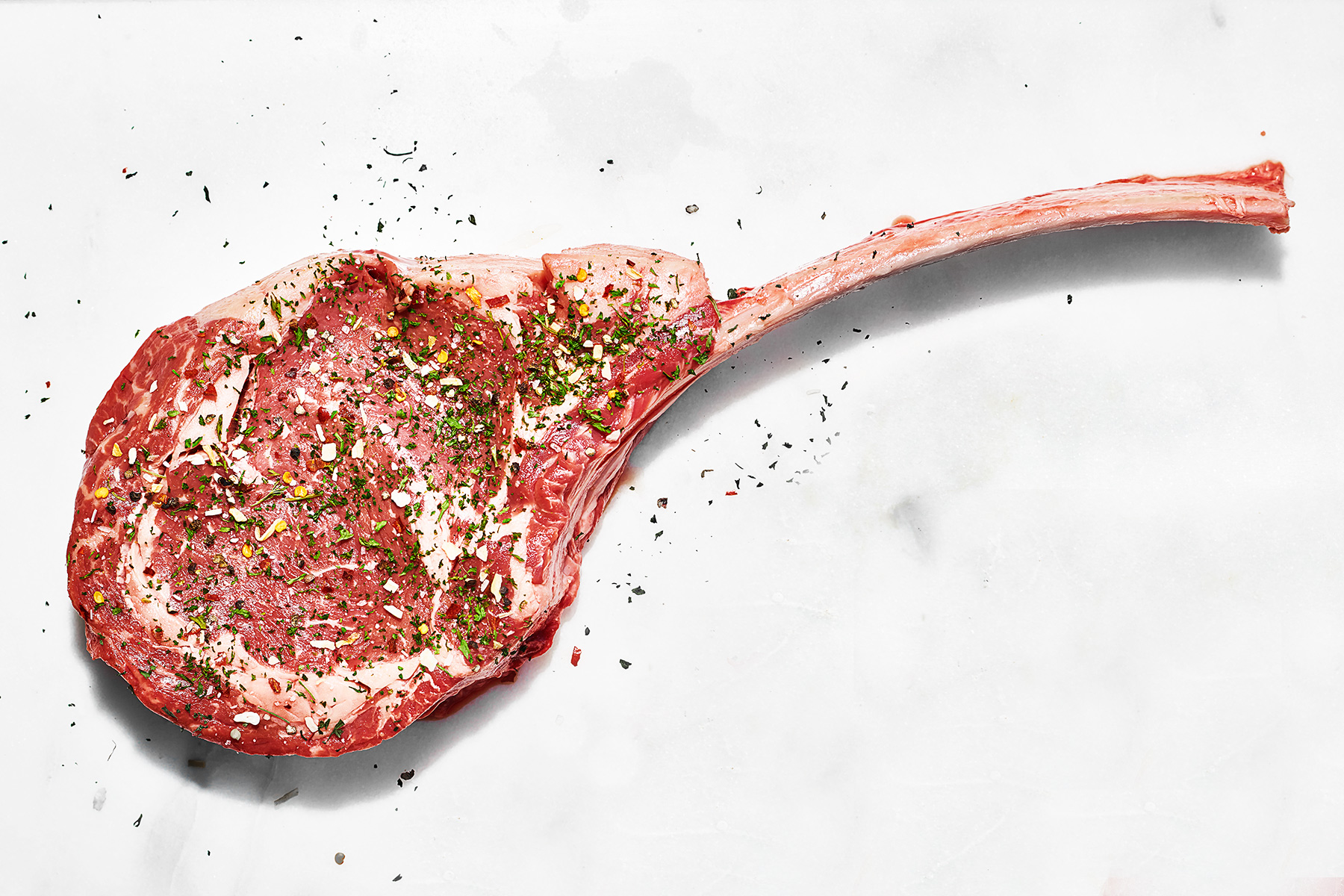 Rib-eye tomahawk
rnThis 40-ounce behemoth benefits from a reverse sear. Set up your grill for indirect heat, and place the steak on the cool side. When the meat gets to 115 degrees, pull it off and let it rest. Crank up the heat, then place the steak directly over the coals for a minute or two on each side. Bring the internal temperature to 130–135 degrees for medium rare.rnrn$135 for two 40-ounce steaks
Bone-in tenderloin steak
rnWhile the filet mignon comes from the center of the tenderloin, the bone-in tenderloin is cut from the hip-sirloin end. It's basically a porterhouse steak cut in half through the bone. To avoid overcooking, start with the bone side on the grill for two minutes before cooking the steak for about eight minutes per side. Let rest for five minutes before serving.rnrn$215 for five 16-ounce filets
Boneless tenderloin filet
rnFilet mignon and tenderloin steaks are cut from the beef tenderloin, which comes from the center of the steer's back. They are very tender but have little fat, which means less flavor. Season well with sea salt and freshly ground black pepper, and preheat grill to high. Grill for about four to eight minutes per side for medium rare. Let rest before serving.rnrn$58 for two 8-ounce filets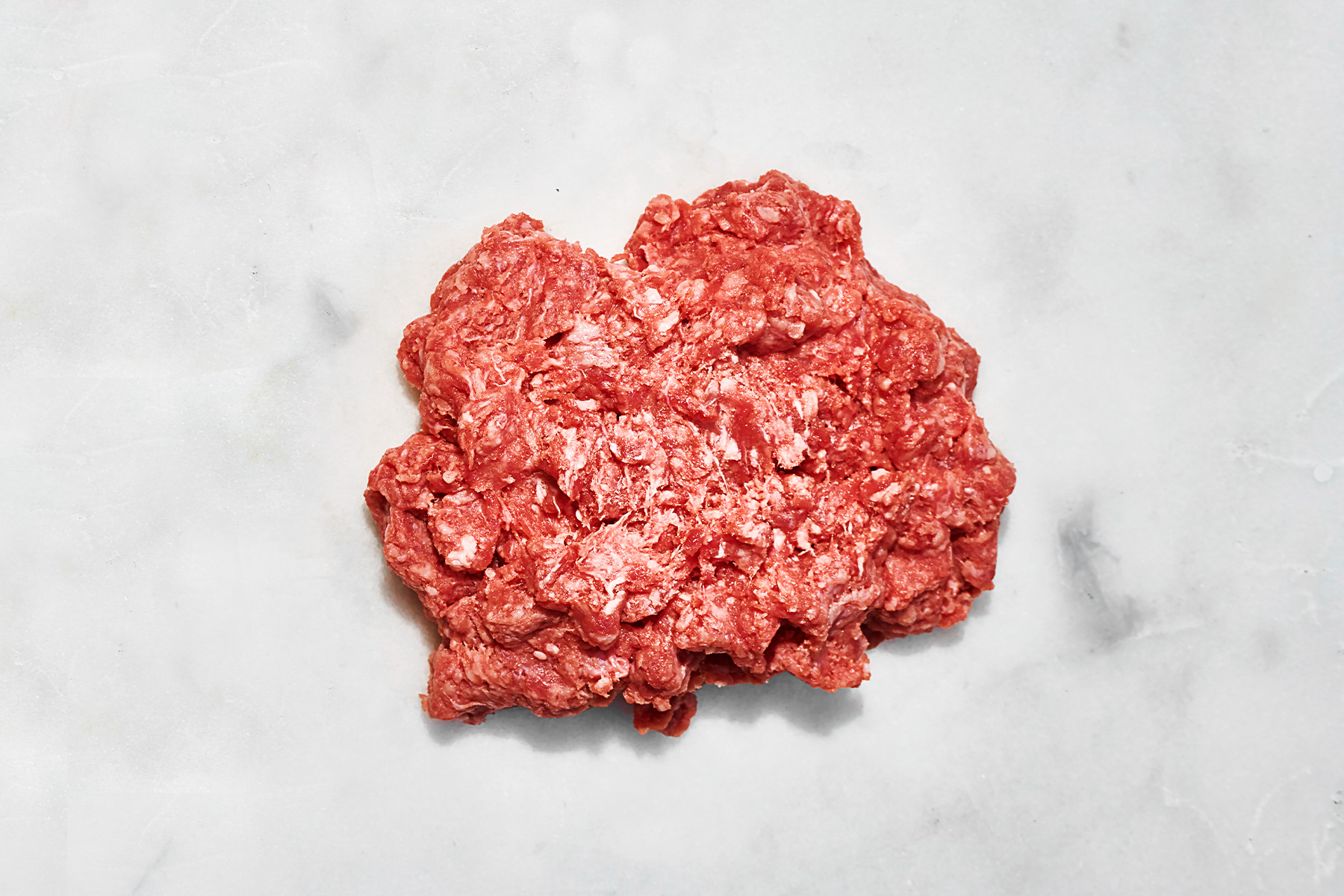 Hamburger
rnBone-In's custom Angus blend of ground brisket and chuck has a 73/27 fat ratio, making it extra flavorful. Avoid using your spatula to press down on the meat while cooking—it will just squeeze out the juicy goodness—and don't flip the burger more than once. They'll just need about three minutes per side over medium-high heat for medium rare.rnrn$40 for eight patties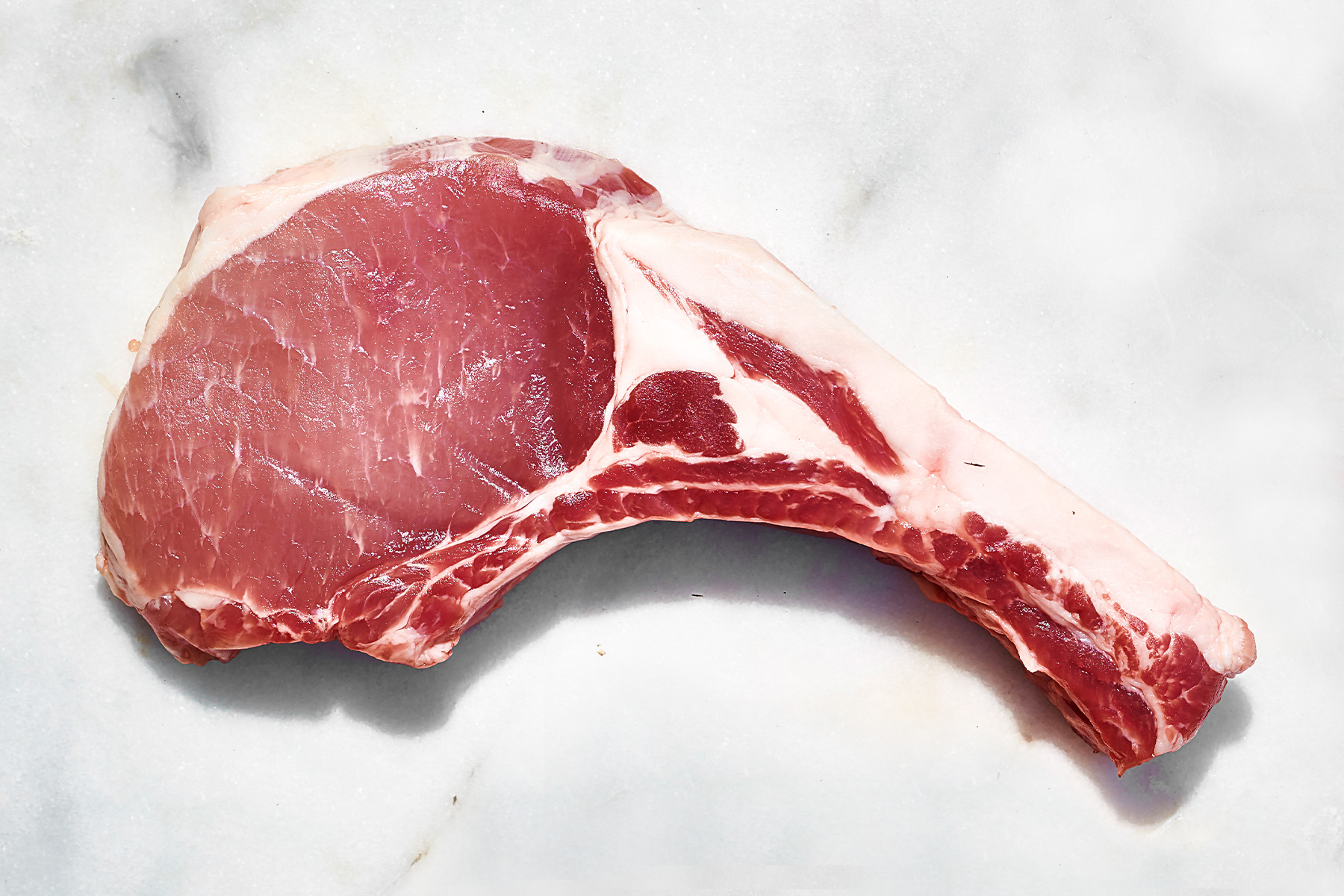 Pork rib chop tomahawk
rnThe Sayklays source their Berkshire pork from Berkwood Farms in Iowa. This unusual tomahawk cut keeps the spare rib bone attached to a bone-in pork chop. You can use the reverse sear method for these as well, but using direct, high heat will keep them juicy. Pull them off the grill when the internal temperature reaches 145 degrees.rnrn$148 for 10 14-ounce chops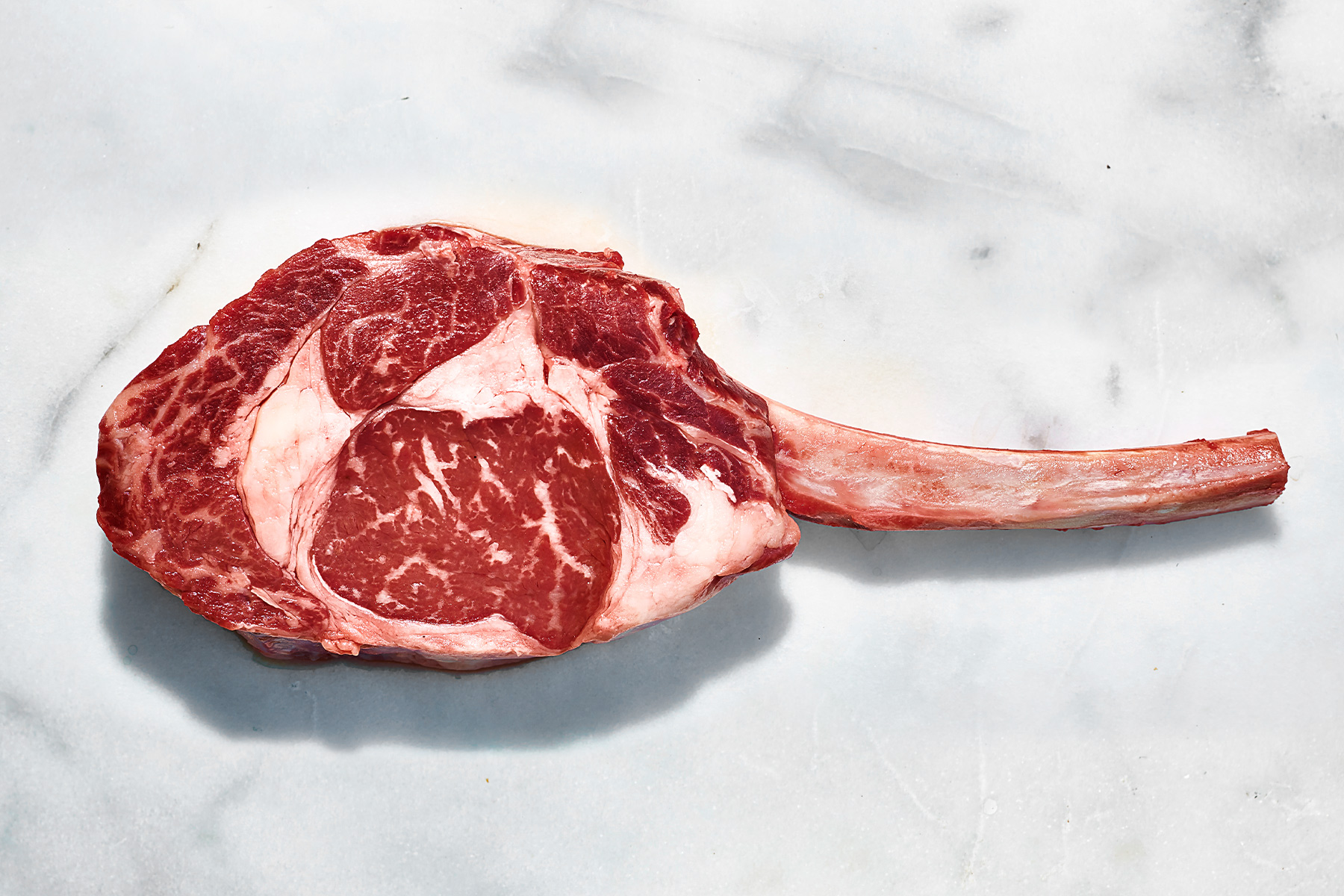 Wagyu tomahawk
rnThe thing that makes the breed so tasty also makes it the most challenging to grill. The intramuscular fat—the good, monounsaturated kind—liquifies at 77 degrees. So it melts in your mouth and flares up on the grill. Use the reverse sear method, and remove the steak even earlier, when it is 122–125 degrees. You'll want to taste your money's worth.rnrn$228 for two 36-ounce steaks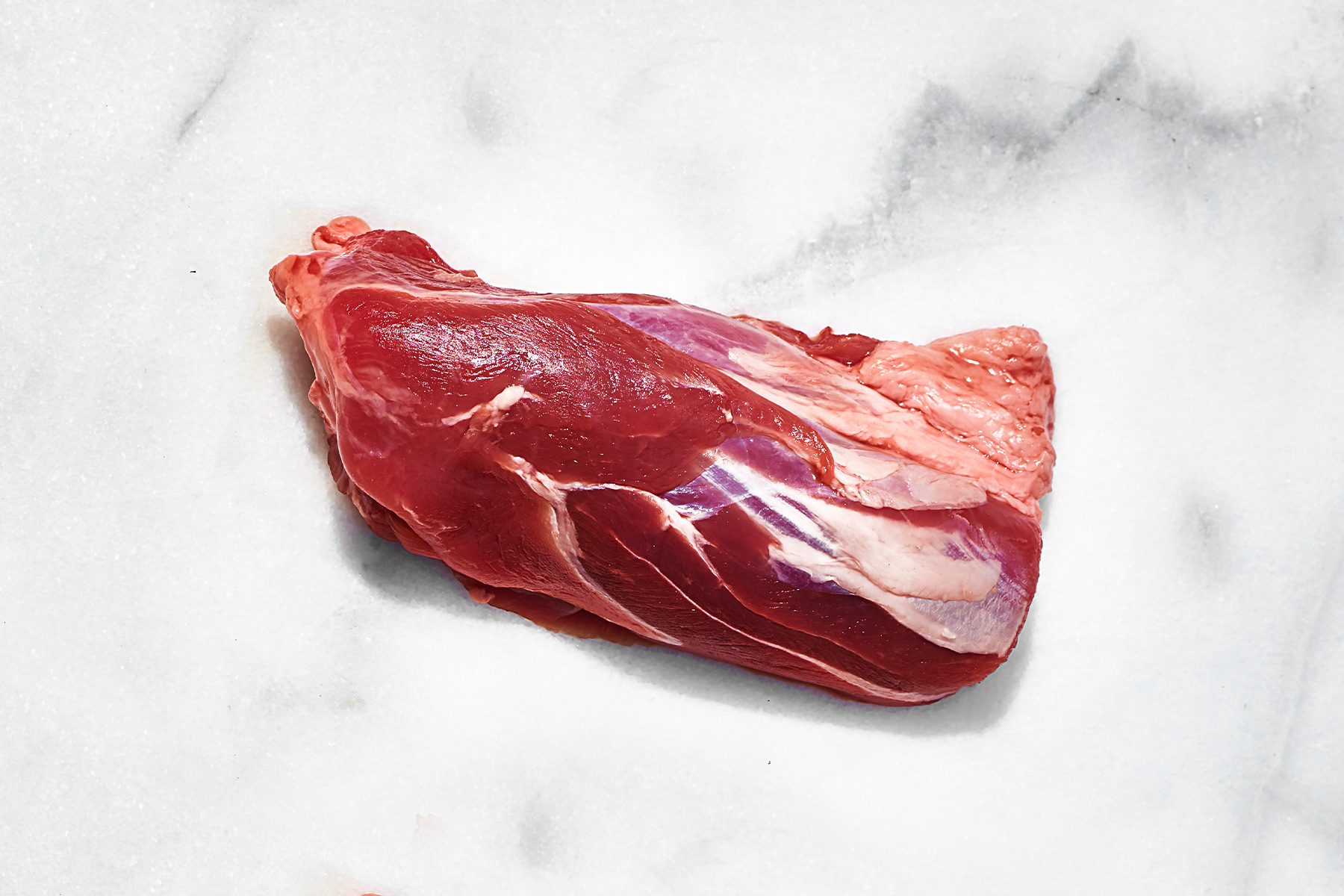 Pork wings
rnThese little guys are the newest barbecue rage. They come from the small end of the ham shank, and you can smoke, roast, or deep-fry them. French the ends, and eat them like a turkey leg. Smoke them for half an hour at 275 degrees, then brush on your favorite barbecue sauce. Grill for an additional 10 minutes or until the thickest part reaches 140 degrees.rnrn$130 for 40 6-ounce wings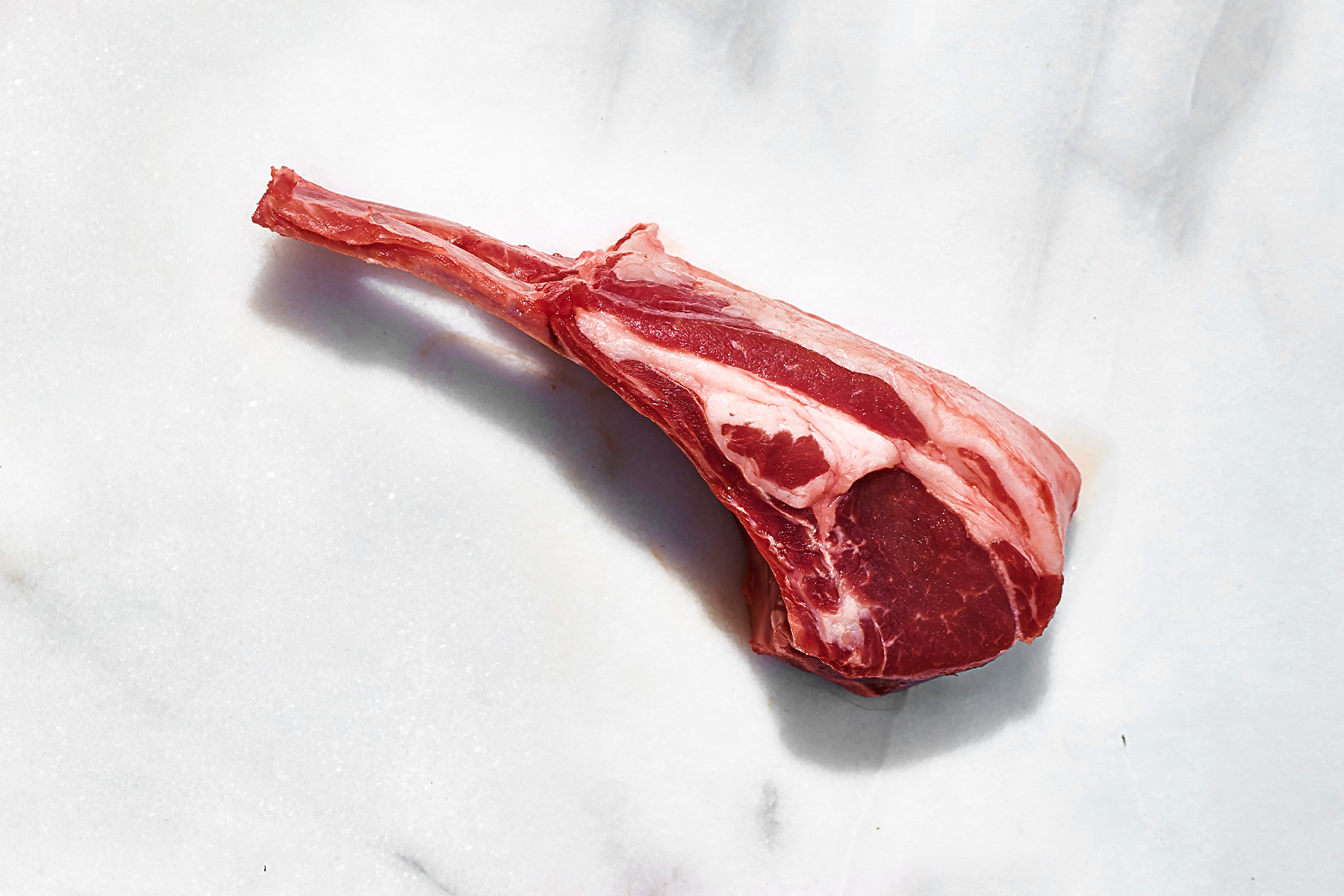 Lamb ribs
rnYou can buy racks of eight ribs either frenched or not. Cut them into individual ribs, or keep as a rack for a more dramatic presentation. Sear both sides over high heat before moving to the cooler side of the grill to let the meat get to the desired temperature; 130 degrees is the perfect medium rare.rnrn$99 for an untrimmed 4-pound rack; $124 for two 2-pound frenched racks
Recipes
Turn to these recipes from the chefs featured above to add flair to your grilling this summer.
Molho à Campanha, Piri Piri-Style
Molho à Campanha is a traditional Brazilian salsa used in grilling meats, fish, and often served at barbecues. I took that and Piri Piri sauce to make a sauce that blends both, creating something creamy but folded with roasted tomatoes, peppers, and fresh herbs to give texture and layers. –
Junior Borges
Ingredients​:
1¼ cups extra virgin olive oil
½ cup red wine vinegar
2 teaspoons lemon juice
1 tablespoon Dijon mustard
2 teaspoons pimentón or smoked paprika
3 garlic cloves, peeled and chopped
10 Campari tomatoes or other smaller size tomatoes
1 large red bell pepper
1 red Fresno chili, sliced in rounds
½ medium-size red onion or shallots, sliced thinly in half rounds
1 tablespoon fresh oregano leaves, chopped
2 tablespoons fresh parsley, chopped
1 tablespoon fresh basil leaves, chopped
1 tablespoon chives or green onion tops, finely diced
1 tablespoon kosher salt
Directions:
To make the vinaigrette:
in the bowl of a blender, add red wine vinegar, lemon juice, Dijon mustard, garlic, and pimentón. Blend until smooth. With the machine running, slowly drizzle the olive oil to create an emulsion. Pour into a container and set aside.
To roast the tomatoes:
slice them in half and transfer them cut side up to a sheet tray or baking tray. Season with salt, pepper, and olive oil. Cook in a 300 degree oven for about an hour or until they are cooked down and have intensified their flavor.
To roast the red bell pepper:
char the pepper until black over a flame or the grill. Once all sides are well charred, transfer to a bowl and cover with plastic wrap. After 30 minutes or so, peel off the black skin and cut the pepper into a fine dice.
Combine the tomatoes, pepper, onions, Fresno chili, and half of the vinaigrette. Add more as desired to reach your preferred consistency. Add the herbs and adjust the seasoning. Enjoy with any grilled meats, fish, or vegetables.
Creamy Jalapeño Salsa
This creamy jalapeño salsa is one of Anastacia Quiñones-Pittman's favorites, with charred peppers and the brightness of lime. It's prepared using the same method she describes in her memories above. Substitute a comal for the pan, if you choose.
Ingredients:
10 jalapeños
4 cloves of garlic, skin on
1/4 cup canola oil
2 tablespoons lime juice
1/2 teaspoon kosher salt
Directions:

Heat jalapeños and garlic in a pan until they have a bit of color and get a little toasty. Once charred, place jalapeños and garlic in a container and cover for 10 minutes to steam. Peel the skins off jalapeños and garlic. Place all the ingredients in a blender and blend on high until smooth. Serve on your favorite taco!
Grilled Clams Casino


John Tesar shares a recipe that harkens to his mother's Clams Casino, a dish that, for him, defined her. That memory is entwined with his childhood in Long Island and clams dug straight out of the sand. Yours can come from elsewhere.


Ingredients:
36 littleneck clams on the half shell
¼ pound bacon, finely diced
4 cloves garlic, finely chopped
1/4 teaspoon hot pepper flakes
2 tablespoons extra-virgin olive oil
2 tablespoons flat-leaf parsley, finely chopped
1 tablespoon of roasted, peeled, and diced green bell pepper
1 tablespoon of roasted, peeled, and diced yellow bell pepper
1 tablespoon of roasted, peeled, and diced red bell pepper
1/4 cup fresh bread crumbs
Freshly ground black pepper
Directions:
Preheat your gas grill to high or have a nice hot charcoal or wood fire with glowing coals, not an open flame.
Place a medium sauté pan on the grill, add the bacon, and cook until lightly golden brown. Add the garlic and red pepper flakes and continue to cook until the bacon is crisp. Remove from the heat and stir in the roasted peppers, olive oil, parsley, and bread crumbs. Season with black pepper to taste.
Top clams with bacon mixture and place on the grill. Grill for about 1 minute or until just lightly cooked through. Serve immediately.
Get the SideDish Newsletter
Dallas' hottest dining news, recipes, and reviews served up fresh to your inbox each week.