President Barack Obama doesn't look happy climbing out of a helicopter and onto a Love Field tarmac on a hot July afternoon. His ears are red, lips pursed, head bent forward. He spent the previous 15 minutes in the helicopter with Governor Rick Perry, who will later boast to the press that he used the time to lay into the president on border security policy. And now what was supposed to be an easy two-day fundraising tour through Texas has turned into a hastily called series of meetings to deal with a humanitarian crisis on the Texas border—more than 50,000 unaccompanied, undocumented children who have been pouring into the country for months. 
Obama walks into the terminal, blowing right past Dallas County Judge Clay Jenkins, who is waiting to greet him. Obama and Jenkins have met several times before. Jenkins—in his first term as county judge, his first ever elected position—worked as a lawyer on the Obama campaign in 2008. Two photographs of him with the president hang in his office, as well as a panoramic photo of Obama's 2012 inauguration, which he attended. Perry, trailing the president by several paces, doesn't miss Jenkins.
"Hey, Judge!" Perry calls out.
Obama stops and turns. Jenkins stands stiff-backed, wearing his typical uniform: crisp blue suit, with a blue tie over a white shirt. He looks more like a country preacher than a politician. He's lanky, with beady eyes and an oddly shaped head. An aquiline nose punctuates a face that looks like it was created by a talented roboticist. Obama reaches for Jenkins' hand, and the two exchange a greeting before entering a conference room together.
The meeting is tense. The immigration issue is a political hornet's nest that Jenkins poked by volunteering Dallas County facilities as remote shelters for the refugee children. He says his 8-year-old daughter inspired the idea. Later, when she saw the children on television, she even asked if some could stay at their Highland Park home. Now the group will see if they can agree on a plan—or if Perry will stonewall the effort. The president, the governor, and the judge are joined by Dallas Mayor Mike Rawlings, County Commissioner Elba Garcia, Congresswoman Eddie Bernice Johnson, and representatives from various faith organizations. Before the president and governor arrived, Jenkins had calmed the jitters in the room by asking a Baptist preacher to say a prayer. ("When a Democrat asks a Baptist to pray, it confuses everyone," Jenkins later says.) Now he lays out his appeal.
"I know both you, Mr. President, and Governor Perry are great fathers and people of faith," he says. "I think if we leave on our roles as leaders, parents, and people of faith in this room and take off our partisan roles, it is not hard to see that we can work together to show some compassion to these children."
Over a drink the night before, Jenkins and Rawlings hatched a strategy for the meeting. Rawlings launches the second prong, saying that he and the judge don't always see eye to eye. "But we're always in alignment," Rawlings says. "And alignment is important in any organization. So we want to know, Governor, are you in alignment with us?" 
They succeed in backing Perry into a corner, and after an awkward pause, the governor says he won't stand in the county's way. It is a big victory for Jenkins on the biggest stage of his brief political career. And even though, in the end, the flow of children slows and the county never opens a shelter, Jenkins managed to propel himself into the national spotlight. He was a political nobody suddenly making the rounds on network television news. The Tea Party staged protests outside his home. Jenkins had gone toe to toe with the leader of the free world and the most powerful governor in Texas history. And he did it from an obscure political office in Dallas County. 
"I could just play golf at the country club and wait until the well-paid bureaucrats tell us what is going to happen next and show up to a ribbon cutting," Jenkins says a few weeks later, sitting in his office, reviewing a Commissioners Court agenda filled with the more mundane business of the county. "That's just not what I was interested in doing at all with this job."
Which raises an excellent question: what exactly does Clay Jenkins want to do with this job? Is he here to satisfy his daughter's humanitarian urges? Or might he have grander, more national ambitions?
•••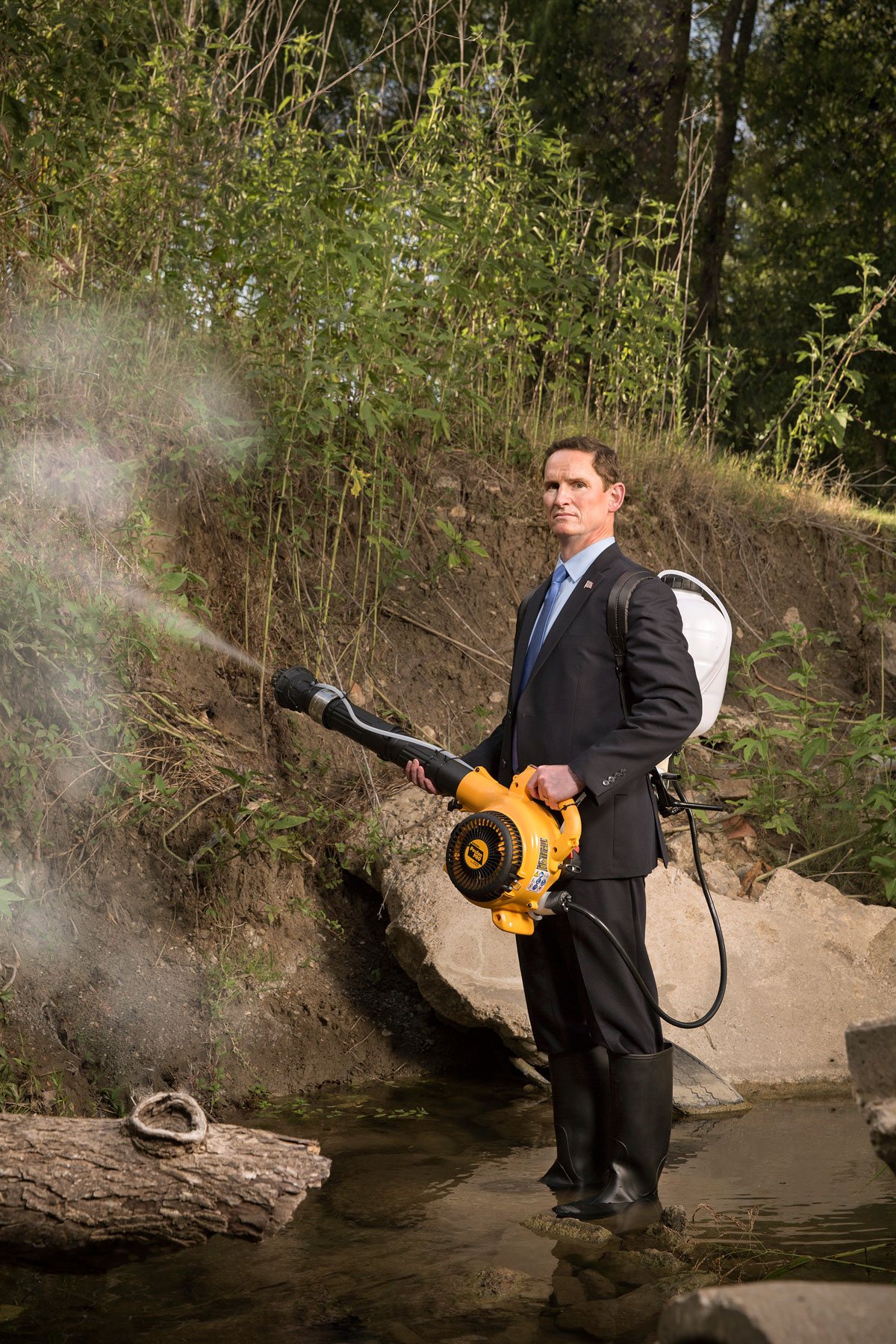 When Clay Jenkins was elected Dallas County judge in 2010, few knew who'd won the seat, much less what his goals were. Jenkins was a political novice, a personal injury lawyer from Waxahachie who came from good Democratic stock. His stepfather and mother were active in the party for decades and were personal friends of Ann Richards'. Ron Kirk, the former Dallas mayor and former U.S. trade representative, recruited Jenkins to work on the Obama campaign, and it was Kirk, among others, who pushed him into running for county judge. 

For Jenkins' campaign, Kirk assembled the usual North Texas Democratic kingmakers, including State Senator Royce West and County Commissioner John Wiley Price. But there were questions about him. For one, Jenkins had voted in an Ellis County election as late as 2007, and he had donated money to George W. Bush's presidential campaign in 2000. To those with a skeptical eye, Jenkins looked like a mercenary being brought in to do the bidding of Price. When the Dallas Observer wanted to ask Jenkins about his background and vision and the judge didn't return their calls, the paper ran the only headline it could: "Who Is Clay Jenkins?"

With Jenkins' character so ill-defined, it was easy to cast him as an evil Price henchman just days after he took office. That's when Jenkins called a meeting of the elections committee, a body whose only authority is to hire and fire the elections administrator, a body that hadn't met in more than two decades. Bruce Sherbet had served ably as the elections administrator all that time. The narrative that emerged went like this: Price wanted to replace Sherbet with someone who'd be loyal to him, essentially taking over the elections department. Having helped get Jenkins elected, Price had called in a favor to set the meeting that would end Sherbet's career in Dallas. Before that could happen, though, Sherbet resigned. In the media maelstrom that followed, Jenkins disappeared, issued a statement that misspelled Sherbet's name, and emerged two days later with a clumsy and unconvincing explanation of why he would call a meeting of the elections committee if he wasn't going to fire Sherbet. 

Jenkins earned a moniker. He was Price's water boy. Just a few months later, FBI agents raided Price's office and North Oak Cliff home, launching a three-year investigation into alleged bribery and political corruption. If no one knew who Clay Jenkins was before he got elected, the image they now had of him couldn't be much worse.

Today, the judge is still a relatively unknown political figure, despite the immigration issue having put his name in the New York Times and his face on The Rachel Maddow Show. But now he has a much different attitude about managing his image. When I sent a request to talk with him, his staff responded with a curious invitation: an early morning bike ride with the judge, a modern-day spin, of sorts, on President Clinton's jogs with the media in the early 1990s.

And so it comes to pass that at 8 am on a bright Monday morning in early August, I meet the judge in the parking lot of Dallas Bike Works, near White Rock Lake. His assistant unloads three bikes from the back of his Jeep. Jenkins wears a black compression sock over his left calf, a reminder of a spinal cord injury. He already has his helmet on, along with wraparound black sunglasses. He looks a bit like a bike cop.  

When Jenkins appears on television, he comes across as rigid, even a little haggard, his small-town Texas drawl making him sound slow. When I saw him with Rachel Maddow, he came across as a bore. In person, though, Jenkins is more playful and animated. Halfway around the lake, we stop for breakfast at Barbec's. He's a lawyer by training, and his mind is meticulous and methodical. But when he relaxes, another side comes out. He's affable and sarcastic. He cracks jokes and whispers stories about wilder times in his youth. 

•••
Jenkins' childhood wasn't easy. In 1971, when he was 7 years old, he watched his dad have a heart attack in front of him at Lake Cliff Park, in Oak Cliff. His father later died at the hospital. He moved with his mother and sister back to her hometown of Waxahachie. His mother worked long hours as a trainer at a telephone company, leaving Jenkins alone for most of the day. 
Family life improved after his mother, Jo Ann, married Warwick Jenkins, a Waxahachie lawyer who came from a prominent Baptist family in Waco that has roots stretching back to the Texas Revolution. Jo Ann quit her telephone job, and although she had never voted until marrying Warwick, she became active in the Democratic Party, serving on the state executive committee and eventually heading the Texas Democratic Women. 
Waxahachie in the 1970s was a picture of small-town Texas life, though not exactly an idealized one. In his classes, Jenkins says, there were children of doctors and folks on food stamps—blacks, whites, and Latinos. When kids had birthday parties, everyone was invited, and no one asked what their fathers did for a living. School was difficult. Struggling with dyslexia and endowed with a natural willfulness ("If he made his mind up, you might as well go off of him," his mother says), Jenkins often found his way into trouble. At Waxahachie High School, he set a record for the number of detentions given to a student. "You walk at graduation in the order of achievement," Jenkins says. "And the kid behind me still had bruises around his wrists from the handcuffs when he was arrested."
In college at Baylor, Jenkins continued to distinguish himself dubiously. He was arrested twice, once for reckless driving after he led Baylor security and Waco police on a car chase he'd planned and a second time for criminal trespassing in a women's dorm during a panty raid. Strangely enough, he was never arrested for his role as the famous Baylor Pie Man, a hit man for a student-organized ring that offered to throw pies in people's faces—professors, ex-boyfriends—for a fee. 
But at Baylor Jenkins learned how to be a good student. He surrounded himself with disciplined roommates, often athletes, and modeled his schedule on theirs. After law school (at Baylor), he took a clerkship with the Texas Supreme Court, a job that should have paved the way for a career in a prominent law firm. After an eye operation meant to correct macular degeneration left his stepfather blind, Jenkins opted to return to Waxahachie instead, to help Warwick continue to practice law. Forced back into a small-town firm, Jenkins thought his life was over.
But the move turned out to be fortuitous. Within a few years, Jenkins was living the high life, making good money and on his way to owning a successful law firm. He remembers one day waking up in a strange apartment, standing in the shower, and suddenly finding himself talking to God. "God, I know we're not close," Jenkins said. "And I just wanted you to know that I'm sorry about that."
A few weeks later, on Thanksgiving Day 1993, Jenkins' car skidded on a patch of ice and sailed across the median into oncoming traffic. He broke multiple bones, including his neck. He suffered a brain injury and severe internal bleeding. It took him three years to recover to the point where he was working and earning income again, and, afterward, he was a different man. 
He began to go to church regularly and got involved in social work. He and some friends invested in service organizations for the homeless in Waxahachie. He got married and moved to Dallas in 2001. Following his mother's footsteps, he began working for the Democratic Party. In 2008, he participated in the Texas Democrats' successful challenge of the way ticket machines tally straight-party votes. Later, a few years after he was elected judge, Jenkins, representing Dallas County, would join Congressman Marc Veasey's suit against the state of Texas over its stringent voter ID law, passed in the wake of the 2013 Supreme Court decision to strike down a key section of the Voting Rights Act. The county's involvement in the case was thrown out by a federal judge, though the case itself continued on to trial in early September. 
Matt Angle, a Democratic political consultant who works with the Lone Star Project, says party leaders saw Jenkins' background in public service as an asset. "He doesn't think like a politician," Angle says. 
Not thinking like a politician is exactly what got Jenkins in trouble after he took office, but he seems to have learned his lesson. The way he handled the refugee children situation, for example, was so impressive because he ignored pundits and protesters alike, going door to door in the neighborhoods around the proposed facilities, talking to people who would be affected by the shelters. (They overwhelmingly supported the idea.) 
He stuck his neck out on two other controversial issues, spraying the county for mosquitoes to combat the spread of the West Nile virus and using county resources to back Affordable Care Act registration. He emerged relatively unscathed on both.
Behind the scenes, Jenkins has developed a reputation as someone who can exert pressure when needed. Earlier this year, as support grew for turning an elevated highway on downtown's eastern edge into a boulevard, Michael Morris, who is the transportation director of the North Central Texas Council of Governments, disparaged urbanists who were championing the idea. Morris later issued a public apology for his comments. People close to the situation say that it was Jenkins who directed Morris to make that apology.
Finally, Jenkins has clearly learned how to use the news media. He nearly got embroiled in a situation similar to the Bruce Sherbet resignation when the director of the county's Homeland Security and Emergency Management office, Lisa Chambers, was fired in 2011. After her ouster, Chambers claimed the move was a retaliation by John Wiley Price because she'd refused to sweep his aide's house for bugs after the FBI raid. Rather than sitting back and letting the situation play out, Jenkins gave WFAA's Brett Shipp a stack of Chambers' emails. Shipp's story on Chambers painted her as an unprofessional employee with a penchant for sending emails late at night after drinking. 
But Jenkins' masterstroke in using the media came in August, when Commissioner Mike Cantrell brought a resolution to the court to suspend Price from his seat until his criminal case is resolved (the trial won't start until sometime in 2016). The resolution didn't pass. After the court had adjourned, in front of a television camera, Cantrell, the lone Republican on the court, tried to make the motion's failure look like a lack of resolve on behalf of the Democratic commissioners. Jenkins struck back. If Cantrell wants Price removed, the judge told reporters, he should follow legal procedure, which states that any citizen can bring forth evidence of illegal acts by an elected official and seek the removal of that official. "Commissioners Cantrell and Price … are the only remaining court members who served from 2004 to 2010, when almost all of the alleged illegal activity occurred," Jenkins said. The insinuation that Cantrell knew of Price's alleged illicit behavior infuriated him. Under his breath, Cantrell said Jenkins was acting like a "scumbag," which reporters heard. Jenkins had clearly planned his remarks long before he made them. In the political chess match, he was several moves ahead of his opponent. 
•••
Around lunchtime on a Friday in August, the Commissioners Court offices, housed in the same historic building that's home to the Sixth Floor Museum, are dark and quiet. Jenkins' young staff (all but one are in their 20s) toil at their desks, and it seems like the only other people in the offices work for Price. Earlier in the week, the court held its first meeting after the summer break. It was a spectacle because Price made his first public appearance since he'd stood in a federal courtroom for an arraignment, hands in cuffs, ankles locked in chains. Today, though, is the 53rd birthday of Price's assistant, Dapheny Fain, who was also charged alongside her boss. Regardless, Price's staff has gathered to celebrate with barbecue and buttermilk chess pie.
"I better go over there and sing 'Happy Birthday,' " Jenkins says.
Office birthday parties aside, Jenkins has worked to distance himself from Price. These days, in the wake of the indictments, Jenkins sees Price as an unwitting ally in his effort to reform the county's purchasing procedures. Price might still try to use his influence with county staff to stall the reforms and preserve the status quo, but now he must vote for them publicly. 
A big part of Jenkins' political education has been learning how to navigate the Machiavellian culture of county government. Come January, Price will have been a commissioner for 30 years. In those decades, he has wired the place. Jenkins says he can never take anything at face value. Staff will say one thing, but they really mean another. Someone will agree to do something, but then Jenkins finds himself wondering months later what happened to his request. "It's not how you would run a business," he says with a grin. Hearing him talk about how things work at the county, you get the feeling Jenkins takes some pleasure from figuring it out, the same sort of satisfaction felt by the dyslexic lawyer who couldn't read note cards during trials and instead had to memorize everything.
The push to reform county business was a pragmatic response to the Price affair, and it is something Jenkins will want voters to associate with him when they go to the polls next month. But the political waters this November will be choppy. After all, while the immigration issue framed Jenkins as a leader, it also alienated him from some African-American voters, a number of whom queued up at the Commissioners Court to ask Jenkins why he hasn't been as vocal about the poor children who already live in Dallas. It's an accusation that lines up with Republicans' argument that Jenkins is comfortable dealing with a social agenda that brings him national attention, but he lacks the savvy—and the will—to deal with the smaller business that impacts the county. 
It's a notion that starts to resonate if one looks at the refugee effort through a different lens. Jenkins says he came to the idea through his daughter's question and because he thought it was the right thing to do. But he made his announcement at a politically opportune time—the Texas Democratic Convention in Dallas—and followed it up with a fundraising email blast citing his support of the refugee children. He says he is focused entirely on his job as county judge and doesn't want to go to Washington, but he seems most active and enthused regarding issues that point toward the powers of a higher political office and not the intricacies and minutiae of county government.
But no single issue may decide the fate of the county judge at the ballot box. This election cycle is a reverse of the situation that brought Democrats to power in Dallas County in 2006: a midterm election during the second term of an incumbent president whose popularity is waning. Only this time, it is a Democrat in the White House, and the biggest draw on the ticket is a Republican gubernatorial candidate, Greg Abbott, who has historically performed well in Dallas County. In the end, Clay Jenkins' bid to keep his seat may have less to do with Clay Jenkins and more to do with whether Democrats show up to vote for Wendy Davis.
The judge won his seat in 2010 with less than 50 percent of the vote in an election in which the Libertarian candidate, Debra Carlson, captured 14 percent—a swing voting bloc that might not exactly line up behind a county judge known for promoting immigration, the Affordable Care Act, and a hike in the minimum wage. In the general election, Jenkins will face the kind of Republican candidate who could swipe a chunk of those votes, Ron Natinsky, a former Dallas City Council member with deep ties to the business community and experience leading regional economic development. 
Whether Jenkins wins reelection will say a lot about how blue Dallas County has really become. It might also tell us if the county judge who has spent time at the negotiating table with the president and the governor is a rising political star or just a flash in the pan. The lawyer from Waxahachie has his first true political test. If Jenkins could win in 2010 as a nobody on the Democratic ticket, he won't likely win this year with a repeat performance. But Jenkins is no longer a nobody. 
On the last afternoon I'm with him, while taking an Uber ride from Fuel City, on Riverfront Boulevard, back to the Commissioners Court building to meet District Attorney Craig Watkins (it's a long story), a white van with the name of a Christian learning facility printed on the side pulls alongside our black Suburban. An African-American man in his late 40s hangs out the passenger-side window and waves at our car. 
"How are y'all?" Jenkins yells to him out the window.
"Clay Jenkins, right?" the man says. 
"Yes, sir," Jenkins says. "How y'all doing today?"
"Thank you, sir," the man says. 
The judge leans down to eye the man better and flashes him a beaming thank-you-for-your-vote smile. 
"Thank you," the judge replies. "Have a good day, now."
"You, too."
Get the D Brief Newsletter
Dallas' most important news stories of the week, delivered to your inbox each Sunday.