It's like Thanksgiving poured over bourbon. That's how my bearded friend gleefully described the strange drink in front of him. I could smell the pecans from my spot at the spacious, peninsula-style bar. 
We were hanging out at the Lake House Bar & Grill. A lake house, in my mind, is a place college kids borrow from their parents to throw boozy waterfront parties. This Lake House is not that. This Lake House has a pecan-infused cocktail, but no lake. 
The decor includes mounted snow geese, two porcelain turtle shells, and a handful of black-and-white photos featuring the White Rock Boat Club. There is a giant fish on one wall and four big garage-style doors that pull up to let in the breeze. It looks like a boathouse. But, you know, without the water.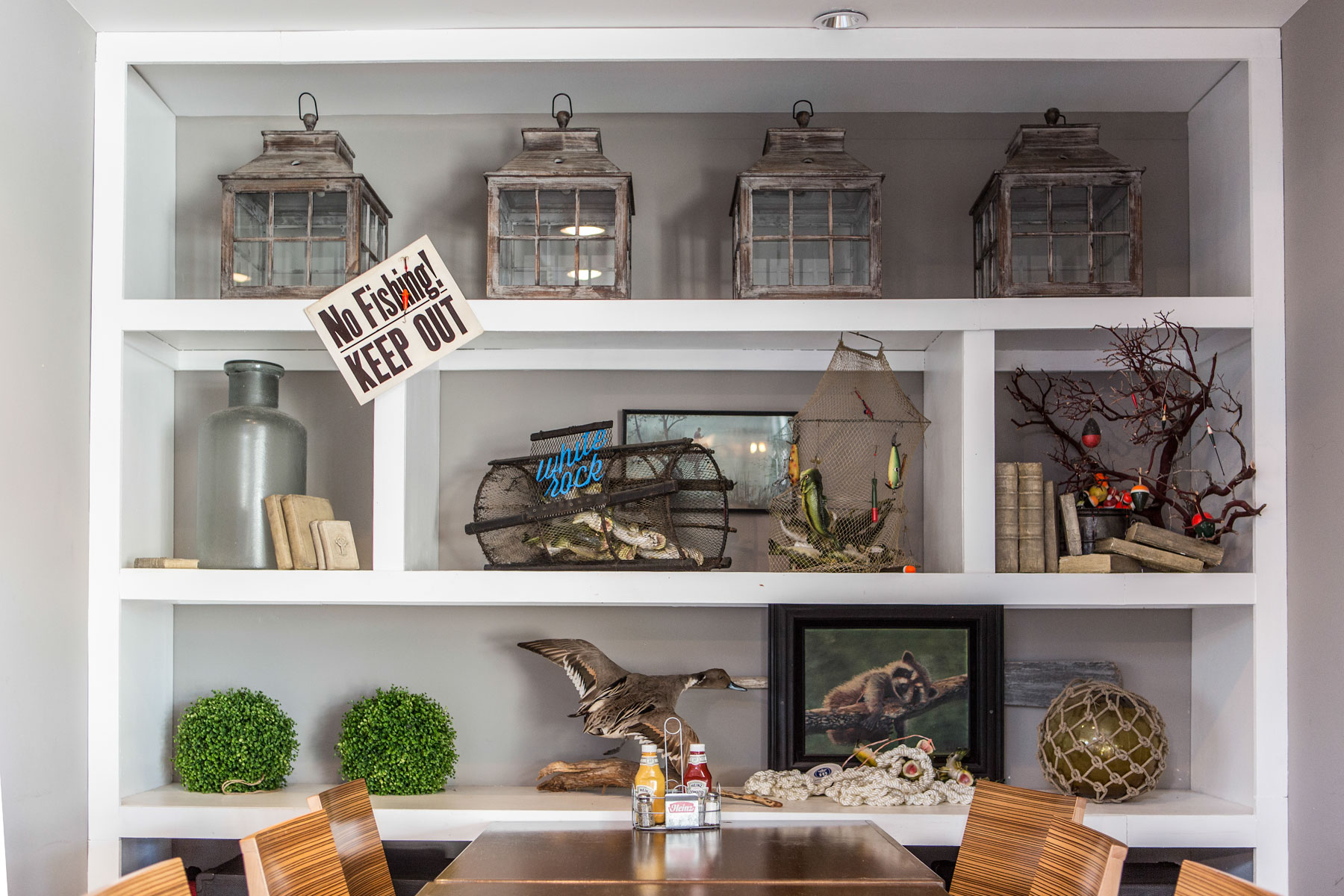 When we arrived, we were greeted by the laid-back bartender, Adam. He told us how he used to own a bar but now enjoys the slower pace of working at someone else's. I cut to the chase: "Where's the lake?"

Adam all but rolled his eyes. "If you walk 150 feet that way," he said, pointing over his shoulder, "you'll be able to see White Rock Lake." 

I don't think that's close enough, but I gave up the argument when Adam brought out our drinks: that fragrant Southern Sipper (Buffalo Trace bourbon infused with fresh pecans, honeycomb, and vanilla beans) for my friend and a citrusy Sunshine cocktail for me. Before long, I was beginning to feel at home among the dressed-down regulars. There was a couple who looked like they'd spent the day boating, an elderly trio out for a late dinner, and a single lady with her iPad. 

A clean-cut guy named Wes said he visits the Lake House several times a week but couldn't articulate why. He explained that he likes the food—though that night he wasn't eating. There's a good selection of wine and draft and bottled beer, but besides the cocktails, there's not much you can't order elsewhere. 

Still, Wes couldn't deny his addiction. "I promise myself I won't come after work," he said, "but I always end up here." 

The thing about the Lake House is this: it's not exciting. That's not to say it isn't a nice place to relax. On a pleasant night, the breeze rolling in through those open doors is nothing short of wonderful, and my bearded friend is still talking about that pecan drink. Actually, we spent quite a while debating whether there's a name for the iced-tea dispenser thing from which my buddy's Southern Sipper had been ladled. 

That mystery was still unsolved when a group of college-aged kids wearing rainbow headbands, super-tall socks, off-the-shoulder shirts, and high ponytails walked in. I looked around for an explanation, but the rest of the crowd seemed unfazed. Folks come here to decompress after a busy day. They don't care about rainbow headbands. Or that the lake is a good hike away.  

My friend wasn't paying attention to the rainbow headbands, either. He was busy ordering another Southern Sipper.
Get the SideDish Newsletter
Dallas' hottest dining news, recipes, and reviews served up fresh to your inbox each week.