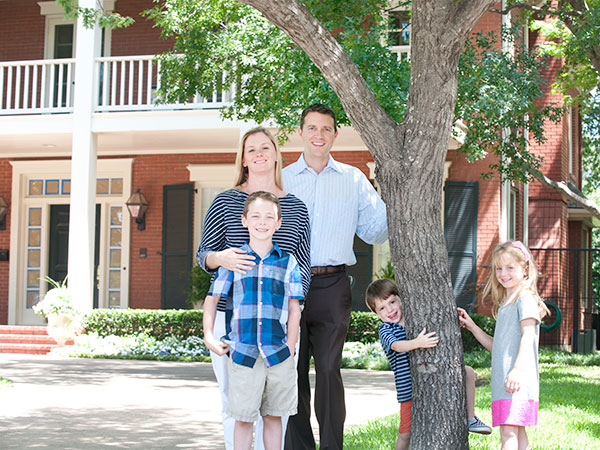 THE PARK CITIES
The Neighborhood:
University Park and Highland Park
The Buyer: Jennifer and Jason Craven
The Objective: Sell a completely refurbished M Streets house and move into a larger Park Cities space that, although it costs more, will save on private school tuition for three young kids.
The Buyers' Story: A decade ago, the Cravens bought a simple, 3-bedroom house in the M Streets and started beautifying it. After all, that's what Craven has done for a living since he was a 12-year-old Dallas kid with a lawn-mowing business. Today, at 36, he is the CEO of his own firm, Southern Botanical, a landscaping company that does high-end work for commercial clients such as the Dallas Museum of Art, and for residents of Dallas' top neighborhoods, some of whom will now also be neighbors of the Cravens. All that work on their M Streets house paid off this year when the couple took advantage of the sellers' market and sold their house within four days of putting it on the market. They've since moved to a spot they'd been eyeing for years—University Park. "We had been fighting an annual battle when it came time to write a tuition check for private schools," Jason says. "Should we continue to pay for private school, or should we move to the Park Cities? I finally gave in, and we moved." Actually, it wasn't quite that easy. Getting a house in one of the most sought-after markets in Dallas took a bit of luck.
The Market:
Unlike some other parts of Dallas, where sales are up significantly, the number of sales on record in the Park Cities fell from the first quarter of 2012 to the same period this year. And, yet, even with fewer sales, prices in Highland Park and University Park have gone up by 12 percent, to an average of $1.17 million. So what gives? Several real estate agents who talked to D Magazine for this story say the Park Cities' official data is skewed because so many homes in the area are never officially put up for sale on the Multiple Listing Service. Instead, they are handled between agents in what's known as a hip-pocket transaction (see page 89). That means supplies are underestimated, as are sales, as are increasing prices. "I believe 50 percent of the sales in the Park Cities right now are hip-pocket sales," says one agent, who has been selling to the area's richest residents for two decades. "They never go on the books, so we never get a real picture of what's happening there."
The Lucky Break: Anecdotally, at least, the sense many real estate agents get is that demand for properties close to the average sales price in the Park Cities is high, supplies are limited, and, therefore, competition is intense. And that is certainly what the Cravens encountered. "We really just got lucky to find the house that we bought," Jason says. "A friend of mine had found it and put a contract on it, and he basically just signed the contract over to us."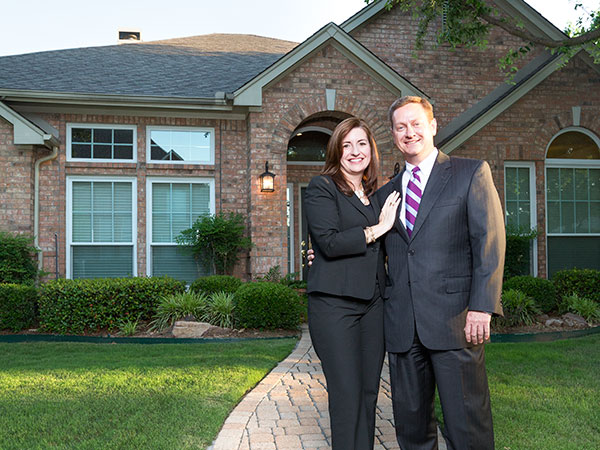 PLANO
The Neighborhood:
Plano
The Seller/Buyer: Jill and Frank Bonet
The Objective: Sell a large Plano house and buy something smaller that can, eventually, become a retirement property after the kids have gone off to college.
The Sellers' Story: With two kids soon bound for college, the Bonets realized last year they weren't going to need or want all the space in their current four-bedroom house forever. Plus, they knew the home-buying market was improving and wondered if now was their moment to sell. It wasn't an easy decision. "We bought our home in Plano 17 years ago," Jill says. "We had been living the apartment life in Dallas before then. But when you get married and have kids, you move to Plano. And that's what we did. So, selling a home after all these years, we kind of felt like newbies to the market." By February of this year, the Bonets' real estate agent, Wendy Hulkowich, of the Hulkowich Group, in Plano, convinced them they could handle the process of selling one house and buying another. They started searching for a new house and, this past May, put theirs on the market. Ten days later, it sold at their asking price. "We were kind of blind to how fast that happened," Jill says. "I mean, we had an inkling it might sell quickly because it was a one-story and there aren't that many one-story homes on the market here."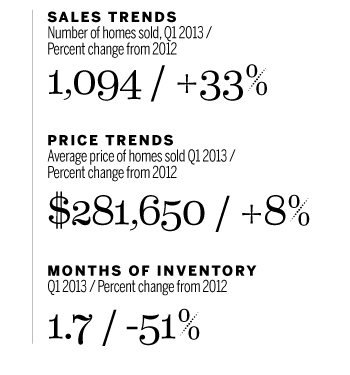 The Market:
"There's very, very little supply in Plano," Hulkowich says. "We've had healthy markets. But we've never had a market like this. In East Plano, especially, you're seeing anywhere from three buyers to 12 buyers for each home in good condition that comes on the market." Indeed, Plano has just a 1.7-month available inventory of homes—far less than the six months of inventory considered to represent a typical, stable market, and 51 percent less than the inventory that was on hand in the first quarter of 2012. Corporate relocations are just one thing bringing buyers to the neighborhood. AT&T, especially, has been trying to place buyers with families in Plano to take advantage of its schools, agents say.
The Buyers' Story: For the Bonets, selling their house in surprisingly fast time was the good news. Not as good: "We couldn't find what we were looking to buy in the marketplace," Jill says. "We did find a home that we fell in love with. But the owner decided to lease instead of sell. So having been through that, and seeing what else was on the market, we decided to build instead of keep looking for something else." The family bought a plot of land near their now-former home, hired a builder, and moved into an apartment, where a couple of their neighbors are also sellers who are now renting while they try to buy in the tight market (see page 90). "We were worried about moving into an apartment," Jill says. "But it turns out to be a great option. It gives you the flexibility you need to get the home you want. And we want our next home to be our forever home."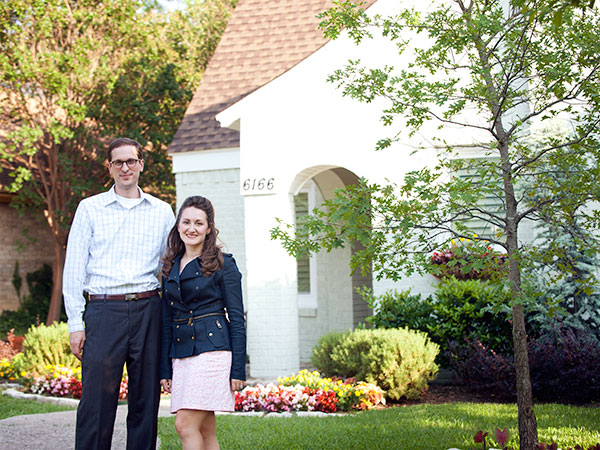 EAST DALLAS/LAKEWOOD
The Neighborhood:
East Dallas
The Would-be Sellers: Jude and Lindsay Hickland
The Objective: Decide whether to get in on the hot market and cash out of their East Dallas house to buy something larger in North Dallas.
The Sellers' Story: The letters were a surprise. A couple of them have appeared in the Hicklands' mailbox in recent months. They're from real estate agents who have clients, they say, looking to buy the couple's three-bedroom, 1932 Tudor in Lakewood. Clients who might spend as much as $400,000, or so the letters promise. But the thing is, the Hicklands aren't selling. Well, probably. They know the market is hot. They know they can get a good price  for the home Jude bought in 2008, two years before he and Lindsay married. As potential sellers, that makes them happy, especially since they've spent the last few months updating the place, even putting on a new roof. But as potential buyers, the hot market gives them pause. Which is just what they recently told their agent, Jeff Duffey, of Jeff Duffey & Associates. "We told Jeff we were nervous about getting into a situation where someone wanted to close on our house right away, but we weren't able to find something we were happy with to move into," Jude says. "Until we find something, we are just going to hold off, we're not putting our house on the market."
The Market:
Sales are up 20 percent and the average home price is up 7 percent to $279,130. And that price point, wedged between prices in Oak Cliff ($139,430) and North Dallas ($351,730), is "right at the level that a lot of buyers in this area are looking to pay," Duffey says. In other words: the prices are right for buyers in East Dallas. That is, if sellers will actually, you know, sell.
So what if they miss the uptick in the market? Lindsay says she's not all that worried about losing out on some money by not selling in this strong market if it means the couple saves themselves the stress of selling with nowhere to move. The Hicklands would like to relocate someday to North Dallas, in the Prestonwood area, to be closer to his job downtown and her job in Addison, and to get a bigger house when they have kids. But, for now, "We put a lot work into this house," she says, "and we love it and love our neighborhood."
Get the AtHome Newsletter
Enjoy Dallas' best trends, hot properties, and tips from local designers to help you nest in style delivered weekly.