It took Brian Zenner 10 years to achieve his goal of running a kitchen geared to his "soulful global" approach to cooking. His big break came a little more than a year and a half ago, when he was plucked from the kitchen of the Rosewood Mansion on Turtle Creek by first-time restaurateurs Tiffanee and Richard Ellman as they gathered talent for Oak, in the Design District. Oak was an instant hit and attracted national attention. The Ellmans got hooked on the restaurant business.
In July 2012, only seven months after Oak debuted, they partnered with John Paul Valverde (CampO, Outpost). The threesome leased the former Lumi Empanada & Dumpling Kitchen space on McKinney and opened Bowery Tavern, a gourmet hot dog restaurant. The concept didn't sell many hot dogs or win any awards. Smartly, they cut their losses and closed the place after only five months. They promoted Zenner, 37, from chef de cuisine at Oak to executive chef at what would become Belly & Trumpet and tasked him with designing a new menu while the three partners redesigned the interior. Belly & Trumpet opened on Valentine's Day.
The dining in-crowd flocked to Belly & Trumpet, eager to try Zenner's edgy yet elegant small plates. They went crazy for his unique creations, flooding Twitter and Facebook with worshipful reviews. By the time I sat down for my first meal, Zenner had become the talk of the town.
When I opened the door to the dining room, I felt like Alice disappearing down the rabbit hole. Large windows are covered with long, black velvet curtains. Some banquettes are upholstered with textured fabric, others in opalescent pearl leather. Startling—almost sinister—digitally manipulated images by English graphic artist Ruben Ireland hang at eye level on every rose-colored wall. Each image portrays a doe-eyed woman in a surreal, dreamlike state. One with horns kneels on the ground surrounded by arrows; another stares into the distance as a massive heart melts down her belly. The atmosphere is bold and eye-catching, a surefire conversation starter. But the pixies and gothic fairies on the wall are static. The real magic happens in the kitchen.
The well-informed servers refer to the 16-item menu as a compilation of shared plates. Prices run from $20 for Cornish game hen to $7 for shishito peppers and a generous fistful of Marcona almonds mixed with Picholine olives. After three visits, I prefer to call Zenner's offerings an inexpensive tasting menu. These same dishes could easily find their way onto any high-end restaurant menu and command higher prices. One evening my group of five women devoured eight plates, two desserts, and two bottles of wine, and our bill was $244. We had fun swapping plates and stories.
We started with chickpea fries, a fancy version of what you might purchase from a street food vendor in Italy. Zenner stirs a roux of chickpea flour, water, garlic, and olive oil and spreads it on a sheet pan. Once the mixture sets, he slices it into strips and fries them. On their own, the dense fries don't have much flavor until you poke one in the accompanying bagna cauda, a warm, robust anchovy and caper dip.
I hogged a whole bowl of Portuguese green soup. I'd already tried it on an earlier visit, but I'd made the mistake of sharing it. It's a stunning and soothing chicken stock scented with garlic and onion, and filled with kale, potatoes, and chorizo. So simple, yet refined.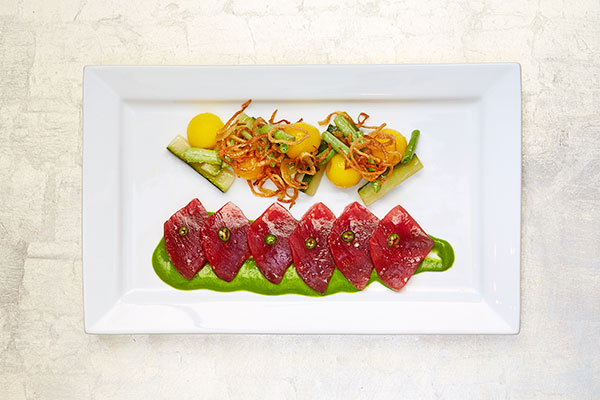 The antelope heart tartare was equally dazzling. Somebody in the kitchen has some serious knife skills: finely diced heart and foie gras torchon are blended and dressed with Calabrese peppers, chives, parsley, shallots, and a touch of egg yolk, and served on a plate with a caper and anchovy vinaigrette and garnished with pickled beets and crostini. The fat of the foie gras lends a stark contrast to the lean heart, and the peppers add a swift kick at the finish.
Zenner's warm rapini salad is also a satisfying juxtaposition of flavors and textures. The rapini is barely blanched and dressed with olive oil, preserved lemon, and white anchovy. It's placed on a plate and topped with garlic chips, fried cauliflower, and a poached egg. The slight crunch of garlic slams against the briny citrus and pungent anchovy, while the slightly bitter florets snap against your teeth. The egg adds a rich, comforting layer.
Steamed buns are folded, Momofuku-style, to resemble floppy sock puppets. Elongated disks of beef tongue are inserted into the bun and stick out of the slit in front. The joke Zenner plays with his presentation is not lost. But any suspicion that he isn't serious about quality melts away once you pop a pillow of bread and braised tongue—spiced with star anise, sweet soy, and garlic—into your mouth. Close your eyes and you'll taste the familiar duo of hoisin and Sriracha sauces, then experience the soft pickled turnips and crunchy cucumbers.
Zenner turns out a serious version of lamb shoulder. He braises a whole bone-in cut with garlic, onion, and prunes. Once it softens, the meat is pulled off the bone and doused with a veal stock scented with cumin, coriander, arbol chiles, cinnamon, and a touch of clove. The shredded lamb is served with a lovely couscous studded with slivers of almonds.
But the exotic and playful dishes I've mentioned above did not win the best dish of the night. That honor went to what could have been a ho-hum Cornish hen. Every chef in Dallas understands the need to offer a chicken dish, and Zenner has outsmarted them all. The hen is deboned, halved, and pounded out before it is rolled up with the breast meat on the inside, surrounded by the juicier dark meat. The roulade is cooked in a circulator, roasted, and sliced into thick disks of delicate hen that are briskly browned off and served with 2 ounces of Hudson Valley foie gras on top of raisin compote and a smear of cauliflower puréed with shallots and butter. The only sauce is a dark jus made from the bones of the hen. Perfection.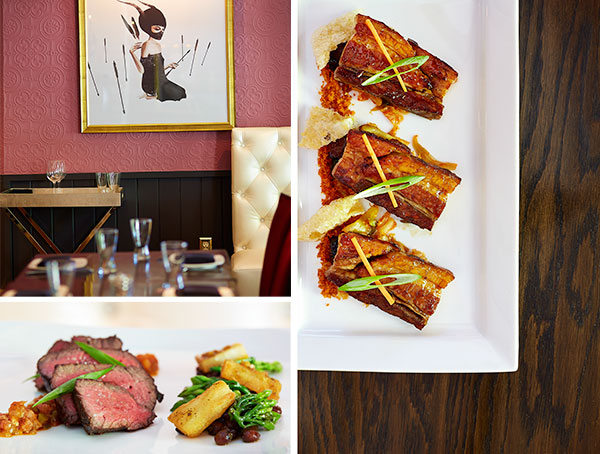 The tasting dishes are not the only stars at Belly & Trumpet. The one-page wine list manages to tick off all of the boxes on the checklist: the choices are appropriate to the food, the small selection is varied, and the price points are friendly. You'll find recognizable names (Matrot Meursault and Geyserville Zinfandel) and hidden gems (Scarpetta Sparkling Rose and Planeta Cerasuolo di Vittoria). Richard Ellman and general manager/sommelier Adam Karpf have done a remarkable job of creating a classy list with a limited number of bottles.
Like some other trendy restaurants in town, Belly & Trumpet disappoints in the dessert department. Restaurants that seat fewer than 100 people and have small kitchens can't afford the salary or the space for a pastry chef. We skipped the semifreddo and panna cotta and ordered the chocolate tart and an apple stuffed with goat cheese. Sadly, the crust of the tart was old and left the taste of the walk-in refrigerator in our mouths. But the apple concoction was a revelation. Zenner steams a petite Granny Smith apple, stuffs it with goat cheese, and gently hits the top with a torch. Once it is slightly crème brûléed, he serves it on a beet reduction sweetened with honey, and tops it with candied hazelnuts and a pinch of freshly shaved horseradish. It's a twisted combination of savory, sweet, tart, and tangy, and, in the end, it's a real palate cleanser.
As I pushed my plate away, I glanced at the tiny bar in the back of the open dining room. Zenner was talking to a couple of women who had stopped in for drinks. He leaned forward and turned his head to listen to their tale. Within seconds, he tossed his head back and laughed loud enough for us to hear. He turned away, tossed a towel over his shoulder, and, with a big grin on his face, he pushed open silver swinging doors and disappeared into the kitchen. Like magic.
For more information about Belly & Trumpet, visit our online restaurant guide.
Get the SideDish Newsletter
Dallas' hottest dining news, recipes, and reviews served up fresh to your inbox each week.