Editor's Note: On Sept. 21, after this story had gone to press, the jury found in favor of the plaintiffs, ruling that the Episcopal School of Dallas committed fraud and was grossly negligent. The jury awarded more than $9 million in punitive and compensatory damages.
On a cool November night in 2009, Emily Northrup drove to the abandoned parking lot her history teacher had described to her. It had once served an Office Expo, but that store was long closed. The lot was in a secluded area of Farmers Branch, hidden from main roads. Already waiting for her there, J. Nathan Campbell climbed into Emily's Lexus. He was 34; she was a 17-year-old junior.
Campbell had sounded a bit upset when he called earlier, but seeing him now, Emily could tell something was wrong.
"I just had the biggest fight ever with my wife," he told his teenage lover. "I think it's over."
As she was trying to process what he was telling her, a police car pulled up next to them. Emily panicked, but her teacher was calm and collected.
"I'll handle it," Campbell said, climbing out of the car.
But for all his charm, Campbell couldn't talk his way out of the problem entirely. When the Farmers Branch police officers learned he was a teacher at the Episcopal School of Dallas, where Emily was a student, the questions got more serious.
"Isn't this weird, that you're meeting in a parking lot with your teacher?" an officer asked Emily (whose name has been changed for this story).
"Everyone at ESD is a family," she said. "Everyone is really close."
What Emily didn't tell the police was that she had been sleeping with Campbell, a married father of a 3-year-old boy. She didn't tell them how he'd seduced her with compliments and caresses in his office. Or how Campbell, a man twice her age, said he loved her, and they'd be together forever. Instead, Emily lied to the police and was permitted to go home.
But eight months of secrets are difficult to hide under close scrutiny, and soon, Emily and Campbell's story began to fall apart. Forty-eight hours after being questioned by police, Campbell resigned from ESD. Two months later, Emily—by law, a victim of sexual assault—would be forced to withdraw from the school under threat of expulsion.
Emily eventually filed criminal charges against Campbell, and her family filed a civil suit against the school seeking $10 million in damages for negligence, fraud, mental anguish, and all the tuition they'd paid since Emily entered ESD, in kindergarten.
The civil trial, begun in July of this year, has been a parade of ESD's dirty laundry, including sex in company vehicles and hotel rooms booked using a school credit card. It seems ESD's insignia is branded on nearly every dirty deed the pair engaged in. Their meetings revolved around football and exam schedules, and explicit messages were sent from an ESD-owned iPhone and school email accounts. While this would be detrimental to any school's reputation, it's particularly troubling to one whose kindergarten tuition begins at $14,000. The school has come a long way from its founding in 1974, when Father Stephen Swann, then only 30 years old, opened the school with eight students.
Originally housed at Saint Michael and All Angels Episcopal Church, ESD grew into three campuses, educating 1,100 students from preschool through high school. It is the largest co-ed private school in Dallas. The 39-acre upper school campus has an athletic and wellness center (named after Swann) with facilities that would make a professional team feel at home. The school grounds also include a greenhouse, a lake, and a quarry.
ESD administrators claim Campbell was a stealthy predator who victimized Emily through an elaborate ruse they couldn't reasonably be expected to detect. Her presence at the school after the affair was unhealthy for her and the entire community, administrators claimed. Difficult as it was, they had no choice but to remove her. But when Emily took the stand, just shy of 19, a ponytail tied low on her neck, she told a different story.

Emily sat in her bedroom, staring at the computer screen. "Should I do this?" she thought. "This is my teacher." It had been half an hour since Campbell emailed his cell phone number to Emily, then 16 and a sophomore in his world history class. He had been tutoring Emily privately for months, and, by April, they had grown accustomed to exchanging emails late at night. But they'd never talked on the phone.
Emily felt confused and flattered that one of the most popular teachers in school was giving her special attention. In his office, Campbell would tell Emily how pretty she was, how she was one of the most attractive students at ESD. He'd also asked Emily if he was the most attractive teacher at the school. These conversations left Emily feeling strange.
"Why are you asking me this?" Emily would question Campbell, who'd just brush off her discomfort with an easy laugh.
Campbell had the ability to pacify and agitate Emily, often in the same breath. And despite her discomfort with Campbell's advances, there was something about the clean-cut, athletic teacher that kept Emily interested.
She picked up her iPhone and dialed.
When Campbell answered, Emily told her teacher she felt weird. He laughed and told her that there was nothing wrong with what they were doing. They were just talking.
And talk they did. For nearly two hours the pair chatted about school, sports, and Emily's virginity. Emily was nervous, but the more she talked to Campbell, the more it felt to her like she was talking to a boy in her class, not the man who taught it.
During the next few weeks, Campbell continued to reach out to Emily. He attended her sporting events, popped in on her other classes, and started calling and texting her regularly. "You played really well tonight," he told Emily, a star on the athletic field though not always one in the classroom. The attention made Emily feel special, and after months of conversations and compliments, Campbell asked her to meet in a church parking lot near her house.
Emily drove a few minutes to Preston Hollow Presbyterian Church, which was already closed. She spotted a blue Suburban owned by ESD. Campbell invited her inside and began rubbing his hand on her thigh. When Emily told him she felt uncomfortable, he moved his hand to her shoulder.
"It's okay," he told her. "Don't worry."
But Emily didn't feel okay. Campbell asked if he could kiss her. She told him no.
"You have such a nice, athletic body," Campbell said, stroking her thigh once again.
Emily asked him not to touch her down there, and Campbell played dumb.
"I'm not going to do that," he said. "Are you kidding?"
As Emily went to leave, Campbell kissed her on the cheek. She got out of the Suburban and drove straight home.
Back at school, Emily tried to focus on her classwork. Campbell was known for his demanding course load, and she struggled to keep up. He'd been helping her, teaching her how to take more effective notes in class and how to prepare for exams. Her history grades had
started to improve.
On a day in April, Emily went to Campbell's office to turn in a paper. She glanced at the clock; she had only a few minutes to spare before
practice. She arrived already in her uniform and tried to leave as quickly as she'd arrived.
"Wait a minute now," he told her. "You don't need to be in a hurry."
Campbell sat perched on a table, reclining with his hand behind his back. He asked her about her day, and they chatted for a bit.
Then Campbell swept his hand across her crotch.
Without either of them saying a word, Emily left the room.

The next day, Emily felt uncomfortable around Campbell. She wondered if he'd told anyone, or if he was going to talk to her about what had happened. But the day passed without incident, and Emily started to feel a sense of pride about their relationship. Here was a man admired by students and teachers alike, and he was showing attention to Emily.
Campbell wasn't just any teacher at ESD. He was the dean of the freshman class and the director of a new school program, the Center for Global Citizenship. As the director, Campbell helped make arrangements for visitors from around the world and was their host when they arrived. The role came with access to company vehicles, a credit card, and a key to a furnished house on campus.
In an email to Campbell, his boss, head of the upper school, Erin Mayo, told him, "I'm your No. 1 fan." Emily was also close with Mayo, who was her English teacher as well as her principal. Campbell would brag to Emily about how much Mayo and Rebecca Royall, ESD's chief academic officer, liked him.
"She thinks the world of me," Campbell would smugly say of Royall. "I could go to her for anything."
When Campbell wanted to see Emily during school hours, he'd text her two simple words: "It's safe." Campbell shared his office with another history teacher, Marc Salz, who happened to be Emily's adviser. As such, Salz was responsible for reviewing her report cards. Salz and his wife, Tolly, both worked at ESD, as did Campbell's wife, Sara. Salz was the ESD employee charged with reviewing the comments on Emily's report cards; questionable remarks were never brought to the attention of administration.
In a report card sent home in January 2009, Campbell described Emily as "a dog with a bone," and said he looked "forward to more late-night emails with in-depth questions." As the relationship became more intimate in the spring, Campbell never hid that he and Emily frequently met outside class. He wrote that he enjoyed their daily visits and commented that Emily was one of the few students who came to his office regularly for help. By the time Campbell penned those words, Emily had already become a regular visitor at his home as well.
In May, Campbell invited Emily over to his house a week before finals. They'd had a half day at school, but since his wife worked in alumni relations, she was still on campus. He greeted Emily at the door and put his hands on her hips.
"I can't stay long," she told him. "I have to study."
But he whisked her to the backyard to show off his new porch. "Isn't that awesome that I built that myself?" he asked Emily. "Now my son will have somewhere to play."
The pair took a seat on the couch, and Campbell started kissing her.
"You aren't a very good kisser," Campbell told her. "But it's okay. I'll make you a better one."
Emily was embarrassed, but she kept kissing him. Campbell took off Emily's shirt and led her into the bedroom, where he removed his clothes. Emily, who had never seen a boy, much less a man, in his underwear, asked him to put his shorts back on. Campbell complied and pulled Emily up on the bed.
"It's not going to hurt," Campbell said as he slid his hand beneath her underwear. "I'll make you better."
After this encounter, the summer began, and Emily and Campbell started calling and texting each other more frequently. Emily told Campbell that she loved him, and he said he loved her, too. His marriage was dead, Campbell said, and he wanted Emily to raise his son as her own. Emily was enthralled with the idea of a lifelong relationship with her teacher. They planned to live together once she graduated.
"We'll be together for the rest of our lives," Campbell would say.

With those promises fresh in her mind, one day in August 2009 Emily told Campbell that her parents were away for the afternoon. Her dad was sailing, and her mom was shopping with a friend. Campbell hurried over. Emily answered the door fresh out of a shower, wearing only
a towel. She said she needed to change, but Campbell told her it wasn't necessary.
"I have to leave soon, anyway," he said.
The pair sat on Emily's bed and began kissing. Though they had made out before, Emily could tell this time was different. The kisses were more passionate, and things escalated quickly. The next thing she knew, Campbell took off her towel and started kissing her everywhere. Then Campbell removed his clothes.
"I don't want to have sex," Emily told him.
"We won't," Campbell said as he climbed on top of her.
This was yet another promise Campbell wouldn't be able to keep. As her teacher succumbed to temptation, Emily felt confused.
"Did we just have sex?" she asked him when it was over.
Campbell looked down and, with a tinge of defeat, he informed Emily that, yes, they had just had sex.
Emily was furious. This wasn't the way she was supposed to lose her virginity. She'd imagined her first time would be with her husband, and she'd cry because it felt good and she was happy. But the tears running down Emily's face weren't happy ones.
"You've ruined this now," she told him. "I want you to leave. I want you to leave right now."
Campbell apologized and tried to comfort her, but she picked up his clothes and threw them at him.
"Get out," she said.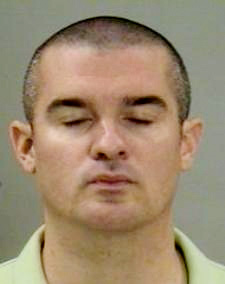 Between texting and calling, Campbell and Emily were normally in near-constant contact with each other. For the next couple of days, however, they didn't speak at all. Finally, Campbell broke the silence. "Aren't you glad you got it over with so you aren't so nervous to lose your virginity?" he asked her. Emily was still too angry to respond. But after a week, she gave in, and the relationship resumed.
Despite a rocky beginning, Campbell and Emily began sleeping together frequently (the second time they had sex, Campbell made sure to ask her first) and engaging in other sexual acts. Campbell sent Emily naked photos of himself, and she responded with her own. Campbell would tell Emily that their physical relationship was further proof that he loved her.
As the summer came to a close, the pair decided it would be best to cool things off when classes started, and they agreed not to see each other during the school day. Emily kept up her end of the bargain, but Campbell couldn't resist walking by her classes and stealing glances of her. Emily worried someone would find out about them. One day in the library, a teacher explained that emails over the ESD server could be monitored. Until this point, the pair had always exchanged emails from their ESD accounts. Fearful of detection, Emily helped Campbell set up a Yahoo account.
With a thin layer of security in place, the pair grew bolder. In the fall, Campbell sent Emily emails and texts throughout the school day, often while he was teaching history classes. They had sex in an ESD Suburban more than once. Campbell also monitored Emily more closely and would get mad at her for talking to boys her age. Around this time, Campbell began taking Emily to hotels he'd reserve with his ESD credit card. Upon checking out, he'd pay in cash. Emily asked him why he didn't just use his personal credit card.
"My wife would see the bill," he said. "I can't do that."
To explain his overnight absences, Campbell told his wife he was sleeping at the Center for Global Citizenship because of car trouble or
commitments to ESD's out-of-town guests. Emily told her parents she was spending the night at her best friend's house.
At what would be Emily and Campbell's final hotel tryst, he brought her a pregnancy test. After the results came back negative, they had sex, ordered a pizza, and fell asleep watching television. A month later, they'd be caught.

On the morning of November 30, 2009, an administrator approached Erin Mayo, head of the upper school, and chief academic officer Rebecca Royall as they exited chapel. The Farmers Branch Police Department had called to report that Campbell and Emily had been found in an abandoned parking lot the day before. Immediately, Mayo ordered a search of Emily and Campbell's school email accounts, which came up clean. She then called Emily's mother, Sharon, and arranged a meeting for that afternoon. Before Mayo could locate Campbell, he showed up in Royall's office.
He explained that he had happened upon Emily in the school's parking lot Sunday afternoon, and she was crying. The two hadn't had any contact since last year, when he'd been her world history teacher, Campbell said, but seeing her so emotional, he felt obligated to help and offered a sympathetic ear. Emily was going to have coffee with a friend, so Campbell suggested meeting afterward in the Best Buy parking lot near Midway Road and LBJ Freeway. The store was on his way home, and he'd be returning some videos there later. They were chatting in Emily's car when the police pulled up and questioned them.
"With good intentions, I made a bad call in judgment," Campbell said apologetically.
In a meeting a few hours later, Emily told the same story, nearly word for word. Mayo's suspicions began to grow, as she believed many of the details were implausible, such as the idea that they'd been able to find each other in a large commercial parking lot without ever exchanging phone numbers. After Emily and her mother left, Mayo reviewed the Farmers Branch police report with Father Stephen Swann, the school's founder and headmaster. Mayo was disturbed at the inconsistencies between the pair's story and the report, which stated the parking lot was behind a closed Office Expo, not a bustling Best Buy. Mayo began to suspect the worst.
Back at home, racked with doubts, Mayo couldn't sleep. In her pajamas, she drove out to the location listed in the police report and examined it. She noticed there was no way to access the parking lot from the main roads or the Best Buy parking lot, making the idea that they'd first met at Best Buy and relocated highly unlikely. The pair hadn't wanted to be seen, Mayo realized.
The next day at school, Mayo had a security officer look through the parking lot surveillance tapes from Sunday, November 29, when Emily and Campbell claimed to have had a chance meeting on campus. A review of the tapes showed that while Emily was at the school for practice, Campbell's car was never in the lot, and neither was he. They hadn't met that afternoon at ESD as they'd both emphatically stated.
Swann called Campbell to his office for more questioning. Campbell arrived visibly shaken and tried to apologize once more.
"I've learned from my mistake," Campbell said. "It was stupid to put everything on the line like that on an impulse."
Swann told Campbell his career was in danger. "We're going to comb the records, son, and if you've done anything inappropriate, you'll never work in teaching again," Swann told him.
That afternoon, Campbell walked into Royall's office with an envelope in his hand.
"If something happened other than what you told me, slide the envelope to me," Royall said.
Get our weekly recap
Brings new meaning to the phrase Sunday Funday. No spam, ever.