This fall, Marshe Townsend tasted chicken. And shrimp. She loves the shrimp. Solid food hadn't hit her tongue until then, ever. She is 17.
"She knows to take very tiny pieces, and she just licks them," says her mom. "She's scared to chew. But I want to see it. I want to see it."
Marshe was born with a rare and unexplained condition called Nager Syndrome that disrupts the normal growth of two of the five paired structures on the sides of the head during the development of the embryo. These first two pharyngeal arches go on to become the jaw, the nerves and muscles for chewing and expression, and the bones of the middle and outer ear. If they don't progress properly, a baby is often left with a hole or cleft in her palate, a lower jaw that is so small that it impedes breathing, unformed or ill-formed ears and subsequent hearing loss, and bone abnormalities in the arms and hands, particularly thumbs. Marshe has all of these, and then some.
Surgery performed around age 2 to lengthen her lower jaw not only failed but inflicted a devastating consequence. Marshe's jaw emerged
fused, shut tight. Ankylosis, in technical terms. Horror, in real talk.
"Once you've gone through the system and end up with a problem, patients are not excited to go back, particularly when the case is so severe and so uncommon," says Dr. Paul Tiwana, who is an associate professor of surgery and the chief of pediatric oral and maxillofacial surgery at UT Southwestern Medical Center. "For the physician, it's almost harder if there has been an attempt to correct, because the jaw is more scarred, more inflamed. And the more bone grows, the more you have to resect."
Nonetheless, Tiwana persevered. In August, he performed a total joint replacement on both sides of Marshe's jaw, taking out the entire bone and replacing it with a synthetic device made from titanium and plastic. He had to make multiple incisions on the face and through the mouth to go underneath the skull, avoiding the facial nerve and multiple blood vessels. "It was not a trivial procedure," he says. Three months later, Marshe could open her mouth 30 millimeters.
Kids with ankylosis usually develop the condition after an injury to the jaw bone. The bones don't heal properly, and the jaw bones can become fused together, preventing the mouth from moving. In younger children, rib grafts are used to replace the jaw bones instead of the prosthetic, since they will grow with the patient. Tiwana has performed just one total joint reconstruction on a child this year; the average practitioner outside of a major medical center, he says, might never see an ankylosis. "For Marshe, the first stage was to get it moving. Second will be to lower the jaw and move it forward, so we can get rid of the trach," Tiwana says. "We can't do that with a fused jaw."
Until that happens in January, Marshe practices. She has an isometric jaw opening device that she uses to rehabilitate her mouth. She remains on the liquid diet she has been on since birth, setting down miniscule bits of food on her tongue for flavor. Her speech, which her mother, brother, and certain teachers understand, hopefully will improve. Though the physical deformities of Nager Syndrome are harrowing, cognitive ability is spared. There is nothing in the literature about spirit or determination. Or whether hardship nurtures resolve or finds those who already have it.
When La Sonya Woods was Marshe's age, she was pregnant and living with her grandparents in Haworth, Oklahoma. Her grandmother was a nurse and thought it best to go to a larger hospital for the delivery. So they drove the 50 miles to De Queen, Arkansas, where Marshe was born.
"She couldn't breathe. Her airway was too small," Woods says. "There was a doctor visiting from Children's Hospital in Little Rock, and she opened a hole in Marshe's throat. If she was born in my hometown, she would have died."
A helicopter then airlifted the 4-pound, 6-ounce baby to Little Rock, where she stayed for one month. One month was about a month longer than expected. After a brief stint at home, Marshe entered a hospital in Oklahoma and then the Bethany Children's Center, a private nonprofit hospital for infants and children with complicated medical and physical disabilities. Woods visited almost every weekend, for three years, until Marshe came home. By then, Woods had completed her training to be a nurse's aide. "My mom—Grandma—who adopted me, took us to the nursing home with her, where she worked. I grew up around it. I always wanted to be a nurse," Woods says.
So that she could go to work and Marshe could go to school, Woods taught her daughter at just 8 years old how to operate her feeding mechanism. She has a permanent port, to which she leaves tubes attached. She puts her "milk," which is a formula called Peptamen 1.5, into a backpack, outfitted with a machine. If it's too warm, she puts ice in the bag. The machine runs until the milk is finished, and Marshe unhooks the bag, clamps it off, and closes the stoppers. For nine years, she has been wearing the backpack to school and feeding herself twice a day, on her own. Her third meal runs overnight while she sleeps.
At 3, Marshe returned from Bethany weighing only 16 pounds. Woods' mom showed her a trick. "She was so skinny, so my mom taught me how to put baby food through the tube," she says. "The doctors didn't want me to do it. They thought I'd bust the tube, but it was okay. I kept doing it because she was so little. And she was hungry!"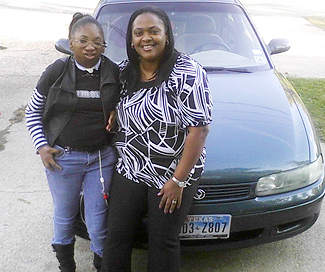 Now Marshe, at 4-foot-9 and 100 pounds, has a full schedule at North Little Rock West High School. Her classes are modified to accommodate her hearing loss. She has outer ears but no ear canals, so there is no natural pathway for sound to travel. She wears two hearing aids that are implanted into the bones on each side of the head. The outside of the aids, which sit behind the ears, receive sound waves and vibrate the bone and inner ears, stimulating nerve fibers to produce signals that the brain interprets as sound. In class, Marshe can connect a microphone directly into the aids and a teacher can turn up the volume, helping to minimize the distraction of background
noise.
"It is nothing for her to throw on that backpack and go down the hallway, with her trach, and big round hearing aids, and four fingers on each hand. She is the best kid," says Lynda Sisco, an educational hearing specialist for the North Little Rock School District and Marshe's teacher for seven years. "Absolutely amazing. A thumb was taken from one hand and put on the other, and she has incredible penmanship. She wants to be a chef, though she's never eaten."
At home, Marshe spends time with her 14-year-old brother, Marquette, who often passes up invitations from friends so that he can stay with her. Woods, who, unbelievably, works at a facility for handicapped kids, taught Marquette to take charge of his sister and her medical paraphernalia when he was just in elementary school. She says Marshe likes to read the Bible and dance, loves music, jewelry, video games, and church. She seems happy, according to Sisco, who notes that the kids at school "roll with her," though her inability to communicate limits her ability to form close friendships.
"Everyone loves her," she says, "and because she fights, and fights hard, they respect her."
The hearing-impaired students are all oral, meaning they don't use sign language to express themselves. The philosophy is that there should be nothing to have to rely on. As Marshe's mouth gradually opens, and her tracheostomy is reversed, her speech has a chance to be functional, according to Tiwana.
Meanwhile, she tells her mom that she just wants to have a couple of friends, and not having them makes her sad. Like all moms, Woods would like to manufacture them, make them appear from a wish. But she focuses on what seems possible right now.
"I worry that if something happens to me, people won't know how to understand her. I want her to be able to talk so everybody will understand her like I do," says Woods, who lost her grandmother last year. "I want her to talk so she can go to college."
Woods remembers a child who was admitted to the Bethany Children's Center around the same time as Marshe. She had red hair and blue eyes, and whatever Marshe had, this child didn't. She had everything else. She was on a ventilator, Woods recalls, and her name was Cherokee. Some of the parents, including hers, never came back for their children. They brought them in and left them there.
"It takes strength," Woods says of her own children and the ones she cares for, "but I love these kids."

Write to [email protected].
Get our weekly recap
Brings new meaning to the phrase Sunday Funday. No spam, ever.