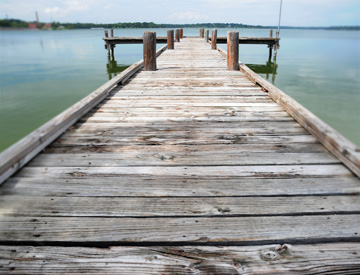 It's a tad after 5 pm on a sun-baked, pre-Labor Day Friday afternoon, and the enthusiasm for the long weekend percolates around me as people pour into the QuikTrip on Garland Road. They pull up in hulking Ford F-250 Super Duty trucks and throwback Chevy Monte Carlos, their hubcaps rotating like hallucinatory pinwheels. Many customers—from the hospital orderly in a shapeless blue smock to the straightlaced business type unyoked from his rep tie—approach the QuikTrip's freshly Windexed glass doors with a sense of purpose. They want beer. And more beer.   
I've come to this particular precinct of East Dallas to immerse myself in its byzantine integration of nonalcohol "dry" zones with those welcome "wet" oases where booze flows easily. This QuikTrip at the southern end of White Rock Lake is at the epicenter of one of the latter. Thanks to voters from the late 1800s in judicial districts that no longer exist, there's a borderline up the street from QuikTrip. Everything north of it is dry (or "dry"—more on that in a bit). So south of that border the liquor stores have cropped up in a high concentration, like fireworks stands that flourish beside the highway, just beyond the county line.
But all this can change. Assistant city attorney John Rogers tells me that the November 2 election will give Dallas residents the "unprecedented" chance to vote on a city-wide "local option" election deciding whether all of Dallas should permit beer and wine sales from grocery and convenience stores. In effect, it would erase that borderline south of White Rock. Also up for a vote is whether dry-zone restaurants can sell mixed beverages without asking patrons to join a "private club." 
With all this in mind, I venture to the asphalt core of my Dallas wet zone. It begins with the 7200 block of Gaston Avenue, which dead ends where East Grand Avenue gives way to Garland Road. The 7200 block of Gaston, a sloping tributary to the wet zone, is dominated by Lion Beverage, which, behind its lunging feline logo, does 75 percent of total sales in six- and 12-packs of beer, with nearly half of its patrons coming from such dry enclaves as Casa Linda. "I really don't want the wet law to pass, as it would clearly take away business," says Jenny Prieto, Lion's chief day salesperson. "If you live in Casa Linda and can shop for beer near there, why would you come here anymore?" 
Just then Bill Beach maneuvers his Honda 250 motorbike into Lion's oil-stained parking lot, as if sent here to answer Prieto's question. "I would certainly love to see Dallas go wet," says the 68-year-old Beach, a retired vending business operator, who lives in Buckner Terrace. "Even though I'm only 10 minutes away now from Lion, I'd prefer to be only two minutes away from buying beers."  
Motoring north on East Grand, past the modest Lakewood Greens Apartments, I pull up to Century Liquor Store and Jimmy's Wheel In. Century Liquor Store's somewhat tattered exterior mimics a red and white checked tablecloth at a red-sauce Italian eatery. It's just the kind of easy-going place where you amble in, pick up a mini-Wild Turkey, or just gab. "Customers—about 80 percent of them come from the surrounding dry areas—really start coming in on Fridays right after work, and then on Saturdays pretty much all day," says Hak Kit, Century's manager, who flashes the wet zone's most affable grin.
I leave Century Liquor Store and stroll all of 25 feet to Jimmy's Wheel In (whose full moniker includes "Beer and Wine, Fishing Supplies, Bait"). On good weeks, Jimmy's will do as much as 70 percent of sales in beer, easily eclipsing any sales of rods, reels, or bait. 


Only blocks north, where East Grand melts into the 7800 block of Garland Road, is the wet zone's true core: a 7-Eleven dominates Garland Road's west side, and QuikTrip looms on the east. Bordering QuikTrip is Lake View Liquor, with its dizzying selection of spirits and a musty sound system playing classic rock. Meanwhile, a Payless Discount Beer and Wine, which trumpets its check-cashing options, borders the 7-Eleven. Four places to buy beer, all, given a strong wind, within spitting distance of each other.
Quik​Trip is the behemoth of the wet zone—often moving 900 cases of beer a week. I plant myself just outside its gleaming red and white sign, looking to chat up some of its typical patrons. Veronica Monarrez works as a nanny and lives in the Buckner and I-30 area. She's accustomed to the 20- to 30-minute one-way drive to QuikTrip for her 12-pack of Bud Light.
"Because there are absolutely no alcohol outlets near my area, I must make that long trip just to stock up," Monarrez says. "It would be so much better for all of Dallas if it went wet."
Then 47-year-old Andrew Wixcel saunters by. A pit-stop regular at QuikTrip, Wixcel vividly recalls having to travel to a desolate part of Industrial Boulevard all just to pick up some wine or beer. "Talk about a pain in the butt," Wixcel says. "To have to drive to an area full of bail bonds shops—kinda scary. The Payless and QuikTrip are both much better lit, so it makes the experience of being here much safer."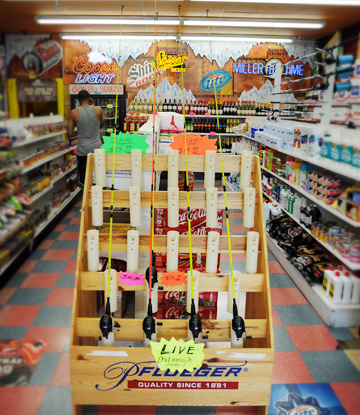 As the Friday postwork rush begins to subside, I navigate the northern stretch of Garland Road that is almost entirely alcohol parched. Past the emerald lawns of the colonnaded estates with their Tara pretensions and views of an iridescent White Rock Lake, I eventually approach two 7-Elevens with refrigerator cases overflowing with everything—except for cans of Bud or bottles of Kendall-Jackson.     
As the sun gradually slumps under the horizon, I stroll into Keller's Hamburgers, a neon-lit fixture on Garland Road for more than five years. On its menu, alongside Keller's famously decadent hamburgers (the yummy Red Steer) is a list of available long necks and a trio of other beer brands. The only thing separating a Keller's customer from a frosty Coors Light is the quick showing of a driver's license, run through a special credit card-like machine, earning one a "membership"—or the presentation of a Unicard, aka a liquor-purchasing card that provides membership verification. Sure enough, I grab a copy of Unicard Systems application No. 52680406 and see it takes only a minute to fill out.  
Beer sales, as I discover, in the middle of this piously dry zone, make up an essential 15 percent of Keller's bottom line. Keller's manager, Antonio Morales, admits that he does ponder the potential impact on his business if the "wet" option goes through. "Honestly, I'd prefer if Dallas didn't go all wet," Morales says. "Because if it did, we would clearly have more competition from liquor stores, and that would definitely hurt our business."
And then, as if on cue, I catch a glimpse of what Morales most fears: a phalanx of cars whizzing past Keller's, all bound for the wet side of town.
Write to [email protected] .
Get the D Brief Newsletter
Dallas' most important news stories of the week, delivered to your inbox each Sunday.