Smart skincare is easier said than done. Coming up with the right regimen is even more of a challenge when you're dealing with the Dallas elements. Humid summers give way to dry winters. Level-orange air pollution, road rage, and endless dining options don't always make for the best complexion either. So we did the legwork to find out what you can do now to put off the big, expensive stuff. We talked to makeup artists, aestheticians, dermatologists, and plastic surgeons and compiled some of their best practices. You might be surprised: looking good doesn't have to cost a million dollars. In the words of one dermatologist, "Be wary of products that come with unbelievable claims without the scientific proof to support their price tag."

20s
You're young, gorgeous, and without a care in the world. Chances are, you're still lying out by the pool. But here's the thing: adding a couple of really easy steps to your day will ensure that you don't have to resort to desperate measures later in life. Because even though you can't fathom it right now, one day, if you're lucky, you'll hit your 30s (and—gasp!—40s and 50s and beyond). Might as well do the best you can today to minimize the plastic surgery kitty.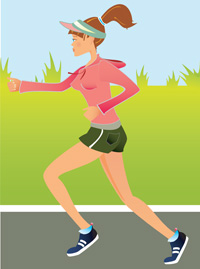 Hang on to your Hat

"I'm always shocked when I see young girls out for a jog on Armstrong Avenue and they don't have a proper hat," facialist Elaine Farrell-Bloom says. Whether you're exercising, lunching on the patio at Toulouse, or (sigh) sitting by the pool, bring a cap. More important, wear the darn thing.
Break away from Breakouts

Noted aesthetician
Renée Rouleau
suggests drinking hot lemon water first thing every morning to reduce bacteria internally. She says that avoiding dairy can help with breakouts on the chin and staying away from orange juice can help prevent pimples on the cheeks.
Go for the Bronze

News flash: tanning beds are just as bad for you as the "real" sun. Stop going. If you want a sun-kissed face, try a nice bronzer. But buyer beware: makeup artist Sara Domi warns that the wrong ones can make you look like a "disco ball." She suggests avoiding the shimmer and going with a nice matte like MAC Sculpting Powder.
Wash and Go

"All too often, women in their 20s under-cleanse and over-moisturize, trapping dirt and bacteria in their pores," aesthetician Alicia Houdek says. Wash your face every day and exfoliate regularly.
Just Add Water

Fill glass with water. Drink. Repeat. Forever. There's no cheaper, better way to save your skin than staying hydrated—especially difficult in the brutal Texas heat.
Become a (Sun)screen Star

Love sometimes stings, and so, too, does sunscreen—especially when you're sweating on a run. But sunscreen is a must every single day—no matter the season or the time of day.
Dr. D.J. Verret
recommends that you reapply it every two to three hours. Looking for an extra boost? Makeup artist Angela Angel recommends Laura Mercier Tinted Moisturizer that has an SPF 20. Combine that with zinc oxide or Parsol 1789.

30s

The party is over. It's a time of babies and stress and hormonal changes. And just as your metabolism has likely slowed, so, too, has your skin's ability to recover as quickly from the abuse we dish out. This is a time for restoration. So, all the advice we had for the 20-somethings? That's your first step. If you didn't start then, start now. And we'll add from there.

Sleep Tight

Renée Rouleau says you need seven to eight hours of sleep a night. Not only will it reduce stress, it'll also help prevent acne. Additionally, she says that sleeping on your side can cause deep vertical creases on your chest. Who knew?
Fix It Right

Dr. Adean Kingston says nighttime is the right time for repair and rejuvenation. She recommends a topical retinoid (prescription strength) or a retinol (over-the-counter strength). This vitamin A elixir helps with anti-aging. She recommends that you talk to your dermatologist about the right product for you and your skin. Dr. Verret says that in addition to topical retinoids, carbon dioxide laser resurfacing and injection of hyaluronic acid also can increase collagen.
Turn That Frown Line Upside Down

Or, rather, erase it altogether. This is the time to consider Botox for that line you've developed after squinting for so long. Unless you've been living under a rock, you know that this stuff paralyzes the muscle and makes everything from frown lines to crow's feet disappear for three to six months at a time.
Find a Foundation

Makeup artist Ashlee Erickson suggests a liquid foundation that dries to a powder finish. She also says that using concealer over your foundation is key. "Many women put on concealer first," she says. "Then the foundation cancels out the hard work that concealer has done for your face and skin. She suggests Laura Mercier Secret Camouflage or, if you're on a tighter budget, Neutrogena's 3-in-1 concealer for your eyes.
Slather on the Dream Creams

Whether you have a Crème de la Mer budget or you're on more of an Olay plan, get a good moisturizer. More important, use that moisturizer every night. Renée Rouleau warns that when considering an eye cream, avoid those with mineral oil or petroleum.
Get Buff

Now might be the time to consider a little microdermabrasion to lessen that pesky sun damage you sustained in your 20s. It can also help with the pregnancy mask that showed up when you were carrying Junior and never fully went away. Intense Pulsed Light Therapy is also used to correct brown spots and broken capillaries. You can have either of these treatments on your lunch hour and head off to your next appointment with minimal side effects.

40s and beyond

Now we're getting into the big stuff. You've already employed the tricks of the trade for the 20- and 30-somethings. You've channeled Nicole Richie, and you never go anywhere without your large sunglasses. (Squinting leaves a mark!) You've divorced the sun completely. You drink copious amounts of water and wear sunscreen and moisturizer as regularly as, well, clothes. You haven't frowned in years. And yet, things are happening on your face. Things you're not happy about. Before you book the surgeon, try this.

Love Your Lashes

After you battle the peach fuzz, deal with the opposite problem in your eye region. Specifically, the thinning of eyelashes and eyebrows. An eyebrow problem can be solved with a good eye pencil.
Dr. Lori Stetler
suggests Latisse for the eyelash dilemma.
Laser Tag It

Dr. Jay Burns
is a huge proponent of Erbium laser resurfacing. "It has downtime, but if you want to optimize the wrinkle reduction, this is the best laser for it," he says. "It has a mild chance of lightening the skin but not nearly so much as we have seen with the original CO2 laser resurfacing."
Fill'Er Up

Somewhere along the way, you've lost your lips and added smile lines. Reverse that. Liz Newman, R.N., likes to use fillers in the summer—if only to keep her clients out of the sun. Ask about Restylane and Juvéderm.
Get Fruity

In addition to regular exercise, make the right diet choices. Renée Rouleau advises eating grapes, berries, broccoli, tomatoes, and sweet potatoes to get more antioxidants. She says that the healthy fats in almonds, salmon, avocados, and olive oil can keep your skin moist and glowing. Sadly, we were hard-pressed to find queso anywhere on that list.
Avoid Hairy Situations

Women in their 40s find their vellus hairs grow long along the jawline. In short, there's long, fine, downy hair where it shouldn't be.
Electrologist Lynne Rains
suggests shaving every six to eight weeks with a new razor that doesn't have a sensor strip in the back. "If you shave it, only a certain percentage of hairs cycle back," she explains. "Hair traps dirt, oil, and bacteria against your skin."
Get the ItList Newsletter
Be the first to know about Dallas' best events, contests, giveaways, and happenings each month.