The Country's Largest Indie Bookstore Is in Plano
Legacy Books looks good on paper (or at least in this photo), but can this enormous bookstore make it in Plano?
First, a confession. I have never been to Plano. Make that had. As a longtime resident of the inner city, a person who seldom ventures above Northwest Highway, and even more seldom north of LBJ, I never had a reason to hit Addison and beyond. I don't have friends there. I don't work there. I am not a shopper. And Plano, whatever its many virtues, is not a thing of beauty.
So it was with a sense of energetic adventure that I set out to make the 25-mile trip along the Tollway between downtown Dallas and the Shops at Legacy. Along this busy road, after LBJ, all you see is commerce, business, industry, with few signs of human habitations. You can't tell that people live here. But Plano is one of the richest, fastest-growing cities in the country, and to disembark at the Shops at Legacy on a Saturday night is to see something you don't find anywhere else in Dallas: urban life, or something like it. Bumper-to-bumper traffic on the ersatz city streets, people strolling on sidewalks, exciting restaurants and shops. It makes you feel you are in a city even though you are not. You are in The City as Theme Park. It's not the real thing, but it's not so bad.
My destination was a bookstore that bills itself as a major new attraction on the North Texas landscape. The very prospect made me nostalgic for all the bookstores I have haunted and loved in decades as a reader. Can such a thing survive in today's climate? Remember the feel-good ending when big bad Joe Fox (aka Tom Hanks) got to keep his mega-store but was at the same time humanized by child-loving, scrappy independent bookstore owner Kathleen Kelly (Meg Ryan) in 1998's You've Got Mail, which proved that rampant capitalism is inevitable but can learn a thing or two from the little people? It's hard to imagine that this could happen in real life.
The fabled little literary emporia of yore are mostly gone with the wind. Houston's Brazos Bookstore is one of the few remaining ones, and it gets by on a wing and a prayer, through the kindness of strangers, and a longtime association with the University of Houston's Creative Writing Program. Powell's in Portland, Oregon, is encouraging employees to work fewer hours. From everywhere new reports come daily about old stores shutting down. Olsson's, Washington, D.C.'s leading independent chain, closed its doors last September.
What few neighborhood places we've had in Dallas have struggled and mostly gone belly up, the victims of Amazon and the double whammy of Borders and Barnes & Noble. Real old-timers can remember Cokesbury downtown and Aldredge's on Maple Avenue. Younger old-timers think back fondly to Taylor Books in Preston Center, Shakespeare Beethoven and Company in the Galleria, The Bookseller at Willowcreek, and specialty shops like Emma Rogers' Black Images. The book trade is failing. During the Christmas season, newspapers across the country reported the effects of the meltdown: employees laid off, Houghton Mifflin Harcourt not accepting new manuscripts, authors' advances cut way back, and so on. And bookstores are failing still more. Borders, the second-largest bookseller in the country after B&N, is teetering on the edge of bankruptcy.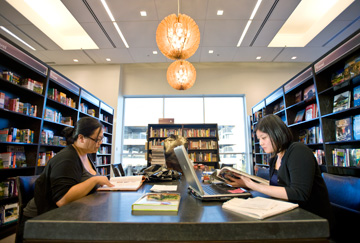 So what was in the mind of Fehmi Karahan, the developer of the opulent Shops at Legacy, when he teamed up with Teri Tanner, a Tyler native with plenty of experience in the book chains and also in independent retail? I'm not sure. They could not have foreseen, during the planning stages, the current state of the economy. But the fruit of their vision, Legacy Books, now sits in the still-developing north half of the mega-center in Plano. When it opened in November, it was the largest independent bookstore (with 110,000 titles) to open anywhere in the country for longer than anyone could remember. How long it will last remains to be seen. We live in hope, as someone in a Jane Austen novel says.
Legacy Books was in time for the holiday rush. Fashion guru Isaac Mizrahi and Diana Kennedy, expert on Mexican cuisine, were among the first performing guests, the second of whom took advantage of the gorgeous kitchen and dining space that occupy the front part of the 24,000-square-foot, three-floor establishment. Oh yes: bookstores don't just sell books. They are "destinations." If your idea of a literary destination is Larry McMurtry's Booked Up, the treasure trove in Archer City, Texas, think again. When you arrive in flat and spanking-new Plano, where Legacy awaits, you're in a different kind of destination.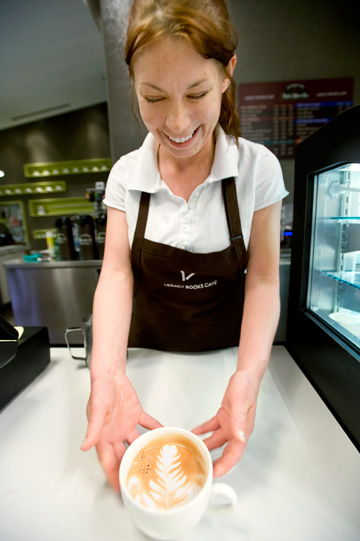 The Big Question: is it worth enlarging your carbon footprint to get to a place where you're going to pay full price for books? (No 30-Percent-Off-Best-Sellers table greets you at the front of the store.) Legacy thinks so. They want to "enhance the experience," which explains the non-book gift items at the front of the store, the pretty good little restaurant, the cooking displays and wine tastings, the authors' appearances in the handsome upstairs lounge that can accommodate about 100 people and where you don't have to suffer as you do at the chains from store announcements over the loudspeakers and people wandering in and out at random. Its website will provide information but you won't be able to buy things from it. You must make the pilgrimage.
Anyone old enough to remember the little bookstore around the corner—dusty, cramped, and disorganized, run by a grumpy bibliophile with a heart of gold who left you alone to wander at your own pace—must be taken aback by the politesse of greetings and farewells pouring from the staff at the door ("Welcome to Legacy Books," "Have a wonderful afternoon"), all of whom have what seem to be surgically implanted earphones and mikes that allow them to keep in touch with their co-workers. It's the same, of course, at the chain stores, but most readers of an old-fashioned stripe like wandering around unaided, either because readers are ornery to begin with or because they don't in fact know what they are looking for until they come upon it unexpectedly.
In This Post