Has the Recession Hit Golf?
We gauge the financial health of the local country clubs.
illustration by Tyson Smith
The wealthy among us enjoy a certain amount of insulation from economic downturns—except for those who had their money with Bernard Madoff. Life at many high-end country clubs hasn't changed. But the National Golf Foundation recently said that nearly 60 percent of private clubs are operating at a loss. By one estimate, perhaps 20 percent of the private clubs in the country won't be around in five years. Some members have quit, even abandoning equity. Wait times to join have shrunk. So we called around and asked how Dallas-area clubs are faring financially.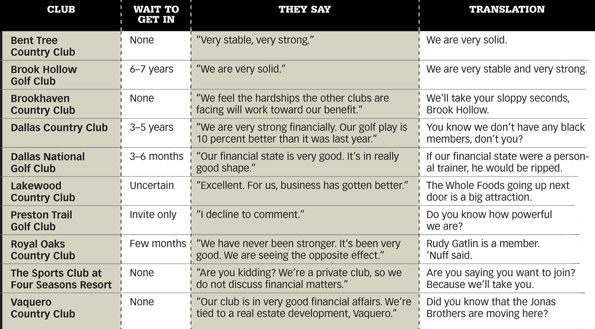 Team Cancers in Dallas Sports History: A Retrospective
by Zac Crain
Adam "Pacman" Jones
Dallas Cowboys
Pacman didn't perform very well on the field, but at least he didn't make his coach look like a giddy hillbilly. Okay, well, at least he didn't get into a fight with his bodyguard. Okay, well, at least he gave the Joule hotel some free publicity.
Alex Rodriguez
Texas Rangers
Pros: one American League MVP award (2003), 156 home runs.
Cons: one payroll-killing contract, the unadulterated hatred of everyone on the team, most of the fans, and Tom Hicks' CFO.
Dennis Rodman
Dallas Mavericks
Mark Cuban brought Rodman to town for a playoff push in 2000. In 29 days with the team, he played 12 games, was ejected twice, suspended for one game, paid $13,500 in fines, and was openly critical of teammates, the coaching staff, and Cuban. The Mavs did not make the playoffs.
Sean Avery
Dallas Stars
Avery's brief tenure with the Stars could only have gone worse if
Elisha Cuthbert dated Marty Turco. Or if Avery had previously dated
Willa Ford. Or if we'd put our reputation on the line with a lengthy profile on him prior to the season.
Roy Tarpley
Dallas Mavericks
As Rick James once noted, "Cocaine is a helluva drug."
Terrell Owens
Dallas Cowboys
If Owens contained any more cancer-causing agents, Angela Hunt would try to ban him from local bars.