Foodies Guide to Dallas Street Food
Dallas boasts a wealth of restaurants. But some of our city's finest dining takes on the street, at walk-up carts, kiosks, and windows. It's easy to find if you know where to look.
Street food for most people is hitting a drive-thru for a bucket of chicken. Folks don't believe me when I tell them that Dallas is full of sumptuous handmade food sold on street corners. You just have to look for it. And so, knowing I am the guy who regularly licks his chops — and stains his shirts — the editors of D Magazine challenged me to show them where to find Dallas' best street food.
Here are the guidelines I set: The food item had to be made to order by a real person and offered from a walk-up window, kiosk, or cart. And none of the places would even think about taking a credit or debit card; all transactions were made in cold hard cash. Or trade, if you were a regular.
It came as no surprise that Southeast Dallas, Oak Cliff, and South Oak Cliff offered more street vendors than any other neighborhoods in town. These multicultural areas are filled with people who have immigrated to Dallas from places where purchasing treats one-on-one on the street is part of the culture. Sadly, East Dallas, where Asian and Latin carts once thrived, is now void of street vendors. I expected to find good Indian finger food in Irving, but it doesn't seem to exist. Even Richardson, rich in fine, family-owned and operated Indian and Asian restaurants, didn't offer a lot of choices for walk-up access. Many areas of Dallas, however, provided an opportunity to mingle outside with a group of people while waiting to taste a delicious, affordable treat that you eat where you stand. Here are the best, organized by neighborhood.
Southeast Dallas/Oak Cliff
The corner of Scyene and Jim Miller roads is home to Joe and Eleadora Perez's Taqueria La Chiquita. Perez makes outrageous tortas (Mexican sandwiches) stuffed full of fajita chicken for the bargain price of $3.99. But his pulled pork sopes—a crisp, thick corn tortilla covered in refried beans and topped with pork, sour cream, shredded lettuce, fresh pico de gallo, and served with homemade red and green salsas—always make me howl like a hound during a harvest moon.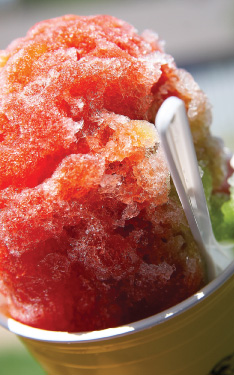 Shaved Ice Snow Cones at the Pleasant Mound/Pleasant Grove/Balch Springs border offers sno-ice at a walk-up window. It's truly the consistency of snow, and the luscious flakes are piled on top of two scoops of Blue Bell ice cream and covered with one or more of 90-plus flavors of syrup served up for $2 to $4 by Israel.
Illinois Avenue is a street food lover's dream. Just be sure you pack some Alka-Seltzer before you go, and plan a few trips to the gym after your eat-a-thon. Don't miss the cart serving "corn sundaes" (elote) outside of Terry's Supermarket. Here, my main man Nacho begins by shucking the husks from the freshly roasted corn into a bowl and covering the cobs with generous squirts of Parkay and fresh lime juice. Then he adds a scoop of mayonnaise, some Parmesan cheese, and, if desired, a drizzle of fiery, dark chipotle sauce.
To cool your mouth, head to Aunt Stelle's Sno Cone, where (for $1.50 to $3) you can get a truly traditional snow cone. They've been making them here for almost 46 years, and there is always a line for one of the 100 flavors (or some combination thereof). I tried a sour green apple and tart raspberry, half and half. The woman in line in front of me told me that she "gave up Ecstasy after tasting those cones." Enough said.
You can rake in quality street food on Jefferson Boulevard in Oak Cliff, particularly the ice cream popsicles from the G & L Cart in front of the Famsa Appliance Store on the corner of Jefferson Boulevard and Adams Avenue. For a buck apiece, the vendor will happily sell you a frutitas naturas, made with strawberries and covered in choco sprinkles.
Northwest Dallas/North Dallas
Hispanic taquerias dominate Northwest Dallas with irresistible heart-burning, praise-the-lard offerings. It's been my experience that most of the small mom-and-pop stops west of Northwest Highway on Webb Chapel Extension offer more than ho-hum take-out. Chances are good that any of the taquerias in the area serve fresh and flavorful fare.
On the west side past Lombardy is the mother lode: Tacos To Go. Here, owner Mauro and his brother Omar Morales fed my what's-another-pound-or-two frame from his 10-variety taco menu. Here I experienced my first taco Milaneza, containing a beef cutlet that had been pounded, lightly breaded, pan fried, and cut into strips, served on soft corn tortillas and topped with chopped onion and cilantro. Only $1! Morales also whipped up a delicious two-punch taco that combined two chorizos—pork and beef.
Just around the corner lies The Eggroll House. As a good ol' Texas boy who believes in batter frying, I ordered fried vegetables, a bargain at $1.35. The pile of slaw-like shredded veggies was baptized in a tempura batter and deep-fried into a tangled nest that resembled a blooming onion in the early stages of rehab.
On the west side of Harry Hines, just north of Manana Drive, sits Taqueria Real Express, where Leo Poldo and his sidekick Manny Molina make a delicious gordita barbacoa for only $2.50. A gordita is composed of two thick, round cornmeal patties stuffed with your choice of filling. Hint: try the chopped meat version, covered with red and green salsas and sprinkled with chopped onion and cilantro.
Another bargain can be found in front of Home Depot. Not just any Home Depot: the location on Forest Lane just east of Central Expressway, where you can get jalapeño hot dogs (with the pieces inside the actual wiener) topped with homemade pico de gallo out of his cart for only $2.50 each.
Garland/Richardson
Garland's offerings were spotty until I hit the big time in the Walnut Creek Shopping Center, which is full of Asian, Vietnamese, and Latin flavors. You can easily kill an hour sampling dried nuts or trying chrysanthemum juice (don't, and say you did) in front of the Vietnamese grocery store New Truong Nguyen Supermarket.
Thirsty? Head to the Los Campadres kiosk for a rice milk shake. This marvelous beverage, called a horchata, is made with rice pudding and cinnamon. It leaves me as refreshed as a teenage boy who has just been kissed for the first time. I chased it with a tamarind drink that was both tart and sweet—kind of like a cross between limeade and iced tea. Both drinks were almost 40 ounces and a bargain at $1.50.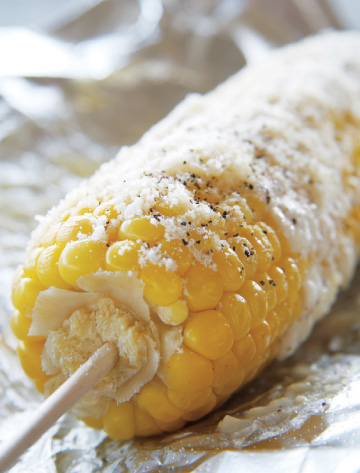 Rick's Shaved Ice, on Arapaho Road near Hillcrest Road, is home to the best upscale Slurpee in town: a stunning slushy milk shake made with dozens of choices of top-quality syrups. I bet you can't drink just one root beer float. They're that good.
Downtown
Thankfully, there is plenty of food sampling at the Dallas Farmers Market. If you want a real treat, head over to Shed No. 1 where you'll find Paul's Sweet Roasted Corn stand. I don't know where he buys his corn, but the huge ears slathered with mayonnaise, butter, salt, and pepper are bigger than most carry-on luggage.
Perhaps local metal sculptor Santiago Peña got tired of going out to lunch and started his own taco stand, Santiago's Taco Loco Express. I don't know. But I do know that the two-window stand in Deep Ellum serves inspired—and by street food standards, expensive—tacos. Creative sensations include a homemade flour tortilla stuffed with fried catfish, shrimp, bacon, avocado, and sour cream. Santiago's is only open for breakfast and lunch, and the early morning tacos stuffed with chorizo, eggs, and refried beans are muy delicioso.
Write to Rawlins Gilliland at [email protected].
WHERE TO FIND IT
Note: Since most of these businesses are moveable and open subject to weather conditions (or vendor's whim), we can't guarantee they will be operating at the times listed. That's the nature of street food.
Southeast Dallas/Oak Cliff
Taqueria La Chiquita, corner Scyene and Jim Miller roads. 214-680-5496. Open daily, 9 am–9 pm.
Shaved Ice Snow Cones, 9185 Bruton Road. Year-round. 1 pm–10 pm. Open earlier during summer.
G & L Cart, in front of Famsa Appliances store, at 425 W. Jefferson Blvd. 214-941-2660. Open daily, 10 am–7 pm.
Aunt Stelle's Sno Cone, 2000 block Clarendon Dr., at the corner of Marlborough Ave. Open daily, Apr–Sep 30, 1–9 pm.
Food cart at Terry's Supermarket, 4444 W. Illinois Ave. Open daily, 2–8 pm.
Northwest Dallas/North Dallas
Tacos To Go, 9763 Webb Chapel Rd.
469-867-6568. Sun–Fri, 9 am–11 pm; Sat, 9–1 am.
The Eggroll House. 9419 Webb Chapel Rd. 214-350-9989. Mon–Sat, 10 am–11 pm; Sun, 1–9 pm.
Taqueria Real Express. 10886 Harry Hines Blvd. 214-350-6894. Mon–Wed,
9 am–1 am; Thu–Sun, 24 hrs. a day.
Deli Cart 2, hot dog cart at Home Depot entrance, 11682 Forest Central Dr. 214-355-2770. Open daily, 10 am–7 or 8 pm.
Garland/Richardson
Los Compadres, northwest corner of Jupiter Rd. and Walnut St., near Sack and Save, Garland. 9 am–9 or 10 pm.
Rick's Shaved Ice, 6971 Arapaho Rd. Mon–Fri, 8 am–6:30 pm; Sat, 8 am–5 pm.
Downtown/Farmers Market
Paul's Sweet Roasted Corn, cart stand at Dallas Farmers Market, Pearl St. entry to Shed No. 1., 1010 S. Pearl St. 214-939-2808. Open Thu–Sun, 9 am–5 or 6 pm.
Santiago's Taco Loco Express, 3014 Main St. 214-748-8226. Mon–Fri, 6 am–2:30 pm; Sat, 8 am–2 pm.