Just when you think you've seen, eaten, or heard every sordid detail in the restaurant business, a story that renews your faith in the business of reporting on the restaurant business comes out of nowhere. Well, not exactly nowhere, but in this case, Grapevine, which, not too long ago, was Not Muchwhere.
Once a small town with 800 residents, a post office, a cotton gin, and a railroad depot, the Grapevine/Southlake/Colleyville area is booming. I don't just mean the population; the restaurant scene is not only growing, it's morphing out of its chain gang mentality into a more sophisticated state of mind. Now, for every Olive Garden, Outback Steakhouse, and Chili's there is a new mom-and-pop start-up or an outpost of an upscale Dallas restaurant going in—Bob's Steak & Chophouse, Cafe Italia, and Fireside Pies, to name a few.
One such endeavor, Ferrari's Villa Restaurant and Ferrari's Flight Martini & Wine Lounge, literally caught my eye. The mammoth 10,500-square-foot former Golden Corral on William D. Tate looks like it fell out of the sky and landed on a massive concrete landing pad. The drive-up appeal is not much: the parking lot is lit up like a car lot, and the valet stand sits between the two entrances—one to the bar, the other to the restaurant—each about 60 steps away.
But I'm already ahead of myself in this story, for it's a romantic tale of two dedicated restaurateurs who waged a 25-year battle with the demons and demands of the evil restaurant empire. It's a fairy tale that, in the end, leaves us full of faith, hope, and love. Oh, and great Italian food.
Once upon a time, little Jane Sexton from South Hampton, England, was a beautician on Royal Caribbean Cruise Lines. She was carefree and easy and loved her job as much as she loved seeing the world. One day she bumped into Francesco Secchi, a cute Sardinian boy who was dining room manager for Royal Caribbean. They fell in love. They married. They worked together on cruise ships for eight glorious years.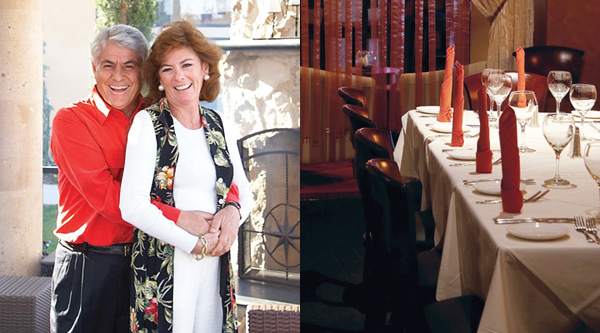 In 1981, they moved to Dallas because the weather reminded Francesco of Sardinia and during a previous trip through the area they'd noticed there weren't many good Italian restaurants. In 1983, while raising two young sons, the Secchis opened Ferrari's, an Italian salute to fine dining in the West End. Francesco cooked from 100-year-old family recipes. Meals were prepared tableside. The service was polished and professional. "Oh, it was so fantastic," says Francesco enthusiastically. "But there was such crime and we had young kids, so we sold and moved to Addison in 1994."
The move was not so fantastic. The white tablecloths and tableside flambes didn't play in the suburbs. "We learned our lesson fast," says Jane. "We had to back off and give the people what they wanted." Francesco kept some fine dining elements, but adjusted his menu to the "palates" of Addison.
Today, the Addison location is manned by their oldest son Stefano, who, at 25, cooks like a well-seasoned chef. Middle son Gavin is on his way to becoming a licensed brew master, while their youngest, Gianni, will move to Italy after college to learn to cook before he too joins the family business. From the outside, it looks like a dream come true—they have their health, happiness, and family all in one place.
Then I heard that the Secchis were going to open a second Ferrari's in Grapevine. I called Jane and asked, "Have you lost your mind?"
"Yes, of course we have," she said with a cheery British accent. "But we've been waiting all of our 32 years of married life to do this restaurant and we just had to do it."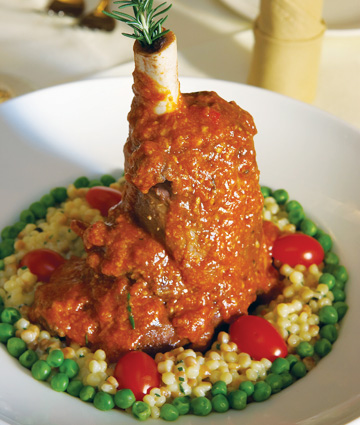 "This restaurant" is another sly adaptation to the neighborhood combined with the couple's insistence to provide a high-class dining experience. To accomplish their lofty goals, they've turned the interior of a Golden Corral into a space that accommodates daily restaurant patrons looking for a touch of authentic Italian or the comfort of a familiar meal (read: steak and potatoes). This winning combination came from years of scouring the demographics of the market. "I've been working on this for five years," Jane says. "I went around to hotels, talked to people, got information from real estate people, wherever I could find out what people wanted."
To accommodate the convention and party business, she's designed six side-by-side small banquet rooms, each with its own vibe. Need a space for 10? The Baci Room is yours. The Capri, Roman, and Milano rooms each hold 38. Looking for something bigger? All the rooms have the ability to open and seat up to 150. Add the patio and you've got space to do a wedding for 200. Meanwhile, the restaurant, with its separate dining space and kitchen, can serve another 125. There's also Ferrari's Flight, a New York-style martini and wine bar. Once a dream of Stefano's, it is now a showy reality in the front of the restaurant.
The menu and the quality of the food preparation mirror the Addison location, but, smartly, the Secchis have listened to their customers and added extra steaks and chops to the list in Grapevine. The pastas—particularly the orecchiette with Italian fennel sausage, rapini, tomato, and roasted garlic and a special request for a child's fettuccine Alfredo—were both representative of authentic Secchi cooking, arguably some of the finest in the city. A first bite of veal scaloppine in a mushroom asparagus cream tasted bland. However, a fine layer of table salt punched the flavor into perfection. Same for the lovely plate of rosy red rack of lamb scented with Dijon.
The interior, designed and executed by Jane with the help of Jamie Olsen of Olsen Studios in Oak Cliff, is dramatic. The back wall of the main dining room curves through the cozy space done in warm tones of copper, gold, brick, and burnt orange. It's open but quiet—the ceiling sound-proofed, the tables clothed.
Finally, the Solo Mio Room, the membership-only private dining room that brings the couple back to their dream of delivering the Old World style of romantic tableside dining. "I'm going to cook whatever the customer wants. I will flambé jumbo shrimp, filet mignon, crêpes suzette, lobster Thermidor. Even a real Caesar salad," Francesco says. "It will be fantastic and very formal."
They've also fenced in a space behind the building for an herb garden, built a vine-covered pergola, and installed a bocce court. What else do the Secchis have to accomplish? "Who knows," says Francesco. "We believe the harder you work, the luckier you become. We're hoping to get lucky one day."
Get contact information for Ferrari's Villa Restaurant.

Get the SideDish Newsletter
Dallas' hottest dining news, recipes, and reviews served up fresh to your inbox each week.