Boy, nothing says gentrification like sushi. It's not as if the Bishop Arts District didn't already have its art galleries and its independent coffeehouse. But the arrival of Zen Sushi, its very first sushi spot, seals the deal.
And did they luck out. Zen is a winsome place from Tony Militello and chef Michelle Carpenter, who's been cutting fish for 20 years, including 12 at the legendary, now-defunct Yamaguchi's on Lovers and Inwood (in the space currently occupied by Shinsei), which in its time was thought by many aficionados to have the best sushi in town.
Carpenter is remarkable not just because of her experience, but also because her approach is inventive yet sound. Sushi can be a lockstep cuisine. Raw fish and rice-what is one to do? Understandably, restaurants try to set themselves apart with zany rolls, but they end up being gimmicky, with over-the-top ingredients that lack context. (Cream-cheesy "Philadelphia roll," I'm looking at you.)
Carpenter's innovations are fueled by a well-considered rationale that not only reflects her background (her mother is Japanese, her father is from Louisiana) but speaks to local and regional dining trends. Having invested years to perfect her technique gives her a platform on which to get creative. Zen Sushi marks her culinary arrival.
Nouvelle yellowtail sashimi was a pretty good summary of what she's about. Pale buttery yellowtail was trimmed into neat slabs, then marinated in a citrus-y ponzu layered with chili sauce, fresh cilantro, and jalapeno. Submerging the raw fish in the marinade for just a few minutes, not more, infused the delicate fish with flavor, and also changed the texture, gave the fish a hint of body, like an "underdone" ceviche.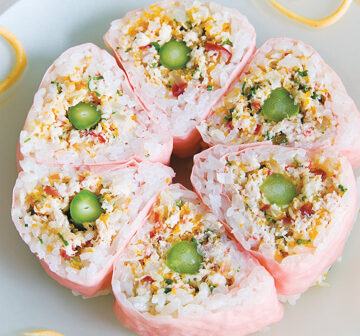 Tuna tataki came dressed in a similar spicy ponzu sauce. Tataki basically means "thrown on the grill." In this case, it was a 6-ounce chunk of sushi-grade tuna, seared on the edges and cut into thin, precise slices. You can imagine what a welcome kick the drizzle of ponzu brought, with its exciting notes of citrus and chili.
The restaurant's signature Zen roll keenly demonstrated Carpenter's skill, as it replaced the usual wrapper of seaweed with a shell of thinly sliced cucumber, a feat not within the reach of every sushi chef. The filling of tuna and albacore came sprinkled with tiny orange fish roe that added a cunning crunch.
Apart from the sushi menu, Zen offers small plates, appetizers, soups, and salads. For the yakitori-grilled skewers-get the sampler. It's too hard to choose from luscious beef tenderloin and green onion, spears of asparagus wrapped in smoked apple bacon, or scallop with mango salsa.
Skip the spring rolls filled with shrimp, cilantro, and vermicelli noodles. They're not so different from the version you'd get at any Vietnamese restaurant (and with a rather dull peanut dipping sauce). Instead go for the summer rolls, deep-fried flaky pastries enclosing crab, avocado, and mango.
Sopa Maya was an elegant concoction inspired by a fish soup Carpenter had in Playa del Carmen. A clear Japanese fish broth, laced with lime and cilantro, contained floating Japanese enoki mushrooms and small, tender Asari clams, still in their shells, with the shells imparting additional flavor to the broth.
Mixed sashimi tossed with greens ranked as one of the more clever dishes. Chunks of fish-albacore, salmon, snapper, yellowtail, and whatever else is fresh-were tossed with field greens and herbs in a spicy avocado dressing. It was like a sushi spin on a chef's salad. The vegetable plate brought to mind a Japanese antipasto, with its assortment of pickled vegetables: Napa cabbage, spinach, pickles, seaweed, and bean sprouts. For more conventional tastes, there's a surf-and-turf combo of lobster tail and 8-ounce beef tenderloin.
Hopefully, she'll resolve her batter for her tempura-fried vegetables and shrimp. She has been using Sapporo beer, which makes the crust unpleasantly spongy. And the best thing about the panko fried oysters was its zippy "bulldog" sauce. Then again, it's hard to keep the grease down on a panko-crusted anything.
The early days generated complaints about service, although it seems more likely that not all diners are accustomed to the milieu of the independently run restaurant, where you sometimes trade efficiency for personality. The room itself was lovely and naturalistic, stuffed end-to-end with custom-made bamboo tables, dishes made from sea glass, and celery-green walls.
Bishop Arts is dry, but you can join a free membership and get beer, wine, sake, and liquor. Even the coffee and tea service exhibited that spark of imagination: a single-serve coffee press with pricey Kona coffee beans and iced sencha green tea.
Get contact information for Zen Sushi.

Get the SideDish Newsletter
Dallas' hottest dining news, recipes, and reviews served up fresh to your inbox each week.