Unless you've been secluded in rehab, you're aware that Dallas area multi-use developments like Victory Park, NorthPark Center, and Southlake Town Square are attracting highbrow restaurants from all over the country. The newest moths to the flame are Michael Morton and Scott DeGraff, the brains and bucks behind the N9NE Group, which operates the new techno steakhouse N9NE in the shadow of the AAC. They also own Ghostbar, across the street at the W Hotel, and Nove Italiano, an upscale Italian spot next door to N9NE. Soon they will debut another nightclub, Liquid Sky, and Dallas Stuff, a retail store. They've already pulled the lever and lined up three cherries; after only seven months of sales, Ghostbar was the highest-grossing bar in Texas. Cha-ching.

Morton grew up in the business. His dad is famed Chicago restaurateur Arnie Morton, founder of Morton's, the model for big deal steakhouses. He met DeGraff when they were nine. (Hence, N9NE.) In 1992 they launched the nightclub Drink Chicago, before moving to Vegas in 1995 with Drink Las Vegas. Back in Chicago, they opened N9NE and Ghostbar. They hit the jackpot in Vegas last fall when their concepts N9NE, Nove Italian, the Playboy Club Las Vegas, and Moon nightclub were included in the Palms Casino Resort's $650 million expansion project.

But back to reality in Victory Park. Before I'd set foot in N9NE, I'd talked to maybe 20 people in the Dallas restaurant industry who had already been there. The highly emotional jury was split into two distinct camps: "Fabulous" and "Ridiculous."

Inside, it's a two-tiered disco diner—traditional chophouse fare with a DJ. The bar, a great place for a pre-game or concert warm-up, overlooks the sunken dining room that glitters with columns covered in mosaic mirrors. A high-tech lighting system floods the silver-leaf domed ceiling and slowly changes colors, which reflect off the white jackets of the waitstaff. Far out.

My first visit was like a bad acid trip. To say the place is high energy is an understatement. I've been to WWE matches quieter than N9NE. Blondie's punk rock anthem "Rapture" hindered my ability to hear not only the waiter standing next to me, but also my dining partners. By the time the soups and salads arrived, I'd have traded the Stones for Enya.

The dining room was so loud that it was impossible to taste the food. A blessing in disguise. Thin slices of Kobe carpaccio dissolved in our mouths like water wafers; there was nothing to chew. The recommended fried rock shrimp were gummy balls of flour with teeny bites of shrimp at the center. Onion soup was traditionally thick with Gruyere, and the broth was flavorful (no Kitchen Bouquet!), but it was barely warm.

Then, wedge-gate. I ordered the salad with "upper Ranch" dressing, forgoing the additional $2 blue cheese option. One bite and my mouth exploded with blue cheese. When I informed the waiter, he looked me right in the eye and said, "There is no blue cheese." I sent it back. He returned with the same salad (I'd buried a pickle inside to see if they'd replaced it) and said, "The kitchen says there is no blue cheese." Did someone stick their finger in it to taste? Why not make another one to avoid a potential mistake? You know, keep the customer happy.

But we were a long way from bliss. Three of our four entrees—a 12-ounce filet, roasted chicken, 24-ounce bone-in ribeye—were burned. Not charred with a crispy crust on the surface, but burned—badly. I cut to the center of the chicken and pulled a piece from the breast bone. It tasted like smoke. We signaled for the waiter and had the whole meal boxed up. He obliged without comment.

I performed an autopsy the next day on the ribeye and cut a quarter-inch layer of inedible flesh off the top of the steak. Under the layer of black, I could see the remains of a beautifully marbled ribeye. Looking at the disfigured meat on my counter was as disturbing as seeing a black stripe spray-painted across the Mona Lisa.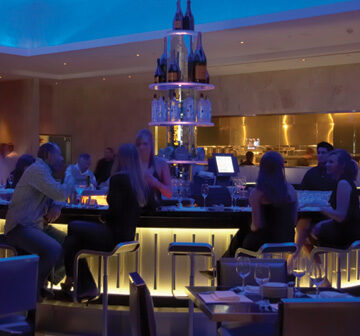 I called a friend of mine who frequents N9NE in Vegas. After he heard my side he said, "I love N9NE when I'm in Vegas. I'm all pumped up from gambling, got a booze buzz on, and when I'm up $750,000, I like to keep my energy up. I know I'm going to get a good steak and still be buzzed when I get back to the tables." Then he kicked me hard. "Hey, you're too old. This place is like eating in a nightclub. It's for the young Fickle 500 crowd."

I may be old, but I am acquainted with two "leaders" of the local chapter of the Fickle 500. They're a young, rich, successful couple who club and do it often. When this power couple walks into your joint, you know you're on the radar of those who know how to power party no matter what the price. So I grabbed my hip youngsters and headed back to do a little disco dining with the target audience.

I also packed my secret weapon—a RadioShack sound-level meter. I carry this trusty device with me when I do restaurant reviews so I can measure decibel levels. When the TV is on and the dogs are barking at my neighbor, the decibel level in my living room is around 60. Al Biernat's at lunch averages around 78 dB, and a normal Monday night at Bob's Steak & Chop House stays close to 79 dB.

Mr. Fickle liked the circular champagne and caviar bar in the center of the dining room. "It's a great way for me to come in, have a drink, and check out the dining room before I decide if I want to stay." As a 54-year-old geezer, I wouldn't have noted that. Hey, I felt like I was digging what this new generation of diners digs.

We took in the scene as Mr. Fickle described the shabby service he'd experienced during his two prior visits to N9NE. "The staff at N9NE is made up of attractive people who would be a magnet for lots of drunks after a game," he said. "But people in Dallas like to be remembered and treated like VIPs. If I want to be treated like I am in Vegas, I'll go to Vegas."

As if on cue, a spiky white-haired waiter with big, black eyeglasses appeared. Unlike our previous waiter, this guy had an air of confidence that radiated through the loud music. Instead of asking the table for drink orders, he moved around and took orders individually. I asked him to recommend a white wine by the glass, telling him that I didn't care for the heavily oaked chardonnays. Without a beat, he steered me to the Domaine Simon Bize Bourgogne Chardonnay 2004, saying, "This is a true Old World-style white. It never hits oak." His manner was gruff, but he was right on.

While we perused the menu with entrees ranging from $24 to $135, the endless guitar duel from Lynyrd Skynyrd's southern rock classic "Freebird" rattled my brain. I pulled out the sound meter.
As my steak was delivered, the reading steadied at 93 dB. Bob's and Al Biernat's are public libraries in comparison.

But, oh, boy, to quote Skynyrd, what a "cha-a-a-a-a-a-ange" on the plate—a ribeye redemption. This time the gorgeous hunk of Prime was cooked to a perfectly warm pink center. It was melt-in-your-mouth luscious. So was the creamy garlic spinach. I felt 35 and rich. By this time, I'd warmed to the waiter, who, in the course of conversation, had mentioned that he'd come to N9NE via the Vegas location. So after we cut into the New York steak, ordered medium, and found a cold, pink center, we weren't surprised when he graciously agreed and whisked it back to the kitchen. Unlike our former waiter, who refused to believe the kitchen could do wrong, this one offered apologies for the mishap. For the rest of the evening, he treated us like royalty, and by the time we left, we all agreed that "Stew" was the highlight of all of our visits.

But back to Ms. Fickle, whose face was contorted and twisted. She looked like she'd just smelled a dead skunk. The surf and turf platter before her appeared to be a wayward science project. The 8-ounce filet lay on its side like a meteor that had crashed in a mountain of potatoes. Next to it, a mini-portion of lobster was overly drizzled with lines of truffle aioli. Meanwhile, Mr. Fickle was dissecting his salty, overcooked Kobe burger with disgust. "The only place in the nation that should serve a $25 burger for one person is the 21 Club in NYC," he wrote later in an e-mail. Doggy bags all around.

"Dessert?" asked our waiter. I convinced the Fickles to give them a try. On a previous visit, the warm apple tart with vanilla bean ice cream and caramel sauce and a Goose Island root beer float with fresh chocolate chip cookies were high points. Out came a popcorn-style box of doughnuts with three dipping sauces. With the exception of one long Mexican churro-style fried treat, the others were cold and old.

"I'd rather go to Nick & Sam's," said Mr. Fickle. Ms. Fickle said, "I want to go to Bob's."

As we paid the bill, Peter Frampton's classic rock hit blared, "Do you-you-feel like we do?" Yes, Peter, too old to eat at N9NE. 3090 Olive St. 214-720-9901. $$$.

Update: N9NE has closed.
Get the SideDish Newsletter
Dallas' hottest dining news, recipes, and reviews served up fresh to your inbox each week.