We're back to square one on the dining scene, square one being "hotel restaurants." That's where fine dining started in Dallas—a nod here to the French Room, the Mansion on Turtle Creek, the Landmark at the Melrose—and it's where we're at now, with Craft at W Dallas-Victory, Central 214 at Hotel Palomar, and Social, the restaurant at boutique Hotel Lumen in University Park.

Walking distance from SMU, the Lumen site was always an automatic layover for parents checking up on their college-going offspring, even when it was a rundown Ramada. With Lumen, they get an upgrade: higher thread-count sheets, cool blue lights, and a pretty good place to eat.

Social took what might seem like liabilities—a ground-level space in the rear of the hotel, low ceilings that evoke the vibe of a basement rec room—and made them assets by willfully creating a speakeasy persona, right down to a back, er, front door that leads out into an unglamorous alley.

Parchment-toned walls, mounted sconces, and dozens of thick candles cast a warm, decadent glow. A maroon banquette runs the perimeter. Well-placed mirrors open the space. A poured cement floor feels out of place only until you consider how stifling it might be if it were carpet instead.

Social serves multiple masters: restaurant, bar, and room-service outlet. It's a demanding situation that the young, earnest staff does its best to fulfill. But the results can feel scattered, from the lack of traditional maitre d' to a menu that tries to do a little bit of everything: a couple of sandwiches, a few entrées, a salad or two. Happily, chef Jon Schwarzenberger, who previously worked at Crescent Court, gets most of it right.

Most right of all was his version of macaroni and cheese, a dish that appeared at every new restaurant opening in the latter half of '06. Everyone's doing new-wave versions with offbeat pastas and multiple cheeses, but none is as luscious and grown-up as Social's. It had Brie cheese and truffle oil, applied in exactly the right quantities for a dynamite rendition that's served in a miniature metal casserole dish. No one resisted it. Two women came in for dinner and had one each, along with a salad.

Schwarzenberger worked wonders with the crab cakes, too. Molded into ovals and pan-seared, they had extra-crunchy crusts, contrasting with the tender crab within, with just enough crumb to hold together. Entrées such as chicken breast, filet mignon, and salmon were all cooked with the calm proficiency you hope to get from a hotel spot, sauced lightly, and paired with either Yukon gold mashed potatoes or rice flecked with saffron.

Whether side dish or appetizer, you name the item and Social made it new. Onion rings were close to an inch thick, with dark, golden crusts. "Damn good" fries were cut from fresh potatoes into irregular lengths, some still with skins on, and fried until golden, served in one of those Belgian-style cone-shaped containers, lined with paper and doused with salt.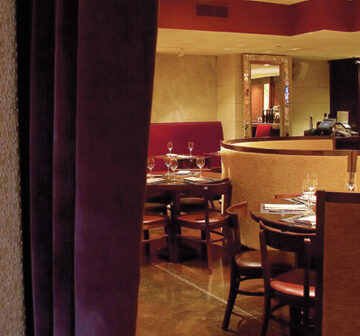 Spinach-artichoke dip is something we've all had, but probably not this good. It contained fresh spinach and chopped artichokes in a creamy base, topped with a melted cheese. It came with wedges of flatbread—too thick to dip conveniently for my taste, but others at the table liked the bread just as it was. Tomato soup was yet another staple, artfully reconceived, with an addictively creamy base, yet brightly flavored, with random chunks of chopped shrimp that added a bit of crunchy texture.

Crème brûlée got a major tweaking with the addition of espresso and tapioca pearls that gave the body firmness and added texture and bite. It was hardly a brûlée, but it'll thrill tapioca fans.

The only hiccup was the vegetable wrap sandwich, a broad tortilla wrapped around vegetables chopped so fine that they were indistinguishable. Vegetarians want tangible evidence of what they're eating; there's as much pleasure to be had in biting into a carrot as there is biting into a steak. In fact, the kitchen's already producing the kinds of vegetables a vegetarian would love—as sides on the entrées, and a lovely assortment they were, from whole baby carrots to cauliflower florets to beautiful golden beets.

There's no way to dress up a ho-hum wine list with staples such as Coppola or Penfolds, and an especially dull selection of wines by the glass. But such is the way of the small boutique hotel. And there's a signature cocktail to help ease the pain: a poached pear martini made with pear purée, pear liqueur, sparkling pear juice, and rum that'll get you right back to square one again.
Get contact information for Social.
Get the SideDish Newsletter
Dallas' hottest dining news, recipes, and reviews served up fresh to your inbox each week.