Wicked Garden

Ingredients
2 oz Tequila Cabeza
3/4 oz fresh lime juice
3/4 oz simple syrup
2 dashes celery bitters
5 basil leaves
5 cucumber wheels
Pinch of salt
Assembly
Muddle basil, cucumber, and salt. Add liquids. Shake and fine strain into a chilled coupe glass.
In Dew Time
Ingredients
Honeydew-infused gin
3/4 oz lime juice
1/2 oz simple syrup
4 sprigs arugula
1 sprig thyme
Assembly
Muddle arugula and thyme. Add liquids. Shake hard with ice; fine strain into coupe glass. Garnish with cracked black pepper.
The Traveler

Ingredients
2 oz Wild Turkey bourbon
1/2 oz honey syrup
1/2 oz lemon juice
2 blackberries
2 sprigs sage
Assembly
Muddle berries and sage. Add liquids and ice; shake. Strain into an old-fashioned glass with ice. Garnish with lemon peel and blackberries.
The Now Now

Ingredients
11/2 oz blended Scotch
1/2 oz vermouth
1/2 oz simple syrup
2 dashes Angostura bitters
3/4 lemon
4 mint leaves
Assembly
Muddle mint and lemon. Add liquids and ice; shake hard. Strain into a Collins glass with ice.
Elizabeth Dry, of Promise of Peace Gardens, Shares Four Must-Have Herbs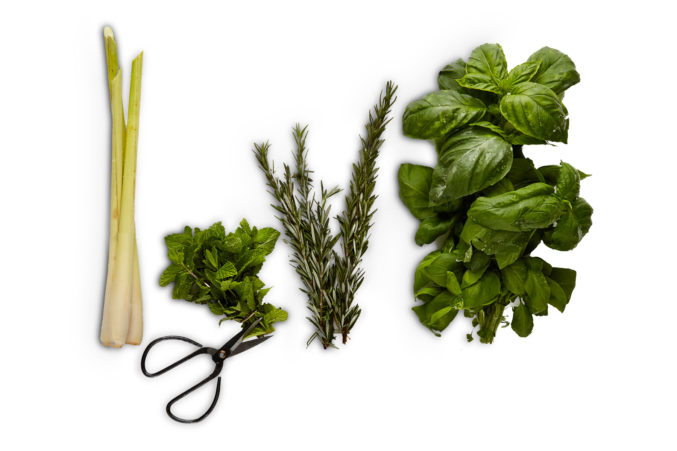 Basil
Use classic basil for pesto, marinades, pastas, stir-fries, salads, or pizza. Chop it and work it into softened butter.
How to grow it: Plant basil with your tomatoes; it makes for a wonderful understory.
Rosemary
The fragrant leaves of the rosemary bush are good for seasoning meat and vegetables—and making focaccia. It's also delicious in infused water.
How to grow it: Grow rosemary in a pot or plant it right in the ground. It is very difficult to kill low-maintenance rosemary, but don't overwater.
Mint
Mint leaves brighten cocktails, lemonades, and salads. Use it as a garnish on chocolate cake or ice cream.
How to grow it: Mint is the gift that keeps on giving (and giving). Plant it in a container unless you want it to take over your garden. One or two plants go a long way.
Lemongrass
The shrublike herb smells like lemon (what else?) and is perfect for use in healing teas, soups, and curry dishes. It can also helprepel mosquitoes.
How to grow it:Root lemongrass stalks in a cup of water and transfer to a pot of soil when small roots form. Cut it back in winter and chances are good it will regrow in spring.
To Store Fresh Herbs: Place in a jar of water on the counter—not in the fridge. Share extras with your neighbors.
Get the SideDish Newsletter
Dallas' hottest dining news, recipes, and reviews served up fresh to your inbox each week.