7 New Shops and Showrooms to Help Furnish Your Home This Summer
Including Blue Print's new art gallery and a vintage haven in Oak Cliff.
Practical Magic

 
Molly Mathias is known for her beautiful Instagram account (@mmvintage59) where she previously sold vintage wares to the likes of 30,000 followers. So it's only fitting that she named her first brick-and-mortar boutique Magic Hour, a photography term for capturing the best natural light. It's even more fitting that the airy Oak Cliff shop—which Mathias co-owns with her mother—is a photo-ready haven all its own, carefully curated with vintage pieces originating from Turkey, Africa, Mexico, and more. "A big thing for me was showing people how to put a whole room together with vintage," says Mathias. "I want to get people in who aren't normally thinking about buying vintage furniture for their homes and show them that it's not kitschy or old, granny stuff."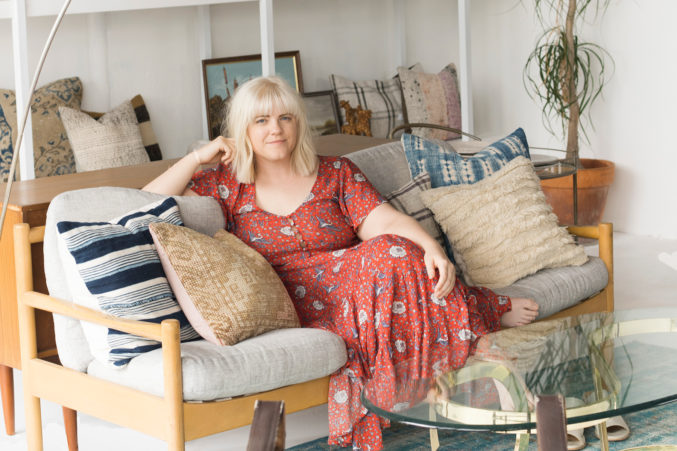 Though it may not look it, every piece of furniture in the store is vintage. Everything else is handmade by small businesses, most of which Mathias and her mother found on Etsy. Brooklyn Candle Studio products, stained-glass pieces by Kelly Christine Sutton, jewelry by Four Eyes Ceramics, artwork by Rikkianne Van Kirk, and the occasional smudge sticks blend in seamlessly with the vintage wicker sets and leather safari chairs.
Get on Board
Room & Board's decision to open its first Texas store in Dallas was a no-brainer. "It's just about following your customers," says Room & Board president and chief operating officer Bruce Champeau. After more than two decades tracking growth in different areas, the Minneapolis-based modern furniture company was certain that a Dallas store—specifically one in the Knox District—could be a hit. "With the McKinney Avenue location, we're right in the heart of our base," says Champeau.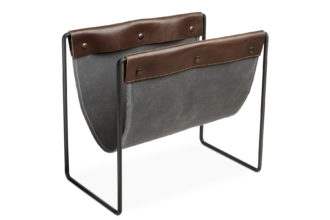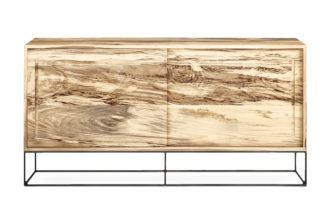 When the nearly 12,000-square-foot showroom opens in May, Dallas shoppers will have the opportunity to experience Room & Board's personalized, free design services and shop moderately priced pieces (sofas start at $999) made in partnership with American brands across the country, like Dallas-based American Leather. 
Gallery Girls

 
When the news broke that Blue Print, the lovely home furnishings emporium in Uptown's charming historic district, was opening an art gallery next door, many might have pictured a modest bungalow filled with a few abstract and contemporary works. But that would be underestimating Blue Print's owners, a group of five female interior designers.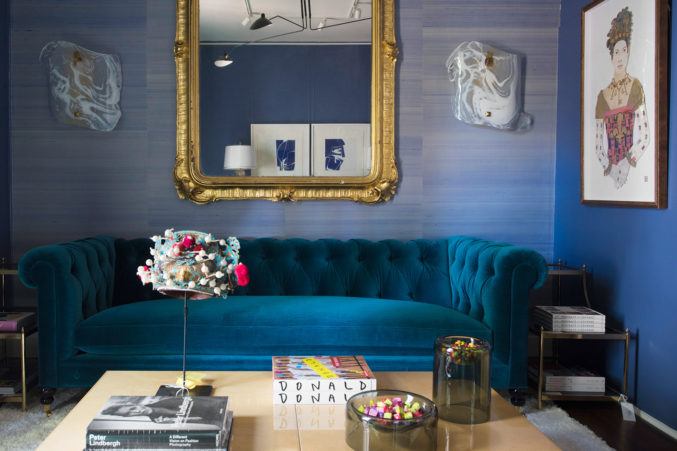 Blue Print Gallery is housed in a sprawling historic home next to its parent store with a variety of viewing rooms dedicated to works from Blue Print favorites Charles Patrick, Brenda Bogart, Mary Rountree Moore, and Marilla Palmer, along with new-to-Texas artists and a Parisian-inspired lounge. Updated in true Blue Print fashion, the walls have been painted bright white and the lounge is rich blue, the lighting is cool and contemporary, and the backyard—now combined with Blue Print's outdoor space—is an ideal place to host Blue Print events.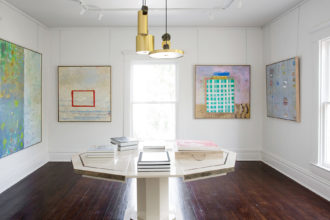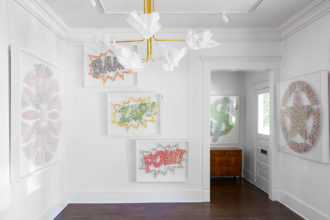 Out of Africa
Though there are a vast variety of colors, textures, and materials in Kanju, a new luxury interiors and decor showroom in the Design District, there's a strong sense of cohesion. That's likely a reflection of the collaborative nature of African fine artists and artisan groups with which Kanju has partnered to bring the continent's art and designs to Dallas. Stop in for one-of-a-kind pieces of African artwork, leather fringe pillows, clay bead chandeliers, and colorful Juju headdresses—all handcrafted and with a story to tell.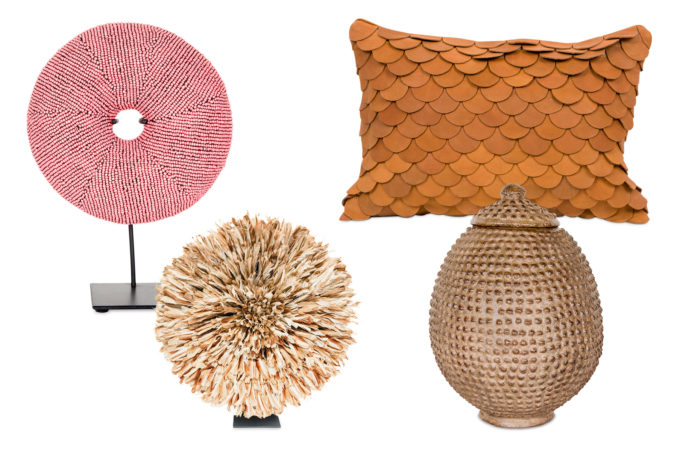 Handmade to Order
In 2011, Kansas City native Sam Unruh began making furniture in his garage to fill the home he shared with his then-pregnant wife, Hayley. He eventually started selling his pieces on Craigslist, and with a little encouragement from Hayley, went all in on his side gig as a carpenter. His handcrafted-to-order furniture company Unruh (pronounced "un-roo") found its first home in a 36,000-square-foot, 100-year-old church in Kansas City. 
But Unruh set his sights on Dallas' Deep Ellum neighborhood (Texas is Hayley's home state) and opened an airy, brick-lined showroom in February. Shoppers can schedule an appointment on the company's website to work with an Unruh employee on everything from the wood species and finish to the exact measurements needed to fit their space. The piece is then handcrafted in Kansas City (a Dallas warehouse will open later this year) and delivered by Unruh employees with a lifetime warranty. "Buying a custom piece can feel very overwhelming and expensive, and we wanted to take all that worry away and give people something that was built to last," Unruh says. 
Though the Dallas showroom may be smaller than its Kansas City counterpart, it's already begun to distinguish itself. "Dallas is really fun because people like to buy the newest trends," says Unruh. "It's really the more modern, up-to-date version."
Take a Pique
When Curious Garden—the outdoor-focused offshoot from the team behind Lakewood's wonderfully weird Curiosities antiques emporium—opened at the end of 2016, it was surprisingly tame. Sure, there was a bleached bird skeleton–filled bell jar, but some might have expected even more, well, curiosities.
Co-owners Jason Cohen and his mother, Terry, may have felt much the same, quickly closing and reopening Curious Garden earlier this year with a new spin: a cabinet of unique finds. It's what the Cohens do best. Inside the highly curated-but-clean shop, you'll find plenty of taxidermy, skulls, fossils, natural specimens, minerals, jewelry, books dedicated to Victorian-era medicine and oddities, and an art gallery with plant-inspired works from Shamsy Roomiani. You'll even be able to attend the occasional introductory class on mouse taxidermy.
"We'll have someone come in and do classes on minerals and flower drying, too, so not just the weird stuff," says Jason. "But I wanted to have a shop where anyone who walked in, or is looking to start a collection, could find something interesting." 
To Market,
To Market
Urban Farmhouse Designs couldn't have found a more perfect second location for their Oklahoma City–based home furnishings and accents store. The shop settled into a 10,500-square-foot space at the Dallas Farmers Market this spring, providing the first soft-goods anchor to the downtown market. The stock includes tables, cabinets, and benches handcrafted with reclaimed wood; antique and industrial lighting; plants; candles; and enough organization and entertaining essentials to fill endless Southern homes. If you can't make it downtown, pay a visit to Urban Farmhouse's welcoming distribution center near Love Field Airport, where you can grab a little red wagon to shop.
SaveSaveSaveSave
SaveSaveSaveSave
SaveSave
SaveSave
SaveSaveSaveSave