Carpooling, work meetings, grocery shopping, baseball games —and that's all in a day's work for home builder Ben Coats and his wife, Jen. Managing five children—ranging in ages from 8 to 1—and running a business left the family with hardly any downtime, and it was time to step back and assess. "Jen had this idea to go on an adventure," Ben says. "We wanted to have an extended period of time with the kids because life can be really busy." Jen's genius solution? Buy an Airstream, load up the kids, and explore the U.S., meeting strangers and kindling new friendships along the way. "[Kids] think the world revolves around them," Jen says. "We wanted to show them and be examples of what it really meant to love other people." Here's how they pulled off the ultimate family road trip last summer that taught them how to slow down and relinquish the schedule.
The Plan
The plan was that there was no plan—and that was the point. "I like controlling things," Jen says. "It was freeing because it was more go with the flow. We worked as a team because I let go of that. There is something strange about going, 'Hey, you know what, if we don't have a spot, then we'll find something.' We spent quite a few nights in Walmart parking lots because things didn't work out how we thought they were going to."
The few preparations they did make included bringing games for the kids to be entertained in their downtime. Jen, who has a teaching degree, is good on her feet, but she still wanted to make sure that if there was an impatient moment, she had it covered. "We played a lot of games with the family instead of watching movies," she says. "I'd pull out Uno or a card game. We colored. I just had a lot of activities and Legos. They were really flexible. But there was no other choice."
Ben was in charge of finding their mode of transportation and mapping out their route. The rough plan was to start in Texas, head north toward Colorado, Utah, Wyoming, Idaho, and Oregon, and then explore down the Pacific Coast before heading back home. They didn't reserve spots at campgrounds or RV parks—they didn't want to be on a schedule. Although stressful at times when they didn't have a spot to pull over, the unscheduled philosophy paid off. "The most fun part was the adventure between spots—getting to the places," Ben says.
The Ride
Ben purchased a 1991 Airstream motor home from Canada and used his industry connections to deck it out in designer wares. He chose gold Waterworks hardware and Porter Teleo high-performance fabric from Perennials, and painted the cabinets and bunks using Fine Paints of Europe. "We wanted a beachy, bright vibe," he says. "We did custom wide oak floors and baseball glove leather for the captain's chairs. The Airstream very much embodies things we see at Coats Homes." The custom king bed, where Jen and Ben slept with youngest, Olivia, in a Moses basket, boasts an oversized Rocky Mountain Mattress. The other four children nestled into the bunk beds each night. And yes, there was only one shower for seven people. "You just had to be very strategic," Jen says.  But for Jen and Ben, sharing one bathroom was the least of their worries. (More on that below.)
The family stocked the kitchen with groceries—but the fridge and freezer broke down. They fashioned two Yeti coolers as a makeshift and were still able to cook most of their meals on the road or at the campsites. "My kids learned how to do these types of things," Jen explains. "Even when we were broken down in Colorado, I was making pizzas because our oven still worked. I had to keep everyone fed so that they didn't have meltdowns."
The Adventure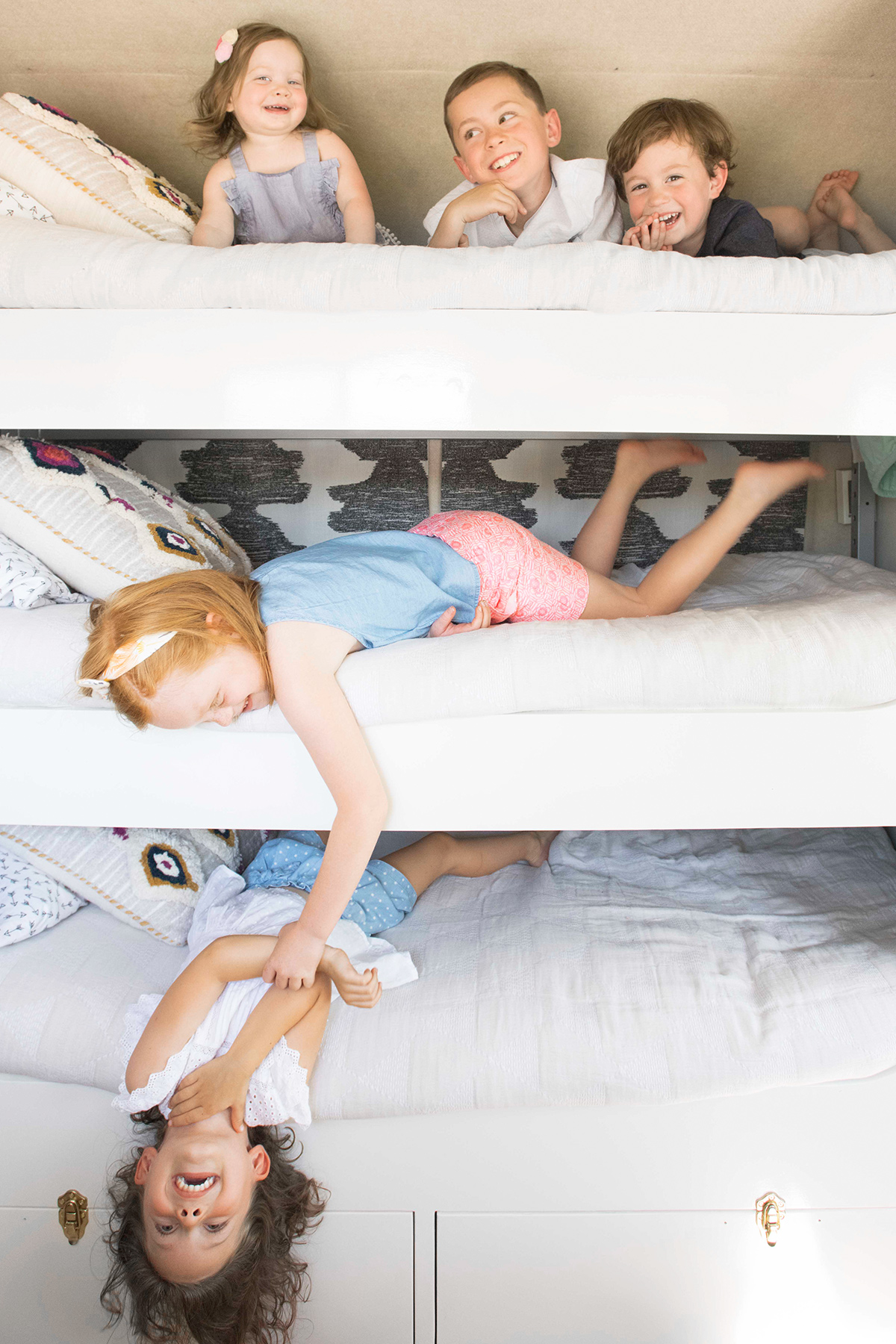 Their first stop was to reach Palo Duro Canyon in Canyon, Texas, just six hours northwest of Dallas. But they didn't make it 30 miles before it broke down. "Our first night we stayed in a beer barn outside UNT stadium," Ben says. Once their Airstream was road ready, they continued on, skipping Palo Duro Canyon and heading toward Pagosa Springs, Colorado. Because they didn't have a car attached to their Airstream, they had to rely on Uber to explore each location. But that brought its challenges, too. "We got left in Pagosa Springs," Ben says. "We had an Uber take us to [a trailhead], and we asked him to come back in 45 minutes—and he never showed up. We had to hitchhike back," he says. The Coats family would get used to hitchhiking (safely) and relying on strangers: At one point, they were stranded in a no-cell phone coverage zone, and they made signs, waving to passersby hoping they'd dial 911 for them once they reached service. "Two hours later, a policeman showed up," says Ben. But the family kept going. "The first two weeks, I remember looking at Ben and saying, 'Should we continue to do this?' Everything was going wrong," Jen says.
They explored Telluride, Colorado, Moab, Utah, and Jackson Hole, Wyoming, before moving through Idaho, Oregon, and down the California coast. While on the Pacific Coast Highway, the Airstream broke down once again, and their ride shut down traffic on the PCH for half a day. "I was literally in shock," Ben says. "There were many learning moments." Often, the Coatses didn't know where they were staying, but once they got to a campsite, it ended up being their favorite part. "There are all these people that have a similar mindset of wanting to explore the country and build and create relationships," Ben says.
When the transmission blew out in San Diego, that signaled the end of the trip. Even though the Coats family didn't set off for another adventure this summer (they hope to take mini trips around Texas), they learned the importance of allowing their family to have more free time. "When you can live life without going to this meeting, going to this place…when you can clear your schedule, life happens. That's what we experienced. We didn't have an agenda. Between point A and point B, life happened," Ben says.
Get the D Brief Newsletter
Dallas' most important news stories of the week, delivered to your inbox each Sunday.