How to Master a Gallery Wall
Swoon the Studio principals share their thoughts on perfecting your mix.
Downtown's historic Adolphus Hotel got a makeover in 2017—a big one—thanks to Swoon the Studio's owner and principal creative director Samantha Sano and principal of interiors Joslyn Taylor. Here they share their tips for creating your own gallery wall, just like they did in the redesigned French Room Salon. "For us, we approached it from a very residential philosophy," Taylor says. "We wanted it to feel like someone's home. It's all about the mix; it's all about layers; it's all about a room that feels like it's been lovingly built over time."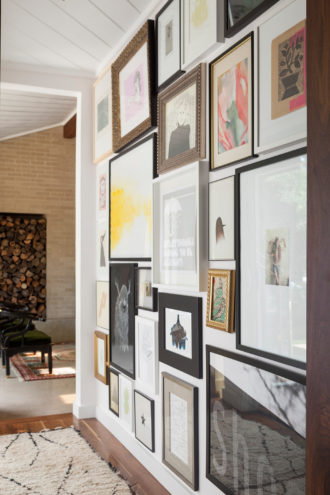 Taylor shares her keys to a perfect gallery.
Figure out your frames. Take a look at the pieces you have that are already framed and which aren't. Taylor recommends shopping for vintage frames at antique stores and having your pieces professionally framed—then mix them with sleek, modern ones.
Make sure there's a mix. In addition to blending gilded- and gallery-style frames, you want to make sure there's a combination of framed pieces and unframed, floating and matted.
Lay it all out. "It took us weeks to figure out just the right arrangement so that the compositions felt right," Taylor says. "We actually laid everything out." She recommends doing the same once you have all your pieces compiled.
Dabble in Photoshop. Taylor recommends making a Photoshop collage to test it out, but if that's not your cup of tea, any photo program will do.
Mark it up. When you're ready, make little pencil markings where each piece will go on your wall. "It can be really intimidating to hammer that first nail in your wall," Taylor says. "But playing with it in the beginning and trying to figure out the right composition is important."