6 Dinner Party Hacks Local Designers Swear By
Hint: Ikea linens are your friend.
We asked local designers for their secrets for throwing a party at home.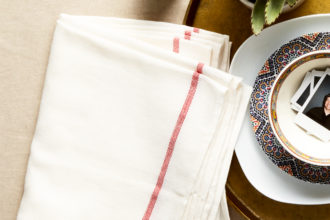 Fancy This!
Tiffany McKinzie suggests linens from Ikea. (You won't be as sad when a guest spills red wine!)
Get it: "Tekla" dish towel ($1/Ikea)
White Out
Glen Boudreaux mixes plain, white plates from Crate & Barrel or Ikea with luxury china to give his tablescape a more casual look.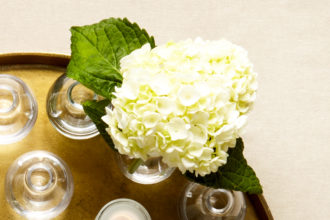 Best Buds
Betty Lou Phillips uses the Teeny Small Bud Vase from Crate & Barrel for her centerpieces. You can see the look at Forty Five Ten's Mirador restaurant.
"I always use grocery store flowers for small gatherings. White hydrangeas add luxury," Brant McFarlain says.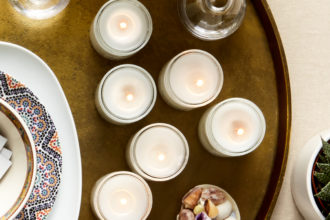 Light My Fire
Editorial creative director Jamie Laubhan-Oliver places these white prayer candles from Fiesta in a cluster on a table for a monochromatic look. They come in tall and short varieties for layering. They can also be used outdoors by the pool, too.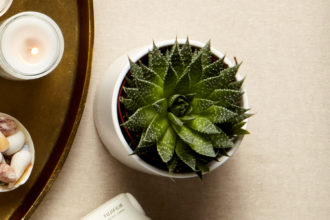 Cacti To Go
Carrie Hatfield swears by Whole Foods' succulents that come in small, white, modern containers. She says they are perfect when used in quantities, or even a single for a powder bath.
Gift Shop
Amy Berry likes giving each guest their own small flower arrangement in front of their place setting. "I also love giving little gifts on top of their plates like a cookie from Celebrity Café & Bakery or something kitschy from a party store," she says.
Photo Op!
Michelle Nussbaumer recently took Polaroid photos of all of her guests as they arrived and used them as place cards.
What's For Dinner?
The design set serves up these culinary shortcuts.
"Fill oversized ice cube trays with assorted berries, lavender, or mint for a festive cocktail or glass of iced tea." Betty Lou Phillips
"The shrimp and prepackaged cocktail sauce from Central Market is a total hit." Doniphan Moore
"A trick I've used is buying individual pot pies from Boston Market and serve them with a simple salad." Joe Minton
"I like to pick up Zoë's Kitchen's hummus, drizzle with a good olive oil, and serve with toasted pine nuts." Carrie Hatfield
"I love the rotisserie chicken from El Pollo Regio. People go crazy, because it's so delish!" Michelle Nussbaumer
"Market Street has a wonderful broccoli coleslaw salad, and their mac 'n' cheese is one of my favorites." Tiffany McKinzie