Exploring Marfa, Texas
D Home's art director and photographer set course for West Texas. They came, they browsed, they conquered.
It only took a little more than eight hours to get lost. Not lost in the sense that you don't know where you are. More in the I've-forgotten-everything-that-happened-before-today way. In other words, the good way. Marfa combines artisan sensibility with a slower pace of life. Unique galleries and charming boutiques line the streets, and it's tough to reconcile that we're in West Texas. One stop on our tour: Fancy Pony Land, a retailer featuring local one-of-a-kind pieces, both for the home and the wardrobe. As we were leaving, we caught a glimpse of a sign on the door: "Open Mondays and some other days, too."

SHOPPING
AdrinAdrina
As with much of Marfa, you will find the unexpected in this small studio/showroom. The shop is a mix of housewares and gallery artwork by its namesake. Our favorites were the Marfa Interiors line of wool, mohair, and alpaca pillows and cushions. This luxe pillow line features modular designs akin to the famed Donald Judd installation on the edge of town. adrinadrina.com.
Fancy Pony Land
This quirky boutique offers one-of-a-kind fashion items designed by owner Lorna Leedy, as well as small handmade home items from other local artisans. We especially liked the jewelry made from train-squashed pennies. fancyponyland.com.
Inde/Jacobs/Marfa
This art gallery exhibits minimalist and reductive art by Donald Judd, Dan Flavin, Hiroshi Sugimoto, and Nelleke Beltjens, to name a few. While the gallery presents artwork from well-known artists, it also features artwork from local emerging artists. indejacobs.com.
JM Dry Goods
This cool shop specializes in ranchwear and housewares. It has a unique border-town flair, and you'll find unique pieces you won't find elsewhere. The store is the brainchild of New York transplant Michelle Teague, a costumer in the film industry who fell in love with the city during her work on There Will Be Blood. Her friend and collaborator Ginger Griffice, a photo producer, makes the store's line of hip recycled glassware and Marfa Brand handmade soaps. The glassware is crafted from recycled Mexican soft drink bottles, and it's perfect for your next backyard fiesta. jmdrygoodsmarfa.com.
Marfa Book Co.
Residents and tourists alike convene at this spacious bookstore, checking out everything from art books to the latest fiction. Purchase a couple of books on the town's muse Donald Judd. And don't forget your "I ■ Judd" bumper sticker for the trek back to Dallas.
marfabookco.com.
Moonlight Gemstones
Marfa sits on beautiful agate fields, some of which are harvested by Paul Graybeal of Moonlight Gemstones. The prolific cutter creates lovely jewelry and other shiny objects. Take a piece of Marfa home with you. Literally. moonlightgemstones.com.
Tienda M
Cue the tumbleweed. Tienda M offers a minimal display of traditional Southwest and Mexican-influenced textiles, pottery, and jewelry. Unlike other stores of its kind, Tienda M has a well-edited selection that makes shopping a breeze.
Wool & Hoop
This small crewelwork shop, connected to Fancy Pony Land, has shelves stacked full of colorful linen and felt as well as fancy baubles and buttons perfect for your next art project, whatever it might be. But it's the vivid crewel pieces by artist and owner Katherine Shaughnessy that will force you to leave your suitcase behind in order to make room for them in the car. woolandhoop.com.
EAT HERE
Pizza Foundation
Situated in an old Gulf gas station off Highway 90, this New York-style pizza joint comes highly recommended by locals. And they're right. We loved the exceptional thin crust pizza and amazing outdoor patio. It's the perfect slice of Marfa. pizzafoundation.com.
Padre's Marfa
Tucked away off the main drag, this watering hole was founded by a "trinity" of business partners, one of whom was a priest. Here you can enjoy live music, take a spin on the hardwood dance floor, and hang out in the ice house-style game room. But the best reason to visit Padre's is the food. Try the Johnsonville Bratwurst, a brat cooked with Miller High Life and topped with homemade kraut, and pair it with a prickly pear cactus margarita. Be sure to order the queso as well—it might be the best we've ever had. Note: there's a bartender at Padre's who says she will tell you the true story of the Marfa lights—for a mere $5. You'll have to try that out for yourself. padresmarfa.com.
Cochineal
If you're looking for more of a fine dining experience, try this American bistro with global homecooking. Opened a few years ago by a pair of New York refugees, the restaurant boasts an ever-changing menu, but it always includes a souffle. Don't miss the date pudding. 732-729-3300.

SLEEP HERE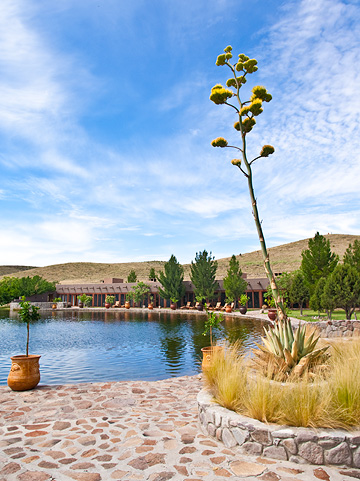 Cibolo Creek Ranch
Retire in style at this 30,000-plus-acre working ranch at the base of the Chinati mountains. Located a little more than 30 miles outside Marfa, the 20-room luxury resort is outfitted in true Spanish style and boasts plenty of Southern hospitality. Manager Dick Gill makes sure your every wish is fulfilled, from stargazing parties to gourmet meals and spa treatments. This resort has it all: great food, great views, and great fun. And if you don't want to make the eight-hour car trip, take advantage of the private landing strip. cibolocreekranch.com.
Marfa House on the Hill
Robert Bellamy, noted Dallas landscape designer and owner of Robert Bellamy Design, has brought his green thumb to Marfa. This updated turn-of-the-century getaway boasts all the amenities you could want. Nothing beats becoming a temporary resident of the city in your own adobe home. marfahillhouse.com.