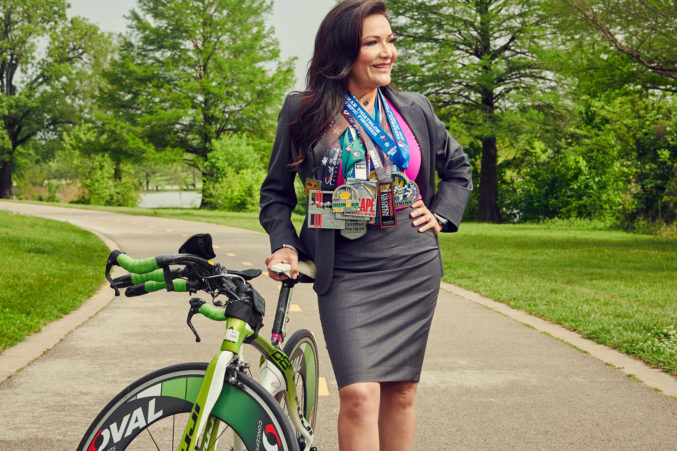 Nina Vaca Is on Her Way to an Ironman
Away from the office, the Pinnacle Group founder has a thing for triathlons.
Nina Vaca launched her technology services firm 23 years ago from the living room of her tiny apartment in Dallas. Today, she's busy tackling its global expansion, which she calls "the final frontier." Already, Pinnacle Group operations are up and running in Argentina, Mexico, Chile, and Ireland. "It's a very rapid global expansion," Vaca says. "But I've never been one to shy away from difficult things."
The same could be said for her love for triathlons, an endurance race where participants go from swimming to cycling to running. Vaca did her first triathlon in 1996 in Austin, an event hosted by Danskin. "It caught my eye because it was all about promoting the strength of women," she says. "I still have my medal." Just 25 years old at the time, Vaca has continued to participate in the sport, taking breaks only during times when she was pregnant with her four children and to deal with serious complications from a ruptured appendix. Just a few weeks ago, she completed the Caveman Triathlon in Flower Mound and finished in the top 10 in her age group. Still, for her it's more about endurance than speed: "I used to be fast; now I just know all the little tricks."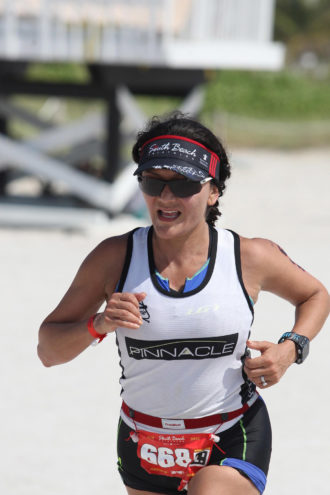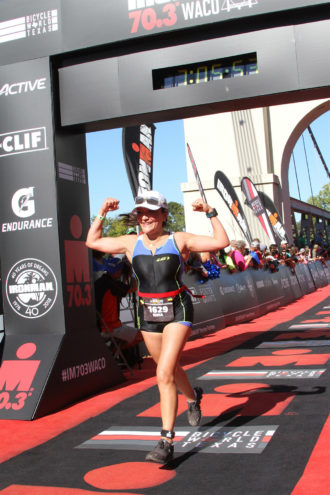 Vaca says a triathlon's three sequences are remarkably analogous to what it takes to run a successful company: "Swimming in the open water—it takes a lot of courage to throw yourself out there and get out of your comfort zone, just as it does when you're an entrepreneur. And you know for sure that two things are going to happen. First, you are going to get knocked around, as people try to swim over you or past you. I've been kicked in the head and kicked in the chest." A 2.5-mile swim in rocky waters off Waikiki, Hawaii, has been the most challenging to date. "The second thing is you will feel out of breath, like you can't go on any longer," she continues. "You want to stop but you can't. Just like in business, the only way out is the way through. To survive, you literally have to put your head down and keep swimming. It toughens you up and builds your courage. It has taught me to be comfortable and steady in challenging waters. When other people are hyperventilating, I'm focused and find a way to relax."
The second segment, cycling, is her favorite. "Again, it's like business and it's like life," Vaca says. "When you hop on your bike in a triathlon, you're in front of a lot of people but you're also behind a ton of people. You have to keep pedaling; you can never coast, because if you stop moving, people will pass you. You can't rest on your laurels. You have to constantly push yourself and give it your best. It's no different than the entrepreneur ecosystem."
"You want to stop, but you can't. Just like in business, the only way out is the way through."
The final leg of a triathlon is running. To Vaca, this part of the race is all about heart: "It's how badly do you want it, and what sacrifices are you willing to make. I can't tell you how many times I've been in the situation of having nothing left to give, in a triathlon and in business. At Pinnacle, I've consistently and aggressively delayed gratification and made sacrifices to reinvest in the company. Putting your people first is how you build a scalable organization. It's very much like running; it's how disciplined can you be to achieve it."
Vaca began doing half-Ironmans in 2011. It's a triathlon that involves a 1.2-mile swim, a 56-mile bike ride, and a 13.1-mile (half marathon) run. She has competed in a number of notable triathlons, including Escape From Alcatraz, but a half-Ironman in 2017 had special meaning. It was held in her home country of Ecuador; Vaca used the event to raise money to develop a project there called Villa de la Alegría (Village of Happiness). It provides residences and farmland for 40 families left homeless after a catastrophic earthquake struck Ecuador in 2016. "I just had to keep going, mentally and physically," Vaca says. "There was no way I was not going to finish that one.
Vaca checked off a bucket list item when she ran a full marathon in New York, but a full Ironman is still on the list. "It has to be the right time, because it requires an extensive amount of training," Vaca says. "But I am going to do it."