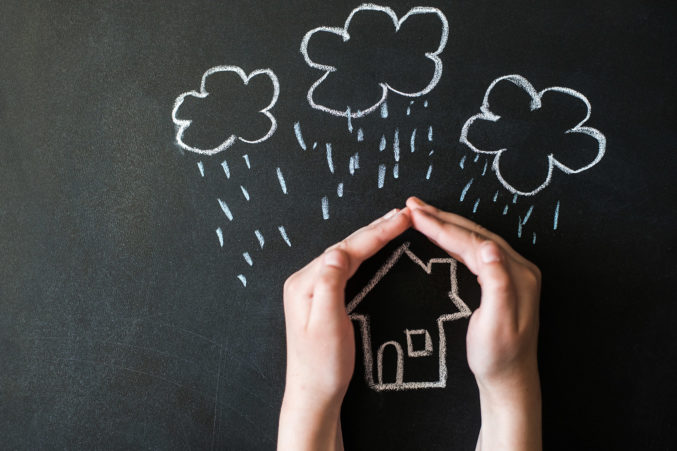 HB 1774 and a Hailstorm of Controversy
Hurricane Harvey left many homeowners in chaos with a loose understanding of how the hailstorm bill would impact their insurance claims.
Hurricane Harvey exacted a staggering toll on Texas and Louisiana, dumping an estimated 27 trillion gallons of rain over a six-day period, damaging or destroying an estimated 185,149 homes, and causing as much $75 billion in total losses. At the height of this record-breaking catastrophe, media reports and viral social media posts raised concerns to a fever pitch as they warned of an impending change in Texas law that could impact homeowner's insurance claims. Figures like former Texas state representative Glen Maxey claimed that this change would hamper policyholders' ability to "hold your insurance company accountable if they slow pay, low pay, or no pay." Congressman Joaquin Castro tweeted that Texans should file for relief before Sept. 1, because the state Legislature had "passed a bill making it harder to dispute weather-related property claims."
The law in question is HB 1774, also known as "the hailstorm bill," passed by the 85th Legislature and signed into law by Gov. Greg Abbott on May 24. The bill, which took effect Sept. 1, provides that an individual or business filing a lawsuit against its insurance company over the handling of a weather-related property damage insurance claim has to give the carrier 61 days notice before initiating litigation. This pre-suit notice would have to provide a statement of the acts giving rise to the claim, the specific amount that is allegedly owed, and an amount of reasonable and necessary attorney's fees that the claimant had already incurred.
This waiting period is intended to encourage both the insured and the carrier to reach an out-of-court settlement. The law also imposes a "recovery threshold" for policyholders to receive the full amount of attorney's fees if they go to court, requiring a jury to award at least 80 percent of the amount claimed as damages in order to recover all attorney's fees. If a jury awards 20 percent or less, none of the attorney's fees are recoverable. This provision was intended to encourage realistic pre-suit demands.
The final major change in the law decreases the penalty to be levied against an insurance company that fails to pay a claim from 18 percent a year (a figure that can add up over a multiyear lawsuit). For lawsuits filed on or after Sept. 1, that penalty is now a market-based formula of 5 percent above the prime rate any time the prime rate is between 5 and 15 percent; the penalty interest rate cannot drop below 10 percent, or exceed 20 percent.
Critics of the law maintain that by lowering the penalties, HB 1774 does less to deter insurance companies from acting in bad faith while hampering homeowners' ability to hold carriers accountable for their conduct. Dallas trial lawyer Brian Lauten, a partner at Deans & Lyons, says that in what is already a David and Goliath battle, the new law has basically taken away David's slingshot.
Supporters of the law say the sky isn't falling. First, HB 1774 applies only to lawsuits, and should not have any effect on homeowners' ability to file and recover claims from their insurers. According to Lucy Nashed, communications director at Texans for Lawsuit Reform, "the vast majority of Texans" won't be filing lawsuits and so will remain unaffected by the new law. As she points out, "Texas has some of the strongest consumer protections in the nation for policyholders that are denied or underpaid by insurance companies, and that's still the case." HB 1774 is also limited to private insurance companies, and doesn't apply to federal flood insurance nor the Texas Windstorm Insurance Association. (Of course, both critics and supporters of the law agree private homeowners' policies are most likely to be tapped for Harvey-related claims.)
The fearmongering about the new law and its possible impact reached such a frenzy during Hurricane Harvey that Attorney General Ken Paxton released a statement to calm the public, decrying the "apparently deliberate" misinformation. The legislation "does not change the claim filing process or the timeline for filing claims," Paxton reassured. "Texas policyholders will continue to have strong remedies against insurance companies, whether claims are filed before Sept. 1 or after Sept. 1."
It seems clear that little if any basis existed for the panic about the new law that swept social media during Hurricane Harvey. The only potential benefit from filing a claim before September 1 would be the higher, pre-September interest rate for penalties owed in the event a policyholder sued his insurance company and won. But he or she must have a reasonable basis to sue, such as a dispute over a valid claim or an insurance company's refusal to pay. And with the window of time being so small (Harvey hit Texas on Aug. 26, just a few days before the law took effect), that hardly appears likely.
It seems clear that little if any basis existed for the panic about the new law that swept social media during Hurricane Harvey.
So why the paranoia? Steven Badger, a senior partner in the Dallas office of national law firm Zelle LLP, blames "plaintiff lawyers still upset about HB 1774," who he says are "doing a disservice to Texas consumers." The reason the plaintiffs trial bar is upset, Badger maintains, lies in the history that led to HB 1774 in the first place.
Since 1973, the Texas Insurance Code, which sets out the protections for Texas consumers, underwent few changes—the result of relatively few cases ending up in litigation, according to Badger. But after Hurricane Ike and the hailstorms of recent years, the plaintiffs' bar increasingly began to see hurricane and hail damage claims as a rich mine waiting to be extracted. According to a 2017 report by the Texas Department of Insurance, prior to 2012, only about one in 1,000 claims resulted in a lawsuit. But from 2012 to 2015, the rate of lawsuits surged to one for every 50 to 60 claims—a 1,400 percent increase. In Hidalgo County (home of McAllen) ,approximately 6,700 lawsuits were filed between 2010 and 2015. "It was a literal lawyer feeding frenzy to sign up clients—through TV ads, flea market booths, and illegal case solicitation. Some homeowners weren't even aware they had hired a lawyer and filed a lawsuit," Badger says.
According to Courthouse News Service, which publishes a daily listing of all new lawsuits filed in various Texas counties, the numbers for Dallas County reflect this trend. In 2006, there were two hail events, and nine lawsuits filed related to the handling of hailstorm claims. By 2014, which had three hail events, that number had swollen to 588. By 2015, a year with one hail event, that figure had reached 636.
Badger says the insurance industry responded by trying to craft a solution, even as seven insurance companies reduced, limited, or stopped writing policies in Texas because of the tsunami of litigation. "We begged [plaintiffs' law leaders] to work with us. They did nothing, and denied the existence of any abuses among their members," Badger says. Faced with the choice between pulling out of Texas or seeking changes in the law, insurance carriers opted for the legislative route. But, Badger insists, "Had the plaintiffs' lawyers not abused the process, there would be no HB 1774."
For all the dire warnings about the new law during Hurricane Harvey, Badger maintains that Harvey victims "will see absolutely no change in how their insurance claims are handled because of HB 1774. What they will see is a new requirement that their lawyers make a real effort to resolve a disputed claim before a lawsuit is filed."
So is HB 1774 the reaction to a "pigs get fat, hogs get slaughtered" mentality, or did it truly take away David's slingshot on an already uneven field? The answer remains to be seen, but despite frantic social media posts, the sky is not falling.
---
John G. Browning is an attorney, award-winning journalist, and book author.