Standing there on the bathroom scale, I fumbled with a pair of eyeglasses to make sure, then shouted to my wife in the next room, "Honey, I believe I may have hit a new low!" Her response: "Please tell me you are referring to your weight."
Badda-boom. Everybody at my house is a comedian. But, I must admit, I started the whole thing. It was I who wanted to make a last-ditch effort at getting into shape. I've been around enough workout and diet regimens to know you should flee from the ads barking such gibberish as, "Take this one pill and never diet again." I know this because I've tried many of them. I've tried the workouts, too, but always came up with the same lame excuses for stopping: "Takes too much time," or "Just plain boring." 
Of course, I'm not the only one on a delayed quest to get fit. And, like me, almost every high-pressured top exec yearning for one more chance to get that body in shape is fighting time. It matters not if your office and company is downtown or Uptown, Fortune 500 or startup, the questions are always the same: How do I find the time? And, where can I get the best workout for my investment?
Then again, maybe you don't need a jab in the ribs or a disappointing look in the mirror to get motivated, like I did. Perhaps you're one of those backwards joggers on the Katy Trail who by nature zooms right past the Cool Ranch Doritos just so you can grab a bag of unsalted pumpkin seeds. If so, there is no need for you to read any further. The same goes for all of you determined to order some kind of carrot-juice cocktail at III Forks. Please. Just go shoot your skinny-ass self and settle into that extra slim casket at the funeral home—or at least turn the page to another story.
If, on the other hand, you're beginning to realize that maybe taking the stairs instead of the elevator may not really sculpt your abs—and if you're willing to maximize precious executive time for maximum results—then let me introduce you to the following experts: an Assassin, a Fighter, an Old-School Duke, and an Exercise Physiologist. Their fitness philosophies and teachings are all strikingly different, and certainly not for everyone. But, as I found out first-hand, there's a good chance one may be right for you.
The Assassin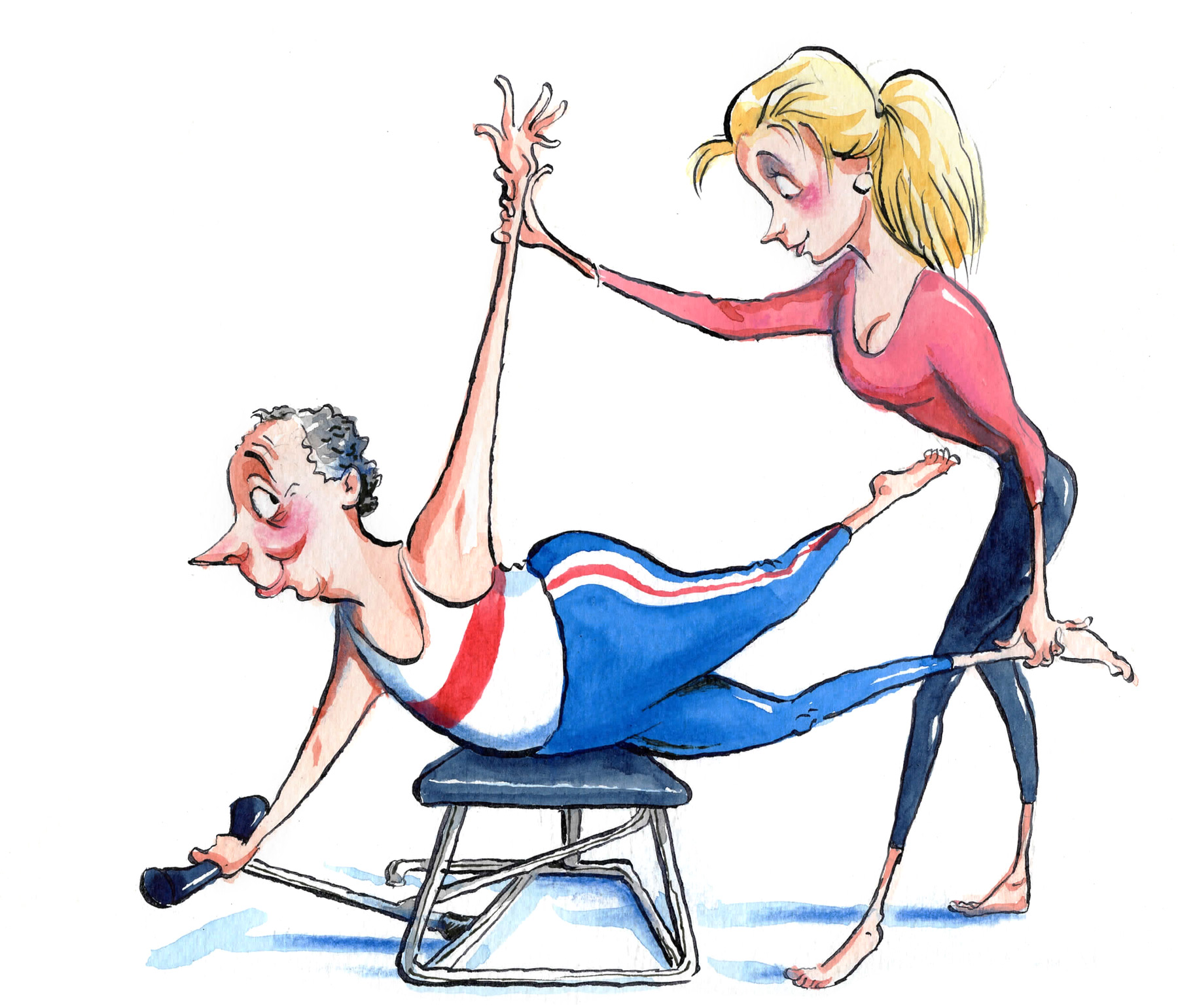 Brandi Marino looks like she just stepped off the cover of Self magazine. She escaped from the medical sales game in California five years ago to come to Dallas and open her first Beyond Pilates studio. Two years later, in 2012, came the founding of her first Beyond Pedaling Studio.
She now owns and operates a number of workout facilities, including a Beyond 500 studio on Henderson Avenue. She has heard the plaintive lament of the big-time exec: "I just don't have enough time."
Well, The Assassin has that handled for you, big guy or gal. Beyond 500 promises that you can burn more than 500 calories in a 50-minute session.
When I walked into the Henderson studio, I was struck by how everything was hot and new. You will not find anyone "grinding away on a soulless, monotonous machine," Marino says. So instead, I am escorted to the new and hot Woodway Curve treadmill, which employs a motor-less, 65-pound tread. Just moving the bloody tread can be a challenge.
Like I said, everything at Beyond 500 resonates with new and hot: the music, the Pilates equipment, the instructor, and seemingly each one of the clients sprinting past the studio door. My own appearance has decidedly lowered the curve.
One of Marino's clients is Kimberly Priest Johnson, a commercial litigator, federal criminal defense lawyer, mother of five, and former marathon runner. She says her four visits per week—including the crowded Friday 5:30 a.m. class—allow her "to be where I want to be, fitness-wise. Brandi engages your mind as well as your body. She is extremely passionate and innovative."
With the pulsating beat throbbing in the background, Marino is constantly barking instructions and encouragement. "Get ready to sweat, carve your figure, and elevate your mind," she cheerleads. 
My first eight minutes of exercise were aboard the aforementioned treadmill, which I have since renamed "the human hamster wheel." I ask Marino if somehow she has garnered the power from these to cut her electrical bill. She tells me that if someone is able to converse easily during the exercise, they are probably not working hard enough.
After walking, jogging, and finally sprinting aboard the hamster wheel, it is back to the Pilates chair for stretching and free weights, which consist of 10-, 18-, and 25-pound kettlebells lined up respectively. At my pedestrian speed, and considering my difficulties with the other exercises, it is doubtful that I've burned anything like 500 calories. Still, I struggle to catch my breath when Marino delivers a cold bottled water and, with a gunfighter's smile, says, "Even though they call me The Assassin, it's only my workouts that are lethal."
Marino may look like a goddess, but it is clear that each heartbeat is that of a pioneer and entrepreneur. Through days of interviews, workouts, and emails, Marino the businesswoman easily rattled off her knowledge of "demographic changes," "price points," and "space utilization."
As Priest Johnson brags, "Brandi is always looking to challenge. She is always on the lookout for the latest thing in fitness." 
After Marino and I share a modified but dizzying workout, it is no surprise that Marino—the Aphrodite of Exercise—is sizing me up when she says, "You know, the 55-plus is my next target. That is the gap in the market, and I'm going to fill it."
The Fighter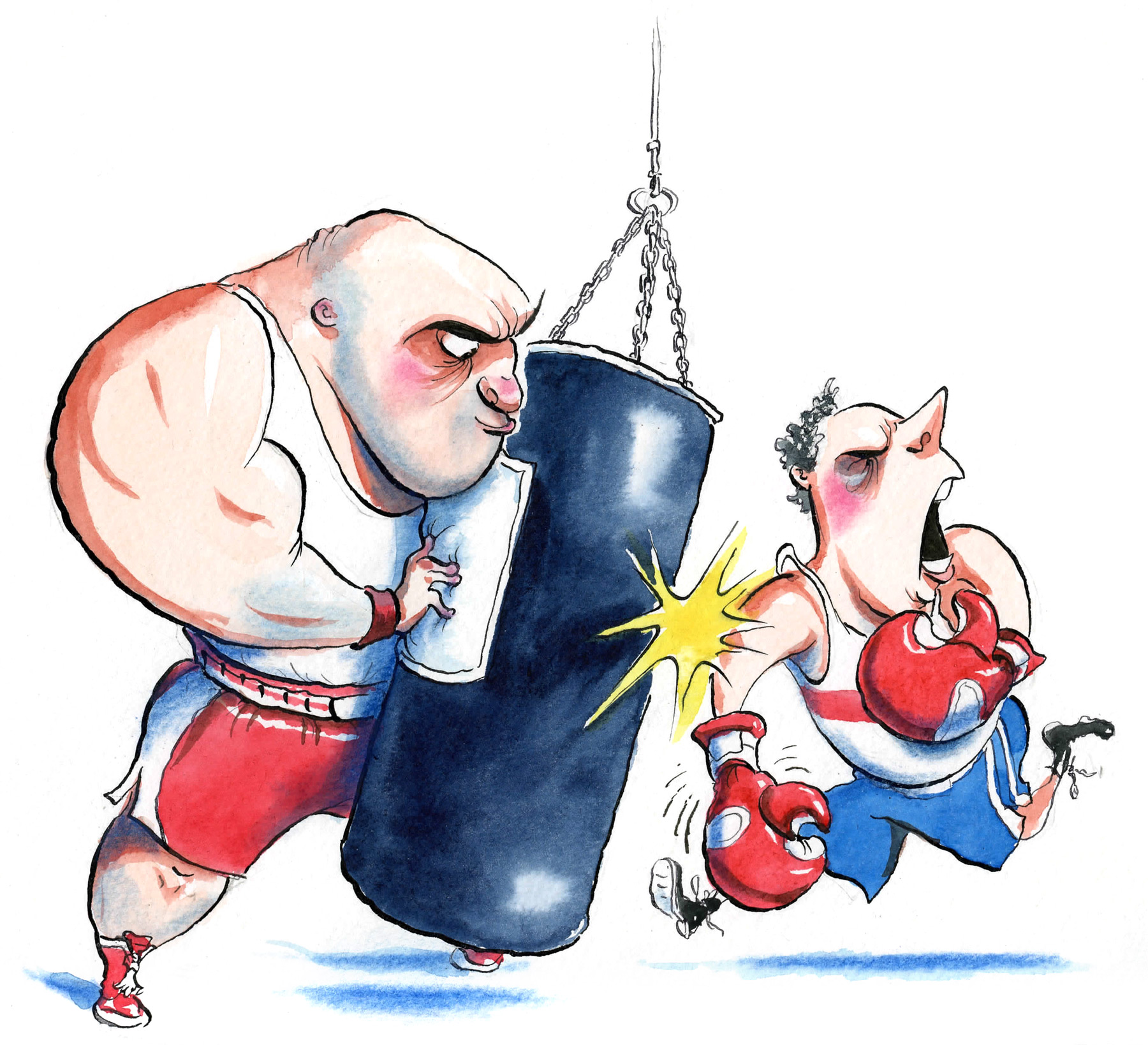 Brandi Marino might resemble a cover girl for a fitness magazine, but Brian Casad actually appeared on the cover of Muscle & Fitness and Iron Man magazines.
Casad owns and operates the wildly successful Title Boxing Club Uptown on Lemmon Avenue. He is a charmer and, like all good entrepreneurs, a terrific salesman who loves to talk about the early days when he traded his desk job for what would be nearly 100 hours a week in Title Boxing's genesis. He vividly recalls early doubting his abilities to run a successful gym—a notion that he can laugh about now that he has 750 members.
I feel certain that one reason I've stayed 20 pounds overweight the last 15 years is because I am not one of those folks who can simply walk, peddle, or run on a machine for 50 straight minutes. I have always been partial to the boxing workout and, as a former Golden Glover, enjoy going hard on the bags, skipping rope, or hitting the speed bag for three minutes, and then resting.
At Title, the boxing classes begin with about 15 minutes of warm-ups, 30 minutes of instructional shadow boxing or hitting the bags, and then about 15 minutes of "core" work—which can mean anything from the medicine ball to sit-ups and leg lifts or the "Russian twist."
In each of my visits to the gym, I'm struck by the number of women in attendance—and they do just fine on the bags, especially with the kick-boxing moves. Casad says that, at times, women can make up to 70 percent of the membership.
"I think that is because this can be a very empowering workout," he says. "Many times they will come in just to get in shape and, the next thing you know, they are growing in self-confidence and at the same time learning self-defense. You can see both their physical and mental health grow."
Sometimes that mental health growth might come from taking out the day's stress and aggression on one of the many heavy bags floating from the gym rafters. "Sure," Casad says, "after a long bad day, one of the ladies sure might wish she was kicking her boss's ass or acting out trouble at home, instead of yelling or eating or drinking too much as a coping mechanism. We have a way to relieve that stress and aggression here that you don't find in a normal gym."
Steve Scanlon, co-founder of GuardVest, a financial service that investigates and monitors your investments, says that he loves the ability to come into Title and get the workout and stress concluded in a hurry. 
"We are a start-up company with all the accompanying hitches and headaches," he says. "I am sure that Brian's workouts have kept me from screaming at lawyers and taking out frustrations where I should not."
Before one class, I asked Casad just how much of his strength and definition is really just a genetic gift. He happily pulls out his cellphone to show me a college photo of himself, at least 40 pounds overweight. In the picture he resembles some humdrum, chunked-up frat boy possibly heading to the dorm to light his own farts. Yet here he is today—a transformed Atlas.
"I am sure there are some genetics involved," he replies. "Mostly it's hard work and good luck. I eat healthy 95 percent of the time. But yesterday I had a cupcake and about five beers."
I hate him.
The Old-School Duke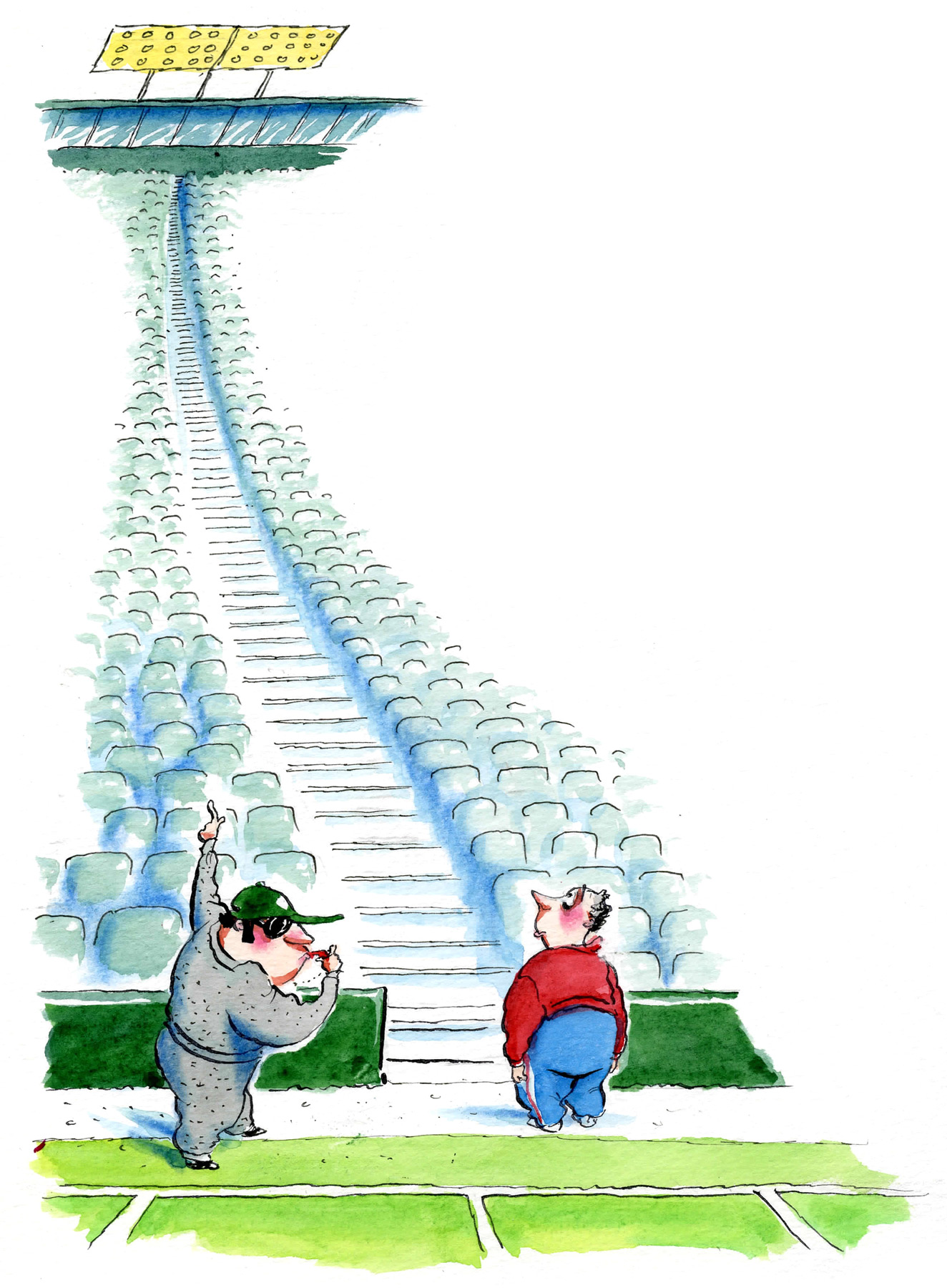 Scott LaCroix is much like NFL coach Bill Parcells—very old school. Here is our conversation as we are about to run the stadium steps at Southern Methodist University: LaCroix: "That's a lotta stairs. Do you think you can go up and down a few times?"
Me: "I'm not sure."
LaCroix: "Okay. I'll bring my phone in case I need to call an ambulance."
LaCroix has an estimable academic résumé to go along with his 36 years spent running premier health clubs in North Texas. 
It's important to point out that LaCroix will be 60 years old in October, and has abs. I, too, have abs, but require an intricate MRI to determine precisely where they are. 
LaCroix no longer works at just one club and is select about taking on new clients. As of this writing, he was doing weight work with a 17-year-old boy tired of being bullied at school and a 72-year-old client with Parkinson's disease. Both are exceeding all expectations and are using free weights as a big part of their exercise regimen.
"Free weights are just better," LaCroix says. "Bodybuilders use cable [machines] in an effort to define certain muscles. The rest of the world uses cable machines just because it is easier."
To back up these claims, LaCroix points to a 30-year regime that started on a converted racquetball court at the Exchange Athletic Club downtown.
"Everyone was doing Nautilus back then," recalls John Thomas, president of Hillwood Europe and LaCroix's lifting partner for all of those 30 years. "Scotty begged his boss to let us just have that court, some free weights, a squat rack, and that was about it."
Soon the class mushroomed, and more space was acquired. But one thing never changed over 30 years and different jobs, locales, and wives: Thomas and LaCroix lifted three days a week for one hour a day starting at 6 a.m.
Not that LaCroix is one-dimensional. He has taught or conducted classes in every fitness realm, and every client gets a customized workout. "I believe that people should do whatever they can do and not just wuss out about it, because it is hard," LaCroix says. "I can't run sprints any more or really jog any distance, but I can run these stairs and get a helluva workout."
Many of LaCroix's clients are older with, as he puts it, "tools that are just worn out." So if a shoulder prevents you from doing bench presses, LaCroix says, you might want to try doing pushups with your knees on the ground.
"Scotty has been real good about varying workouts and adjusting, " Thomas says. "We still work the upper body one day and the lower body the next, but we adjust to what we can do and don't always try to do what we did 30 years ago."
LaCroix is "old school, there is no doubt about that," says John Padian, the owner and CEO of JP Transmission Recycling. "But that doesn't mean he is not innovative. He came up with this crazy gym-hockey idea that helped me get in the best shape of my life."
LaCroix says that the three-on-three gym-hockey workout offers far more cardio exercise than even full-court basketball. "In hockey there is zero standing around, because the ball is always available," he says. "No one is just dribbling."
LaCroix has played in basketball, handball, and squash leagues. He believes that igniting the competitive nature of a client will bring better results.
"A lot of these famous exercise guys talk the talk, but Scotty walks the walk," says Padian. "He can make things fun and competitive in such a way that you look forward to it, like recess at school in the old days." 
The Exercise Physiologist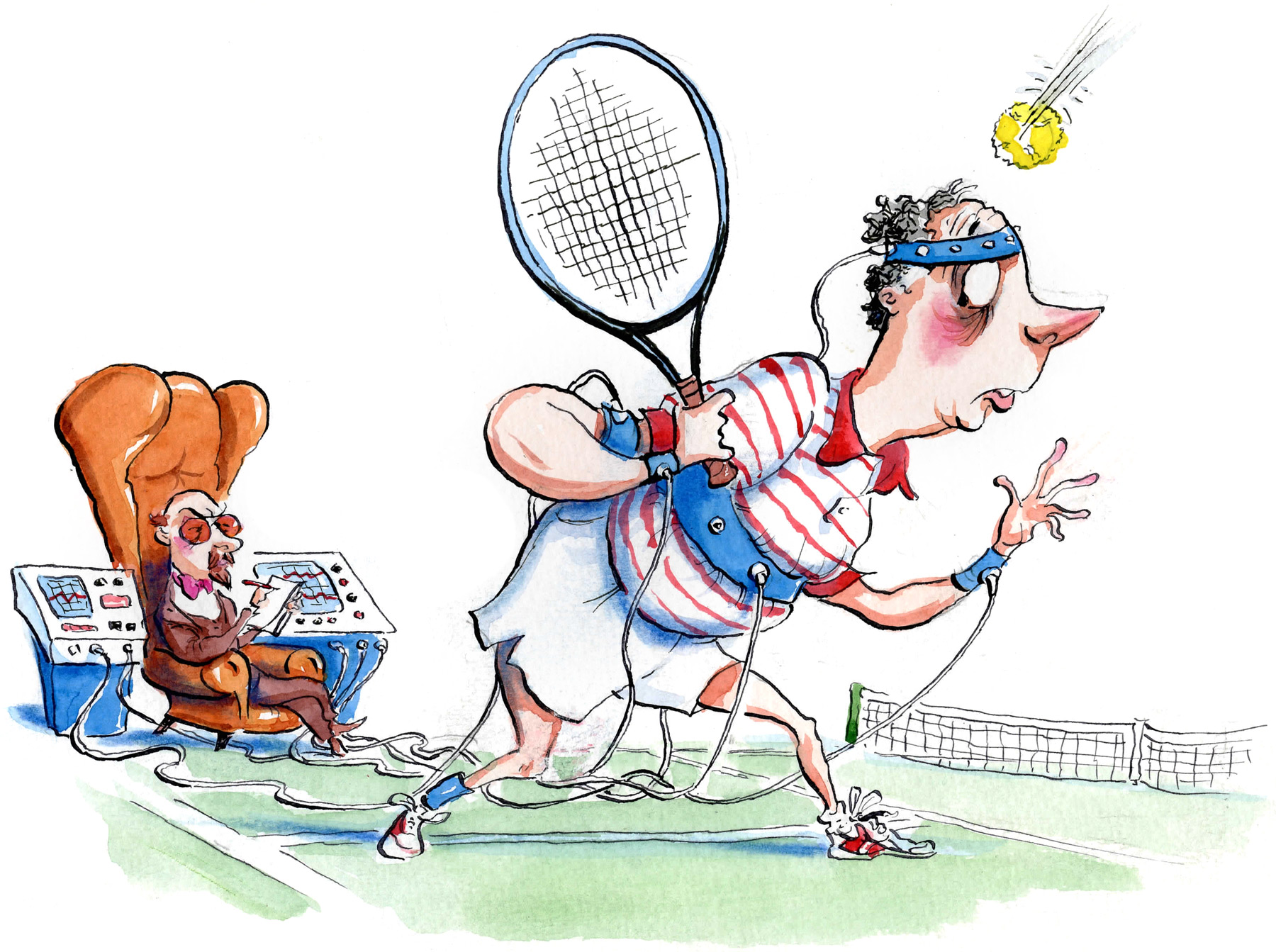 I met Darvin McBrayer years ago after undergoing some general heart procedures. My tennis buddies asked him to look after me because—and this is the true quote—"We don't want him [that's me] to die on the court and screw up happy hour some night."
No one has ever met a more intense and motivated fitness-oriented person than McBrayer. To me, he has always come across as an unexpected combination of Dr. Michael DeBakey (the famous cardiac surgeon), Inspector Gadget, and a stork—simply for his longest of limbs. I was not going to embark on achieving my most recent wellness goals without consulting him first.
McBrayer concluded that I needed to actually get in shape before trying to get into shape. 
After many academic successes, he got his start as a researcher, and it shows in both his thoroughness and an esoteric jargon that sometimes needs translation. For example, on a particularly hot, muggy exercise day, I was forced to take many breaks and asked McBrayer why he thought I felt so gassed so often. His texted reply: "Actually abdominal body mass restricts tidal ventilator capacity. In short your pulmonary capacity falls short of your athletic ability." Translation? Breathe and get rid of your beer gut, dummy. 
Knowing my distaste for machines and just flat running and walking, McBrayer has let me join in on a variety of his exercise activities. They include trekking, lunging with a broom handle, running up the hills around White Rock Lake, and, most often, what he calls "cardio tennis."
Often before these 45- to 60-minute drills, Inspector Gadget tapes a device to my chest that is about the size of a cigarette lighter. It will measure my heart rate, temperature, breathing skills, and respiration rate. 
Let's see, how do you describe playing cardio tennis with old Darvin? There comes from him no correction or coaching (he realizes I am beyond help). Instead, he starts out with light feeds that progress stronger and faster. He goes to the backhand, and then the forehand, then mixes in a corner shot. None of my returns can get past my leopard-quick, long-limbed adversary. Pretty soon the balls are coming so fast, I begin to feel like Lucy and Ethel in the chocolate factory.
Afterward, he brings out the gadgets and apps to check everything from pulse and blood pressure to recovery time. 
McBrayer's mantra is a phrase he coined: "Fitness as a standard of care," which marries well with the performance-health philosophy of Michael Nadeau, the founder and CEO of Dallas-based Viverae.
McBrayer is the in-house exercise physiologist for corporate health management provider Viverae and Nadeau, which is somewhat like being the prayer coach for Billy Graham. All 300-plus employees at the company's North Central Expressway headquarters have access to the best healthcare, physicians, physical exams, charts, programs, and Darvin McBrayer—all reasons why the company that preaches performance-based health management has been named one of the healthiest employers in North Texas. 
Besides Viverae, McBrayer works with a number of athletes at many levels. Lola Lott, CEO of post-production boutique Charlie Uniform Tango and Liberal Media Films, sought out McBrayer when she saw him getting results for other athletes. Lott, who was already an accomplished runner and tennis aficionado, clashed with her new fitness coach when he backed her off the tennis court and instead had her Nordic trekking, doing breathing exercises, and running hills over by the White Rock Spillway.
"I learned from Darvin that the common thinking about exercising is just wrong," Lott says. "My body fat went way down, my endurance went way up. He turned me into a better tennis player and competitor."
McBrayer used his gadgets to evaluate and monitor Lott in the field. I am certain he would rather buy some $6,000 healthcare instrument than a new car. In fact, he has, which is probably why he is still driving his 1992 400E Mercedes.
The Final Analysis
In about 75 days that included my normal debauchery, 45 days of not drinking during Lent, and a 21-day largely vegetarian cleanse, I lost 17 pounds and reduced my body fat from more than 25 percent to 19.9 percent. The most inches were lost in my abs, pecs, and waist (3 inches), although some also in both the forearms and biceps (not good). In my mind, at least, I have some pounds and inches to go. Once I hit that goal, you'll find me at the original Dodie's on Greenville Avenue ordering the Cajun fries with extra jalapeno gravy and beers, or maybe just north of there at Terelli's, loading up on three-cheese ravioli and an unpretentious Malbec. Or, who knows. I could be reaching a new low almost anywhere.  
Get the D CEO Newsletter
Stay up to speed on DFW's fast-moving business community with weekly news reports, interviews, and insights.