Why Small is the New Big
North Texas research is pushing the future of nanotechnology.
Nanotechnology, the science of small things, has been hyped for years—and it's no wonder, with the potential it brings to energy markets, manufacturing, and electronics. Imagine a world where batteries are wearable, where solar cells are cheaper and more efficient, and where miraculous new drugs and microscopic healthcare devices significantly reduce medical side effects and speed up recovery time.
Indeed, the most interesting days of nanotechnology are still ahead. Researchers say the Dallas area is well regarded but locked in a fierce, global competition for attention and resources.
Nanotechnology is the science of manipulating objects at nanoscale, which refers to the dimension between one and 100 nanometers, so the potential end markets are everywhere. This is the business of "building" with materials that are about 1,000 times thinner than a sheet of paper.
At nanoscale, some materials melt at different temperatures, some conduct electricity more efficiently, some are lighter than plastic yet stronger than steel, and some reflect light more brilliantly. In short, everything changes.
The global market for nanotech-enabled products, which includes everything from sunscreens to fancy fabrics, will pass the $1 trillion mark in 2013, according to Lux Research Inc. But starting one nanotech company to do one thing well for one end market is rare.
Jim Von Ehr, whose multimillion-dollar gifts to the University of Texas at Dallas established its Alan G. MacDiarmid NanoTech Institute, launched the North Texas commercial nanotech scene when he formed Zyvex Labs in 1997.
A decade later, acknowledged as the world's first nanotech company, Zyvex has been reorganized into three separate entities—Zyvex Performance Materials, which makes nanomaterials for sporting goods companies and defense contractors; Zyvex Labs, which works on atomically precise manufacturing; and Zyvex Instruments, which was sold earlier this year to DCG Systems, a Fremont, Calif., company that supports semiconductor manufacturing.
In August 2007, Zyvex Labs spun out Medical Nanotechnologies Inc., a company focused on, among other things, using nanoparticles to perfect how medicines are delivered and absorbed in the body.
Von Ehr's level of nanotech startup success is remarkable. Texas Instruments, Raytheon, and Lockheed Martin all have nanotech projects underway, but you won't find a Department of Nanotechnology inside these firms. Instead, many companies fund nanotech research projects at the university level so they can benefit from the breakthroughs and, eventually, commercialize some nanotech discoveries without taking as much risk.
Following the Money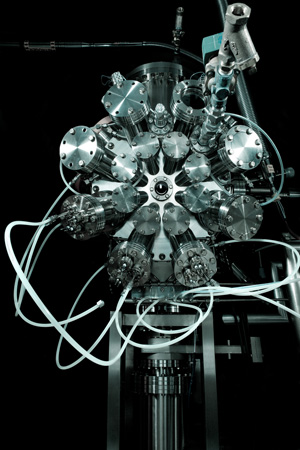 Nanotech investment is on the national, state, and corporate agenda as the U.S. struggles to keep its tech edge. President Obama's 2011 budget provides for nearly $1.8 billion for the National Nanotechnology Initiative, up from about $1.5 billion in 2008. The Department of Energy is making the largest investment among the various NNI agencies, with $424 million in 2011.
Corporate spending is part of the equation, too. Although none of the local companies interviewed for this story would break out their nanotech investments, U.S. companies as a group spent $3.2 billion on nanotech-related research and development in 2009, according to Lux Research.
Venture capitalists are investing in nanotech, too, but not aggressively, due to the long cycles it takes from discovery to commercial viability. From January 2008 to July 2010, U.S. venture capitalists invested nearly $1.3 billion in nanotech-related startups. During that same period, VCs invested $57 million in Texas-based nanotech companies, according to Dow Jones VentureSource.
From April 2006 to October 2010, the state-run Texas Emerging Technology Fund funded about $22 million in grants for nanotechnology-related research at Texas universities. During the same period, the ETF invested about $14.6 million in companies looking to commercialize nanomedicine, nanoelectronics, and nanomaterials products. The reality of nanotech companies is that it can be decades between a research breakthrough and a nanotech-enabled product landing on store shelves.
High-performance batteries and car tires both use some nanotechnology today, but most consumers aren't aware of this, says Ray Baughman, director of UTD's NanoTech Institute. "The customer does not care about whether or not nanotechnology is incorporated in a product, but is only interested in performance versus cost for safe, environmentally-sound products," he says.
Steve Collins, manager of research programs at the institute, says, "nanotech isn't a field, it's a  size," and it takes physicists, chemists, metallurgists, and engineers working together to take what's discovered in the  world of nanoscale and bring it to life.
International Competition
Dallas-area universities have all the ingredients Collins mentions. UTD, in fact, is nationally recognized for its nanotech expertise. Baughman and his fellow researchers are mentioned regularly in science news publications. In the past year, the NanoTech Institute has received nearly $3.8 million in grants. Among them was a grant from Lynntech and NASA for a project that involves using carbon nanotubes in aircraft paint as a way of helping reduce fuel consumption of commercial and military aircraft.
Baughman and his UTD colleagues are also using nanotechnology to create superconducting cables that could aid in moving energy from solar farms and windmill farms to the city, where the electricity they generate is most needed. To move electricity over long distances with as little loss as possible is a tall order, but potentially a huge market for nanoscale materials.
In 2005, UTD researchers founded Solarno Inc., a company using nanotechnology to improve and commercialize UTD's nanotech discoveries for solar energy applications. Solarno's chief technology officer is professor Anvar A. Zakhidov, deputy director at UTD's NanoTech Institute.
The University of Texas at Arlington has fielded nine grant proposals totaling about $1.6 million for nanotechnology projects from September. 2009 to August 2010. The Department of Energy, the U.S. Army, and the National Science Foundation are among the sponsors.
Energy applications are also at play here. One UTA grant sponsor is Fort Worth's ZT Solar Inc., which is seeking research in "omni-directional antireflective coatings"—the use of nanotechnology to develop films that can more efficiently reflect, store, and direct light inside of solar cells.
"The industry is in its very early stages," says Robert Magnusson, Texas Instruments distinguished university chair in nanoelectronics and professor of electrical engineering at UTA. "The vision for nanotechnology has not yet materialized widely. There are many good ideas being pursued towards commercialization."
One such push is happening at Arlington-based ResonantSensors Inc., where Magnusson serves as chief technology officer. Magnusson and RSI are using nanotechnology to create biological sensors that speed up and simplify the process of monitoring how a person's body reacts to a medication. This technology could eventually be used to detect cancers, too, Magnusson says.
"The state has made major investments that are paying off with industrial firms like Texas Instruments also providing important support," he says. "Industrial development is unquestionably supported by a strong university research and development environment."
Like UTA's Magnusson, UTD's Baughman also talks frequently about the need for more top-tier universities, as the number of scientists and engineers in other countries vastly outnumbers American researchers.
"We are in a challenging international competition, where vast economic resources are available to competitors," he says. "We must do more to motivate and enable the next generation."
Collins at UTD says the cross-town nanotech rivalry with UTA is good for Dallas, but the big picture for the science of small things is that university size and stature matters when competing for nanotech grants, funding, talent, and jobs.
"It's not us against them," he says. "It's Texas against everyone else."
Artificial Muscles
UTD's big work in small particles has made it to the small screen. The PBS television series NOVA recently filmed a segment about artificial muscles, a nanotech discovery by Ray Baughman, director of UTD's Alan G. MacDiarmid NanoTech Institute.
Artificial muscles are made of sheets of carbon nanotubes—literally, cylinders of carbon atoms rolled into tubes. When these sheets are electrified, they contract like a muscle and can be as much as a hundred times stronger than natural muscles.
"The hope is that one day, these muscles can drive advanced prosthetic limbs, power suits that will allow the average person to lift huge amounts of weight with ease—think Iron Man—or even robot soldiers who can refuel themselves," Daniel Parsons, a production assistant for the NOVA documentary Stuff, writes on his blog.