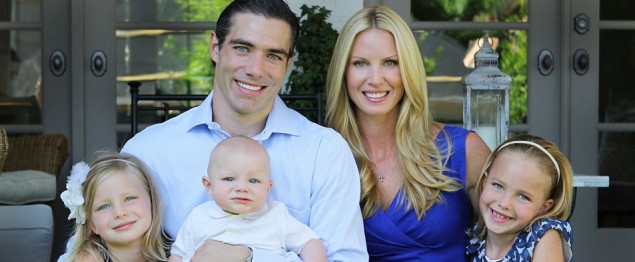 Morgan Meyer is a Bracewell & Guiliani lawyer who is running for House District 108, Dan Branch's old seat. He also happens to belong to the downtown YMCA, where he and I sometimes play in a pickup lunchtime basketball game. Am I his friend? No. But we certainly are friendly. Meyer and I are roughly equivalent on the court, if not off of it, so we not infrequently get matched up against each other. Once I get to know someone, play ball with him for a year or two, I like to take the game to the next level. You know, pulling leg hairs on defense, making choice remarks about wives. That sort of thing. That's the context in which I know Meyer. He hustles. On some days, he has a decent outside jump shot. He doesn't call ticky-tack fouls. Nor does he bitch when others do. He has a hairier chest than I.
So when a tipster sent me a note saying that Meyer had lied on his DMN voter questionnaire about having been arrested, I figured I'd have some great ammunition for the next time I saw Meyer on the court. But I also figured I should ask him about it.
Here's the deal: this tipster has been busy. The same email claiming that Meyer lied about being arrested has found its way to several organizations. And, yes, it's true. Meyer was once arrested.
In 1997, he was a law student at Washington and Lee, in Lexington, Virginia. As he tells the story, he was driving home on a flat tire because he didn't know how to change it. He was less than a mile from his house when a cop pulled him over. Meyer thought the cop was there to help. The cop had other things in mind. He wanted Meyer to take a breathalyzer. Meyer had not been drinking. But he was a cocky law student, and he let the cop know he, Morgan Meyer, knew his rights and no way was he going to be forced to take a breathalyzer. The cop arrested him. His record shows that he was found guilty of two civil offenses, both misdemeanors: "improper driving" and refusing the breathalyzer. Essentially he got two traffic tickets.
This raises the question of whether Meyer lied to the DMN editorial board, which oversees all those voter guide questionnaires. The answer is that he most certainly did not. I confirmed this with Ralph De La Cruz, an editorial writer who talked to Meyer about the questionnaire. Meyer told him the whole scandalous story from 1997 and explained that the arrest was for a civil matter. De La Cruz told Meyer that the board was only interested in criminal matters and that Meyer could enter a "no" for that question.
Hang on, though. The question is pretty clear: "Have you ever been arrested or involved in any criminal proceedings?" There's no question that Meyer was once arrested. There's also no question that he was told by the DMN that that sort of arrest wasn't what the questionnaire was designed to uncover.
What we need, then, is a clearer question, no? I asked Keven Ann Willey, the head of the editorial board, about that. She says, "Yes, we've modified the question a couple of times over the years and may well need to do so again. Also, we ask it a bit differently across questionnaires for different offices. I'd like us to standardize the question, too."
The facts, then, are the following: Meyer did not lie on his questionnaire. He did get a little mouthy with a cop when he was in law school, nearly 20 years ago. And, finally, he married way out of his league, a fact I will again remind him of if he ever shows up at the Y again to play ball.
Get the D Brief Newsletter
Dallas' most important news stories of the week, delivered to your inbox each Sunday.