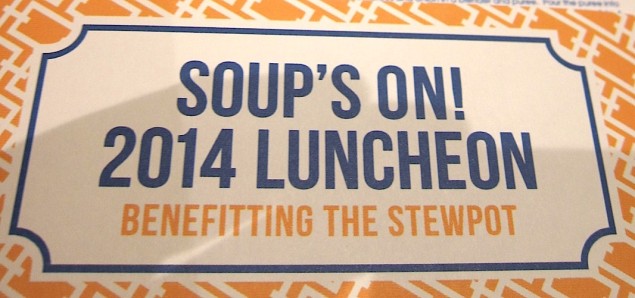 Six years in and the annual Soup's On! event, hosted by The Stewpot Alliance and raising money and awareness for The Stewpot in Dallas, continues to prove what a generous city we live in.  700+ guests joined many of the best chefs in Dallas, led by Chef Chair Brian Luscher or The Grape, yesterday afternoon to enjoy a hearty bowl of soup for a great cause, like divine French Onion Soup from Nathan Tate of Boulevardier and an incredibly layered, rich and creamy Butternut Squash with Curry Soup from Janice Provost of Parigi. While enjoying their tasty bowls guests learned about the current work of The Stewpot and their impressive plans for growth and development in and around their downtown Dallas location, including adding a large community garden, expanded art classes, expanded health care and education classes, and additional human services, all for the homeless of Dallas. The Stewpot also provides  over 1500 meals a day, partnering with The Bridge, to Dallas homeless. 
The message that rang through the room, stirring many including myself to tears, came through the funny, humble and resilient voice of Keynote Speaker Liz Murray, author of Breaking Night, telling her story of being homeless as a child and finding a way out. Though Liz lived through horrific circumstances as a child with parents that lived with drug addictions, her message was not one of anger or hate. Instead this eloquent Harvard graduate filled the room with her message of love for her family, and appreciation because when she needed it most someone took a chance on her, helping her believe in herself , allowing her to rise above her situation and to achieve her goals. Her message is very similar to the work the staff and volunteers of The Stewpot do every single day to help those down on their luck find a way back to a successful life. Ms. Murray finished her speech with a call to action to help your neighbors and your community, one that was taken very seriously as donation envelopes filled baskets around the room and a standing ovation helped her exit the stage.
I have attended this event for the past 4 years and each year The Stewpot takes it to the next level with the heroic speakers they invite.  Bravo to our Dallas chefs – Brian, Nate, and Janice, along with  Matt McCallister/FT33, Chad Kelley/Cafe Pacific, Bruno Davaillon/The Mansion on Turtle Creek, Omar Flores/Driftwood, Ian Tate/Komali, Jason Weaver/The Dallas Omni and Danyele McPherson of The Grape for giving your time generously to this important event, to The Stewpot, for the life changing work you are doing for our community, and to all in Dallas who attended, well done.
Get the SideDish Newsletter
Dallas' hottest dining news, recipes, and reviews served up fresh to your inbox each week.