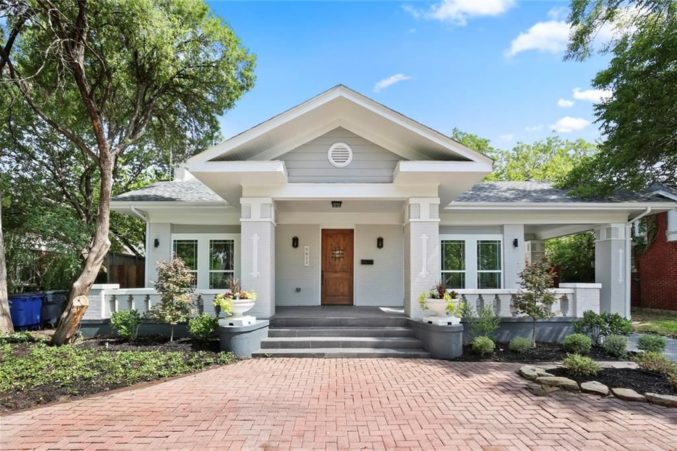 Hot Property: A Completely Updated Craftsman in the M Streets
The before-and-after is truly impressive.
It's been a minute since we zeroed in on a "Hot Property" in the M Streets. Perhaps there have just been flashier abodes hitting the market this summer, or maybe we're suffering from Tudor fatigue, something we never dreamed was possible.
Regardless of the impetus for our absence, we're returned to the family-friendly neighborhood for a particularly striking 1920s Craftsman. Situated just a short walk away from Trader Joe's and restaurants such as Rapscallion and HG Sply Co., the home recently underwent a serious makeover (including a drastic facelift) that may not be for everyone (the first floor gives new meaning to "open floor plan"), but the end result's luxe finishes, natural palette, and wood-beamed ceilings are hard to resist. (Seriously, just look at this nifty kitchen.)
Two other highlights we'd be remiss in not mentioning: a skylight-adorned upstairs living area and an even more sky-lit master bath. Really, we should dig into that master bath for a second. From the looks of it, the sprawling space has four towering windows with high-end, necessary shades. There are two vanities, with one large enough for a chair setup. There's a walk-in shower lined with white marble and a freestanding tub with its own natural wood backdrop. My first apartment wasn't as big as this master bathroom.
But by far and away the best part of 5611 Richmond Avenue is that, for all its new-fangled finishes and extensive square footage (particularly for the area), the Craftsman blends beautifully among the more modest homes of the M Street's charming, tree-lined streets. Plus, this is a truly impressive before-and-after.

SaveSave
SaveSave