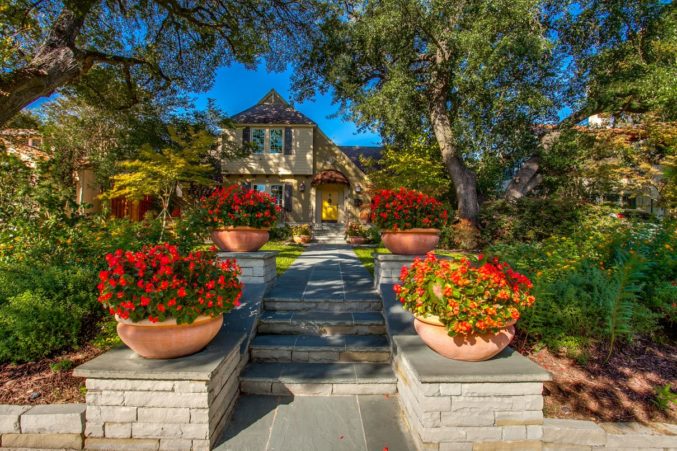 Hot Property: A Perfectly Landscaped Kessler Park Tudor
You need to get your eyes on this kitchen.
Sure, we could take you through the whole spiel for 1211 N. Winnetka Avenue. We could discuss how it's located in one of the most picturesque pockets of Oak Cliff, and even Dallas for that matter. We could really dig into the 11-foot ceilings, or the perfectly pristine backyard pool and the bizarre but wonderful (possibly Grecian) statue towering atop the middle of a hot tub. We could wax poetic about the home's beautifully maintained 1930s charm for paragraphs, and write haikus for days about that sunny front door.
But we're not going to talk about any of that today, because there are grander things afoot. Things that stop us mid-real estate slideshow to actually and embarrassingly say the word "woah" out loud in an office. (Or the word "afoot" in this post!)
We're talking, of course, about the shiny blue cabinets of this home's kitchen. Do we like them? It's unclear! Do we despise them? Equally ambiguous! But we are drawn to them, like a moth to a shiny blue flame. Maybe it's all the stainless steel acting as a cool modern compliment to the cabinetry, or the marble floors gleaming under the recessed lighting. Maybe that bright yellow door hypnotized us with its charm. Who knows? Who cares? All that matters is that there are fantastic old homes like 1211 N. Winnetka Avenue in Dallas with gorgeous layouts and confounding kitchens and hot tubs. You do you, Kessler Park Tudor. You do you.