Inside the Design of Knox Street's Garrett Leight California Optical
Eye-catching doesn't begin to cover it.
By Estephanie Gomez
Published in Home & Garden
October 23, 2017
12:45 pm
Fifteen years ago, I begrudgingly stepped into an eyewear store to begin my four-eyed journey. The dimly-lit eyewear store wasn't helping me feel any better. It felt cold, like the optometrist's office I had just left. I'd like to think it was these factors, and not my poor taste, that led me to walk out with a pair of oval frames that likened me to a certain famous boy wizard.
Now, thankfully, my Harry Potter glasses are long gone, and sleek optical studios (and equally interesting eyewear) such as Garrett Leight's are in.
Leight (who comes to the optics business honestly as the son of Oliver Peoples' founder Larry Leight) teamed up with architecture and design studio West of West in 2013 to design his first eponymous shop along Venice's Abbot Kinney Boulevard in 2013. For the brand's fifth brick and mortar and it's first location outside of California or New York, the firm brought a little SoCal cool to Texas with a modern light-filled space that felt nothing like my childhood eyewear chain. "When the store closes for the night, it will look like a light show," says Leight.
I caught up with West of West co-founder Jai Kumaran to get a better picture.
Every GLCO location is a little bit different. What's unique about the Dallas store? 
With every new store, we create new custom features, such as the peg wall system, the optical lab, furniture, and cactus gardens. In the Dallas store's case, light is the defining feature in the form of an evocative, immersive light installation. We were very conscious about creating a space that would be memorable not only for people walking by, but also visible to those driving by on Knox Street, whether day or night. The light installation is designed to make the store stand out after dark.
The ceiling details are stunning. Can you tell me a little bit about the architectural design behind that? 
We were inspired by the work of James Turrell and the relaxed, yet ephemeral light created by long summer sunsets. The design of the space captures that feeling through the use of a custom, color-changing light installation and a ceiling "cloud" that floats overhead, transforming the space into an immersive atmosphere.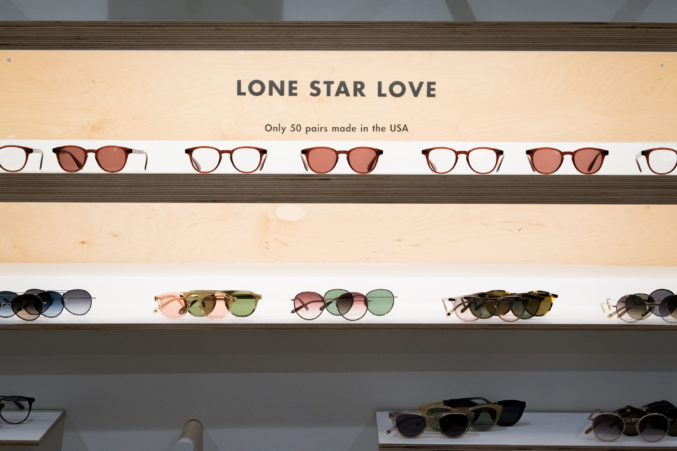 What do you want the shop to feel like?
The store is bright, easy, and relaxed, with a youthful contemporary edge. It is also dynamic and a place for the brand to evolve over time.
SaveSave
SaveSave