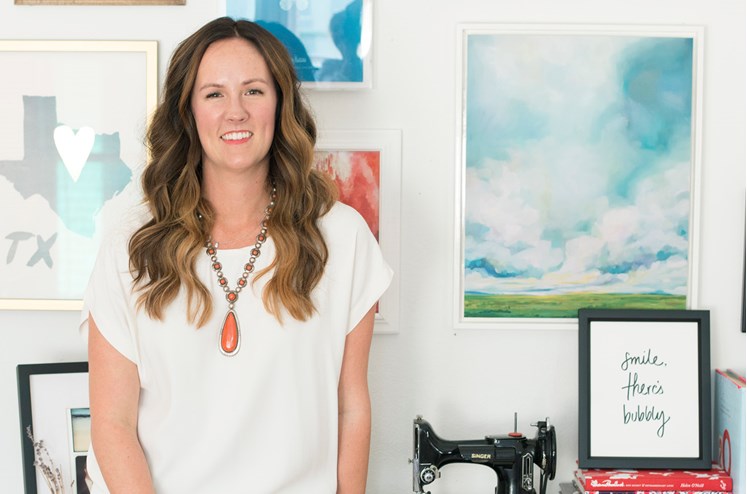 Five Pieces We Love From Dallas Seamstresses
Our local sewing community is small but mighty. From modern quilts to hand crafted kitchen wares, these five Dallas seamstresses are creating beautiful products with a handmade nature that makes each piece feel special.
1. Cary Ray and Sally Eaves of Salt Shop Handmades
Salt Shop Handmades is made up of Cary Ray and Sally Eaves, a mother-daughter team who specialize in classic yet earthy hand sewn pieces. They carry beautifully simple handmade aprons, linen tote bags, and pillow covers, among others. This striped, nautical potholder is made with a lovely eco-friendly linen that would look as at home in a beach house as it would in your Uptown apartment.
2. GAIA Empowered Women
GAIA is fashion with a mission: "to empower marginalized women through employment, encouragement, and dedication to their long-term success in our own local communities." Each piece is handmade by resettled refugee women in Dallas, and each one is stunningly crafted from sustainable and artisan textiles. The Lala Fringie Bag is adorable and versatile—we love the camel-colored suede fringe paired with a crisp white ikat.
3. Regina Frydman of RegalCottage
I don't know about you, but I have a huge fear of my future home's perfectly curated aesthetic being ruined by Fisher-Price plastic once I have children. Regina of RegalCottage on Etsy is assuaging that fear with her lovely handmade children's toys. She hand sews baby mobiles, teething rings, and even hot and cold pack covers: all beautifully designed but still playful enough for children.
4. Kristi Schroeder of Initial K Studio
Owned by graphic designer-turned-quilter Kristi Schroeder, Initial K Studio is another main player in Dallas' modern quilting scene. With bold patterns and stunning colors, her handmade quilts will certainly brighten up a room. This striking blue quilt would be a modern addition to a child's or a grown-up's room.
5. Shari Lidji of Red Llama Studio
Each of Red Llama Studio's modern quilts are custom-made with beauty, function, and the client's desires as top priorities. Owner Shari Lidji (a relation of this D Home editorial intern) will pay a visit to her client's home and work closely with them to create something treasured and beautiful. We especially love this crisp neutral baby quilt she designed, which would look beautiful in a minimalist home.
*Sophie Lidji is a D Home/D Weddings Editorial Intern