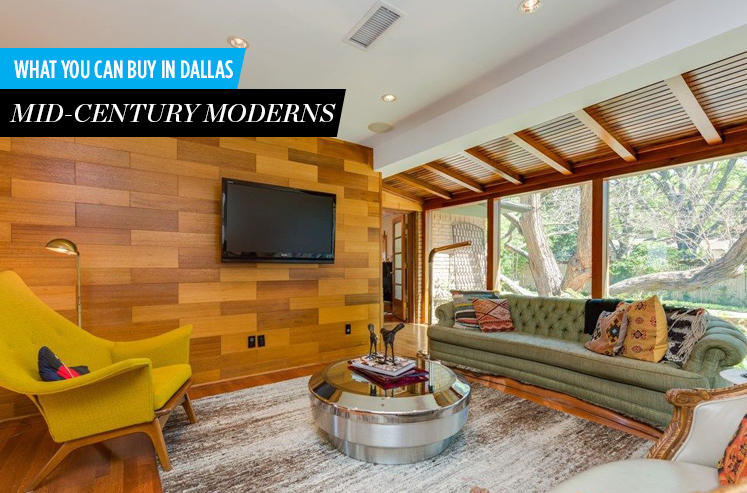 Three Mid-Century Marvels You Can Buy in Dallas
We're in love.
After spending this past weekend in the land of mid-century architecture—I'm talking about Palm Springs, of course—I fell in love. Those modern, single-story abodes and their colorful exteriors have forever won my heart, so I decided to kill two birds with one stone. Here, I'll dedicate a post to them, and find my new Dallas dream home. It's just good time management.
Here we go.
Neighborhood:  North Oak Cliff
Price: $825,000
Numbers: 2 Bed / 2.1 Bath / 2,366 Square Feet
Highlights: The future owner will get to say they live in one of D Home's Most Beautiful Homes in Dallas, which (in our opinion) is something. They can also say the house was designed by Jonathan Delcambre, and has really fun Palm Springs-esque wallpaper. But really, you just can't beat that landscaping.
Neighborhood: Bluffview
Price: $3,795,000
Numbers: 4 Bed / 4.1 Bath / 5,499 Square Feet
Highlights: Charles Dilbeck designed this striking Bluffview abode, and though the appliances have clearly been brought up to date, every bit of '50s modernist charm is in tact.
Neighborhood:  Oak Lawn
Price: $1,249,000
Numbers: 4 Bed / 4 Bath / 3,615 Square Feet
Highlights: Tucked away on a tree-lined street by Inwood Road, this home looks like the perfect retreat. We'd happily spend a weekend (or forever) sleeping along the book-lined wall of the spa-like master suite.