People dye
their hair
. I dyed
a bunch of coconut butter
last week.
Domino
recently
dyed a sheepskin rug
, which led me to my newest opportunity to create color where there should be none.
I have long been the owner of a faux sheepskin rug, which has been living under my bed incognito for about three years. After reading
Domino
's DIY, I knew this was that little rug's time to shine. It would serve as a sacrificial lamb (natch) for a twenty-something's whim to create a small, pink rug. It might turn out looking like sad cotton candy, but it
just might
become a rosy masterpiece I can use as decor at my next pink-themed party
à la Lauren Conrad
—the most noble of home accessory tasks.
The Process


Fill your sizable basin with warm water and soak your *faux sheepskin for about an hour.


Remove the Sheepskin (I recommend doing all of this in a tub while wearing sweats and dishwashing gloves), refill basin, and add a solid pinch of salt and two capfuls of Rit dye for a bubblegum pink outcome (once again, à la Lauren Conrad).


Use your stirring device to completely dissolve the dye in the water, and submerge your sheepskin back in the basin.


Let it soak for two hours, turning the sheepskin over halfway through soaking  for even color distribution. (I soaked my sheepskin for two hours, but I'd suggest doing it about 30 minutes longer for a more saturated pink.)


Rinse off your pretty pink sheepskin and let it dry. (Do this outside if you can. Those sheepskins will do some serious dripping.)


The Result
The color is perfect, but I do think I did a poor job of evenly distributing the dye throughout. (There are a few sad white patches.) As long as no one is looking too closely though, I'd say this worked like a charm.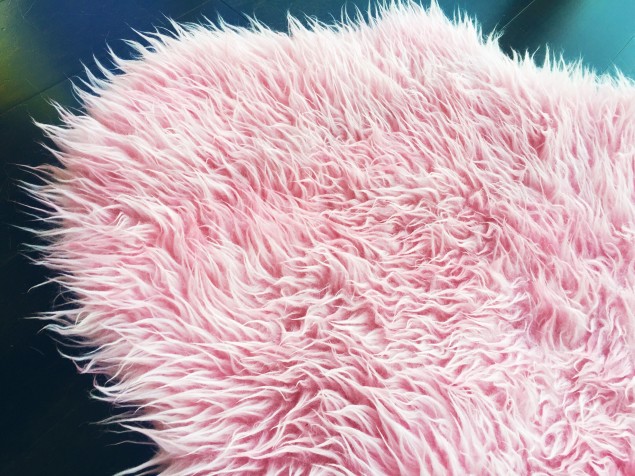 *Presumably, these instructions will only work for a faux sheepskin. For real sheepskin dyeing instructions, head to domino.com. Also, if you want more impressively styled photos, you should once again head to domino.com. But if you just want to see if a girl prone to failing at even the simplest of DIYs (case in point) can pull this off, keep reading this blog. 
Get the AtHome Newsletter
Enjoy Dallas' best trends, hot properties, and tips from local designers to help you nest in style delivered weekly.